People Top 5
LAST UPDATE: Tuesday February 10, 2015 01:10PM EST
PEOPLE Top 5 are the most-viewed stories on the site over the past three days, updated every 60 minutes
Donna Fargo, the Schoolmarm Who Went Country


Today Donna's record sales have climbed to more than four million copies and she has had five No. 1 country singles in a row, including the current country chart-topper, You Can't Be A Beacon (If Your Light Don't Shine), the only one of her hits she didn't write. Her albums have won three gold records (for sales of $1 million) and one platinum record (sales of one million copies). What's more, her singles and albums have gone higher and stayed longer on the middle-of-the-road pop hit lists than those of any other woman country artist.

According to the stereotype, country singers are supposed to be dirt-poor high school dropouts who marry early. Not Donna. The daughter of a well-to-do tobacco farmer from Mt. Airy, in North Carolina's Piedmont region, she graduated from High Point College and moved to California to pursue the one of her two dreams that seemed to make practical sense: teaching. The other dream was singing, which she had loved ever since childhood when she piped songs for her father's fox-hunting friends. "But that goal was never particularly clear," she says. "I didn't even know what kind of music I wanted to concentrate on."

At an audition she met agent Stan Silver, who told her she was a natural country singer, taught her to play the guitar, married her and became her manager and producer. When she started to moonlight as a singer, playing small clubs on weekends, Donna decided that no one was ever going to write songs for her so she had better do it herself. "I tried to write what I was feeling, the kinds of things I go through every day."

Her lyrics and melodies are more upbeat than the usual run of country. Daddy Dumpling is a love note to her widowed father. You Were Always There is a response to her mother's death five years ago and a plea to pay attention to people when they're alive. Her personal philosophy is best expressed in A Little Something to Hang Onto: "Change the things you can, accept the things you can't and don't you ever forget that you're your best friend."

Donna's next single is entitled The United States of America, in celebration of the land she and Stan travel constantly. On the road their home is a $160,000 bus which contains quadriphonic stereo, two televisions and three air conditioners. "Stan's got a lot of hair on him and he gets hot," she explains, poking a little fun at her heavily bearded husband. "We have a shag carpet on the floor, Naugahyde on top to protect the shag and Stan puts down Holiday Inn towels to protect the Naugahyde—he's a Virgo, what do you expect?" She's a Scorpio and devours books on astrology, though she insists she doesn't base decisions on it.

Home, when the Silvers get to it, is a three-level Spanish-style rancho set in the woods outside Nashville, with a separate music room-office for Donna. She now has the discipline not to smoke, something she loved to do from the time she earned extra money as a teenager picking tobacco leaves on her father's farm. "I dream about smoking," she says. "Sometimes I go into a smoky room just to absorb it." At 30, she still has to make a decision about whether to have children ("not the only reason women are on earth"). Presently she is content with her career, and devotes her free time to painting and writing poetry—"a little sadder and a little deeper than my songs."

Her former pupils still write and visit her backstage at concerts. But there is no question about ever going back to teaching. "In two years I've learned to cope with the rigors of the music business and from now on I just want to be too busy ever to get in a rut."


Two years ago last June, a pretty and petite teacher of high school English in Covina, Calif., gave her final exams three days early and hopped a plane to Las Vegas. Donna Fargo was changing careers for good. A song she had written and recorded, without telling either her family or her students, was already helping her live up to its title, The Happiest Girl in the Whole U.S.A., by selling more than a million copies. With her cabaret debut in Vegas, she was about to prove that a country-and-western singer could win over a pop-oriented audience.
Advertisement
Today's Photos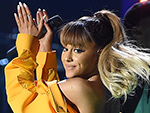 Treat Yourself! 4 Preview Issues
The most buzzed about stars this minute!