People Top 5
LAST UPDATE: Tuesday February 10, 2015 01:10PM EST
PEOPLE Top 5 are the most-viewed stories on the site over the past three days, updated every 60 minutes
Hayley Mills, 28, and Roy Boulting, 61: Pollyanna Never Had It So Happy


Boulting met Mills over a business lunch in Soho, during which he offered to cast her for the first time against type in his The Family Way. She accepted. There were stirrings between them during the shooting, the couple now recalls, but they were unrequited. Then Hayley kept finding pretexts to drop by his Chelsea flat—to borrow his souped-up Mini Cooper S, for example. Finally there was a pass—hers—while they were alone in the dark, screening the edited film. "I was quite a shy person," she says, "wary of being rebuffed and laughed at. Then there was this strange metamorphosis. Love emboldens. I acted in a way I had never done before..." Her family—Britain's proper, if poor man's, Red-graves—were appalled. Dad, distinguished actor John Mills, was about Boulting's age. Mom was Mary Hayley Bell, author of such earlier Hayley film properties as Whistle Down the Wind and Gypsy Girl. Older sister, Juliet, was just making her own acting name (now somewhat in eclipse since the film Avanti and the TV series Nanny and the Professor).

Boulting did not strike any of the family as a dream suitor. He was having a fling with a model and was still married to his third wife. "I understood their doubts," says Roy. "They misunderstood my motives." And so, when in 1971 Hayley decided, "I wanted a baby, but not without being married," the couple made it legal.

By that point Hayley had completed more than a dozen films in the 12 years since her scene-stealing debut in the thriller Tiger Bay, which her father helped her through by taking a role himself. Boulting, meanwhile, was already in his fourth decade in the industry. Born into a mercantile family whose enterprises included installing one of the first flush toilets in Queen Victoria's palace, Roy had gotten into pictures with identical twin John. Called "those Boulting bastards" in the trade for their hard dealing, they resuscitated a major studio, British Lion, primarily by playing the antiestablishment vogue for laughs. Many of the twins' collaborations like Heavens Above! and Man in a Cocked Hat, are still perennials on U.S. TV's Sominex time slots. Once the proceeds of the Boulting and Mills careers were merged, they were able to get in the family way in style: a $350,000 town house around the corner from the Queen.

"I didn't especially like children until I had my own," Hayley confesses, and she raises Crispian on American principles (she has memorized Dr. Spock) tempered by the convenience of having an English nanny. Crispian is Boulting's eighth son, seven by previous marriages. So while Hayley cuddles the boy if he falls, Boulting's bland reaction is usually: "Up you go, you're not hurt."

At first Hayley found herself "torn apart" between family duties and acting opportunities. She has kept herself at the ready attending an exercise class and taking lessons to bolster a singing voice one critic called "more willing than thrilling." Just now she's edging back into films with two action flicks due for release this year, and she's rehearsing for a West End musical.

Roy, who has written and produced as well as directed, recently finished Peter Sellers's Soft Beds, Hard Battles and is now honing a stage comedy, Family Games, in which Hayley is interested ("I would not mind playing any of its parts, even the men"). His avocation is painting, which he attacks enthusiastically if with mixed results. Author pal Robert (African Genesis) Ardrey calls him "the most primitive primitive I have ever encountered."

The Boultings attend only obligatory London first nights and shun the cocktail circuit. Hayley likes to cook a traditional shoulder of lamb—garnished with her own stuffing—for a few favored guests. But as comfortable as they have become in their five-story town house, the Boultings now contemplate rusticating in a country home they are converting from an old cart shed in Chiltern Hills. The move would put them one hour away from London—and from her parents. Hayley doesn't blame Disney or her dad for her long imprisonment in tomboy roles, though she sees now that "it was as bad as if I had been Dracula for 10 years." She is understandably unhappy with the botch her family made of a trust fund set up supposedly to shelter her Disney earnings. Last year, after losing a final appeal in the House of Lords, she had to pony up $112,500 in back taxes. "I'd be better off," she sighs, "if I had blown the money."

Roy is still rankled by his in-laws. "When she was 18 they were doing everything but thrusting a lollipop in her mouth," he says. And he has not entirely forgiven them for vetoing Lolita and Loss of Innocence (Susannah York's springboard to fame). "We see them," he says with a stage pause, "as much as one should."

The 33 years that separate Roy and Hayley weigh far less heavily than when they first met. In fact Hayley admits: "We joke about him being very old and me pushing him along the seafront in a wheelchair under an old tartan rug." More seriously she says, "The great thing about a marriage is that you can be as moody or as funny or as boring as you want to be—I was terrified of being boring until I met Roy—and still believe you'll be loved. Everybody needs an appreciative audience. I do. And Roy is." As for Boulting, he mulls over this, his fourth and seemingly final marriage, and declares: "We're now more firmly together than ever—it's really come good."


In 1960 British actress Hayley Mills was not allowed to accept the lead in Lolita to protect her image as Walt Disney's reigning teen angel. A few years later, just possibly to put her mentors in their place, she upstaged even Nabokov's nymphet. Hayley, at a virginal 19, moved in with a thrice-wed, 52-year-old Humbert, British filmmaker Roy (I'm All Right, Jack) Boulting. They lived together, to the horror of her following, for five years before finally marrying. Today the Boultings and their son Crispian, 2, are living a happy ending that no one would have predicted except possibly the character she played that has dogged and typed Hayley ever since—Pollyanna.
Advertisement
Today's Photos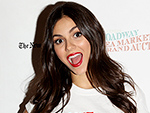 Treat Yourself! 4 Preview Issues
The most buzzed about stars this minute!