People Top 5
LAST UPDATE: Tuesday February 10, 2015 01:10PM EST
PEOPLE Top 5 are the most-viewed stories on the site over the past three days, updated every 60 minutes
Hutton Has It All
Lauren Hutton, the Model that Halston Dubbed "Perhaps the Greatest Mannequin in History," Has Fame, a Budding Movie Career—and a Secret Lover


Ten years ago, Mary Laurence Hutton was one of those aspirants—a tall dishwater blonde with a gap-toothed smile and a sexy toughness. She did not remain unnoticed long. Today, as Lauren Hutton, she is modeling's superstar. Her 22nd Vogue cover appeared in January, and millions of women know her as the Revlon Ultima II Woman—the exquisite symbol of Charles Revson's higher-priced cosmetics line for which she earns $200,000 a year. She is the ultimate face and figure of the 1970s; designer Halston calls her "perhaps the greatest mannequin in history."

Fashion doyenne Diana Vreeland, the former Vogue editor, first spotted the Hutton potential. "She is the best of America," says Diana. "She is the person people want to look at. I am always amazed at how many moods she can project. Sometimes she has the eyes of a baby, the questioning look of a child. Then she has this very special electricity. Her reactions are so fast. I like her speed, her timing."

Moving fast while still plotting each step with grit and imagination is what Hutton is all about. Friends like to point out she is a triple Scorpio—intuitive, stubborn, ambitious. Raised in southern Florida as the stepdaughter of a Borden executive, she was one of four girls, most of whom left the roost early. (Her younger sister Chris, for example, had her own apartment at age 12.) A two-time college dropout, Lauren at 18 earned her keep as a cocktail waitress—at the New York Playboy Club and later at a Freeport, Bahamas casino, where, she admits, "Everyone assumes you hook on the side." (She didn't.) Her first modeling job (for Christian Dior at $50 a week) came after she faked her credits. Later she wangled a contract with Eileen Ford by promising to get the celebrated gap between her front teeth fixed—a promise she never intended to keep. (Today Lauren carries a small cap she slips on while working.)

She was an unpopular teenager, so gawky and shy that she often retreated to the friendship of snakes, lizards and other wildlife around her Florida home, in the manner of her comic strip heroine, Sheena of the Jungle. Lauren Hutton today is a disciplined professional on the job and a free-spirited hoyden off it. In front of a camera she is the very glass of fashion; on her own, she dresses in worn, sloppy clothes and hangs out with artists, assorted bohemians and intellectuals. "Everyone assumes models are dumb, so the most successful models must be the dumbest, right?" says Hutton. Some of her antics are inborn, natural; others clearly designed for shock value. She loves to pad around barefoot, enliven her conversation with explicit sexual and scatological references, and carry on from her second-floor bathroom, which is doorless and has an open window overlooking the living room.

Such a free-wheeling life has inevitably encouraged speculation about the private side of America's No. 1 cover girl. Soon after she signed the Revlon contract, rumors began about a possible affair with her 68-year-old boss, whom she fondly refers to as "a terrific crustacean." Lauren hoots that story down: "We signed the Ultima contract shortly before he sued for divorce—so it was a logical connection, I guess—but not true."

More unlikely was last year's persistent gossip that Hutton was living with screen star Julie Christie. The reports of course reached Lauren. "Oh Julie, you mean 'my love,'" says Hutton flippantly. "I haven't had the pleasure of-meeting her yet, except once six years ago when she was with Warren Beatty. I first heard about 'us' when I was in Mexico, and I thought it was humorous. Then when I came back to New York, even old friends were asking me about this house we supposedly bought together in New Jersey. I mean, it was embarrassing—New Jersey!"

Lauren's actual love life is a far better kept secret, centered around "mystery man" Bob Williamson, a freelance stock speculator she has lived with for the past 10 years. "His privacy is my privacy. He doesn't want to be known as my old man," says Hutton by way of explaining why only her closest friends have ever met him. When photographers are around, they separate and flee. He refuses to be interviewed about her. Williamson is her friend, occasional guru, sometime business adviser and her only lover: "He's my mate," she says point blank. "I may go out with other men friends—but I don't screw them."

Though formal marriage is not in the picture, Hutton believes in monogamy. Having traveled all over the world and shared a converted sculptor's studio in Greenwich Village with Williamson, she says: "He's the most interesting, the funniest, the man who understands me best. Bob said early on that if I found someone better, I should go. I said the same to him. If he had not left the door open like that, we probably wouldn't be together now." Has she never looked afield? "Well, I did not come to the bed a virgin, you know," she replies.

Now 30 and the world's best-paid model (with earnings close to $300,000 a year), Lauren Hutton already knows the answer to: what next? Like dozens of former models from Lauren Bacall to Cybill Shepherd, she has her heart set on a film career.

Whatever Lauren wants, Lauren gets—or so it has been in the past. But she has yet to electrify movie audiences. Such films as Paper Lion and Pieces of Dreams showed the Hutton potential but failed to win any raves. In Little Fauss and Big Halsey, her role consisted largely of tossing around in bed with Robert Redford and another woman, only to be ditched by him at one point because "Once is fun, twice is queer."

Her latest—The Gambler—paired her off with James Caan, but won her only mixed notices. She is even harsher on herself: "I was good in maybe two-and-a-half scenes. Otherwise I was a duck, a turkey, I was flying blind. I thought the best review was Pauline Kael's. She didn't mention me. That was right. I didn't deserve to be mentioned."

Actor Caan is considerably more charitable. "I think she's a good actress," says Caan. "She has a terrific sense of humor." Indeed, Hutton's off-camera performance was more compelling than anything captured on film. Shooting a scene in a men's lavatory one day, Lauren astonished cast and crew by hoisting her flouncy white skirts and hopping into one of the stalls to answer nature's call.

Movie aspirations notwithstanding, Hutton is in no hurry to abandon modeling. Her contract with Ultima is certain to be renewed but she will no longer be photographed exclusively by Richard Avedon. His contract was not renewed.

Slowly, subtly, Hutton is revamping the "denim image" she has cultivated in recent years. "Modeling was basically a gig," she says. "And it's been a great one. It's given me money, freedom to travel, learn and expand my viewpoints. And from it, I've decided I want to be a very good actress." Will she succeed? When she started modeling, Lauren recalls, "They told me to fix my teeth, change my nose, even get out of the business. Well, you know all that. But I stayed, and learned and didn't give up. I'm going to be a very good actress. I believe that."


Advertisement
Today's Photos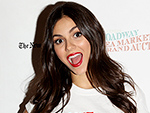 Treat Yourself! 4 Preview Issues
The most buzzed about stars this minute!