People Top 5
LAST UPDATE: Tuesday February 10, 2015 01:10PM EST
PEOPLE Top 5 are the most-viewed stories on the site over the past three days, updated every 60 minutes

"Lots of swimming and sex will keep any woman youthful," advises Zsa Zsa Gabor, who's rarely been spied in a tank suit since the 1936 Miss Hungary pageant. Now 55, Gabor confides she just elected former toy executive Jack Ryan as Husband No. 6 "because he's so good in bed—he's like Rubirosa [who was a lover, not one of the previous five spouses]. Somebody asked me," she continued, "if after six marriages, I felt like a used woman. Pah! There is no such thing. A woman has only to take a hot bath, and she is no different than before. Anyway, a woman who has just made love sparkles. I always sparkle..."

Pigmalion
"Jeffrey was walking all over me, a regular male chauvinist pig," says Helen Reddy about pre-I Am Woman days with husband-manager Jeff Wald. "Then I stood up for myself. It was a long process, taking many days and nights of talking. Jeff has changed a lot. He's a feminist now." But in London lately, Wald was sounding anything but reformed. Asked if he thought he had contributed to his fair lady's stardom, Wald conceded that he "had better material to work with than Professor Higgins" before getting in the last oink: "I don't think I made her a star. I know I did."

Necktie Party
Twice a presidential aspirant, ex-Sen. Eugene McCarthy is trying again, but no one is paying any attention. "I've done just about everything but hang myself up by my necktie to make the announcement more emphatic," he complained recently. But then McCarthy's running not as a Democrat but on something called the Committee for a Constitutional Presidency ticket this time, and by now perhaps he's beginning to make a Stassen of himself.

Groaning Bored
The French are gourmands to be sure, but that isn't why director Roger Vadim spent the night of his nuptials to Brigitte Bardot in the dining room. In his forthcoming autobiography, Memories of the Devil, Vadim reports that in 1952, when he became the 18-year-old sex kitten's first mate, their civil ceremony didn't satisfy her fiercely Catholic father. So, until the subsequent church wedding, Bardot pére billeted the protesting groom on a cot in the family salle à manger and packed his daughter back to her own room.

Banana Flambé
Being just one of a bunch of top bananas—even in that most sophisticated of TV sitcoms, M*A*S*H—did not satisfy actor McLean Stevenson. So after three seasons he played out his option (as Col. Henry Blake) on the assumption that he would headline his own show on NBC. So, in ineffable M*A*S*H style, Henry was written out in a shocking and fiery chopper crash that possibly burnt Stevenson's bridge behind him. The presumed producers of his NBC show have split, thus shutting McLean out for the fall and precluding any re-entry in a series until 1976 at the earliest.

Bunker Mentality
The male sanctum sanctorum in Washington is the Burning Tree Club in suburban Bethesda. It after all has the links where Presidents play out their kinks, with Secret Servicemen lolling about with guns in their golf bags. No female has even dug a divot there. Now the National Organization for Women and New York Representative Bella Abzug have begun to tee off against the club's sexist discrimination. "Mencken once said anyone guilty of golf should not be qualified to hold public office," quotes Abzug, "but if women are qualified for Congress, the Supreme Court and the White House, then certainly they should be able to play at Burning Tree. After five years restricted to swimming at dawn, we just integrated the congressional pool. Burning Tree," Bella decreed, "should be the next bastion to fall."

Furthermore

•Mel Brooks, who has four children (including one by present wife Anne Bancroft)', thinks the ideal family is twice that big. Why? "It's the right number to carry your coffin when you die from the heart attack which having eight children will certainly give you."

•Not only has Dani Greco, singer Buddy's ex, recaptured her fugitive romance, David Janssen, but she won't have to sit on the floor anymore. Before the reconciliation, the impetuous star of ABC's Harry O had stalked out on Dani and then cleaned out their whole Century City penthouse of furniture.


All That Glitters
Advertisement
Today's Photos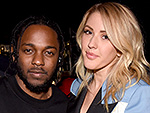 Treat Yourself! 4 Preview Issues
The most buzzed about stars this minute!