People Top 5
LAST UPDATE: Tuesday February 10, 2015 01:10PM EST
PEOPLE Top 5 are the most-viewed stories on the site over the past three days, updated every 60 minutes
Marjie's Men
Marjie Wallace's World of Sportsmen Widens—She's Aced Chris Out for Jimmy


If it is any solace to Chrissie, her Jimbo was aced away by no less than the consummate star-taker in the annals of sport—Marjorie Wallace. Aside from the gold tennis ball Connors won at Forest Hills this year, now provocatively adorning her cleavage, Marjie wears a Van Cleef & Arpels watch from her great late Grand Prix racing lover, Peter Revson. She also carries at least memories of Georgie Best (the Joe Namath of British soccer) and singer Tom Jones. As for her blinding 26-diamond ring, she doesn't deny rumors that it came from Motown mogul Berry Gordy. Suffice to say Marjie has achieved an astounding grand slam for a girl from Indianapolis who's still only 22.

Along the way, Wallace's dogged magnetism won her the 1974 Miss World title. But the notoriety that wafts around her like perfume got her dethroned after 104 days for failing to maintain "a first-class public image." She now explains, "I was never the beauty queen type—boring, straight and self-righteous." Wallace's out-front sexuality invariably earns her epithets like "super-groupie," but the one that hurts most is "Jinx Lady." Her femme fatale rap is not without cause. Barely 10 months after he started dating Marjie, Revson died in a practice spin. Best was busted for allegedly trashing Marjie's apartment and later was farmed out to the L.A. Aztecs. Even Connors is not immune, says his feisty ex-manager, Bill Riordan. Jimmy got eliminated in the quarterfinals at Wimbledon, Riordan charges, because he was unstrung by Marjie's ticket demands and other whims.

In truth, no one can blame Wallace for Revson's death or wild man Best's caper of the month. Connors has rebounded to the top of his game—and the world—and simultaneously cleaned up his spoiled-brat act. Even Riordan's come around, admitting, "Marjie's good for Jimmy, and I give her credit. He's temperamental and hard to live with."

The clincher, moreover, of Wallace's influence is not that she has replaced Evert but that she's weaning Jimbo finally, at 24, from his domineering mother-coach, Gloria Connors. He moved out of his mom's Beverly Hills hacienda six months ago to live quietly and anonymously with Marjie and their schnauzer, Sneakers, in a tiny, two-room pad in west L.A. "Marjie takes good care of me," Jimmy allows. "I don't have to run around chasing anymore." Marjie concurs. "If he's let me down, I don't know about it. Women are available to him wherever he goes. But," she adds unnecessarily, "men are available to me."

Jimmy and Marjie are together almost constantly, and she traveled as far as Cologne for one of his tournaments last week. On the road, they eat in hotel rooms and crawl under the covers often as early as 8:30. (Before a big match, it's purely to watch TV. "When I say Jimmy is disciplined," Marjie whispers, "I mean disciplined.") Jimmy's also shed 25 pounds lately—which, Wallace says, has nothing to do with her cooking. "We're junk food junkies," she laments. "Jimmy may turn into a Pepsi, and I'd kill for cherry pie and ice cream." Yet she remains at her playing weight of 110. Wallace's other stats from Miss World files are height 5'6" and 35-23-35.

She grew up in suburban Indianapolis, where her family ran an industrial supply business and "dancing at the Holiday Inn was the biggest thing in town." Her parents divorced when she was 14, and Marjie drifted into truancy, once splitting with a girlfriend as far as Miami. "My mother always says that if I ever have a daughter, I deserve to have one like myself," she laughs. Always competitive, she won ribbons in local swimming meets and made high school cheerleader but then started commuting to Chicago to model. At 17, Marjie moved in with a guitarist of a local rock group called Pure Funk. "I never thought of marriage and would have said no if he asked me," she declares. "I knew there was more."

More turned out to be Peter Revson, whom she met by wandering into a drugstore where he was making a pre-Indy 500 appearance. "He was this playboy millionaire, 34, and very attractive," Marjie recalls. "I was 19 and in awe." He invited her to a Speedway dinner and said, "I enjoyed you, Marjie, and I will see you again," when he left the next morning for Monte Carlo.

Encouraged by a modeling agent, Marjie copped the Miss Indiana contest and was thus up for Miss U.S.A. She figured that "as long as I'm going through with this charade I might as well win it. I never felt exploited by the contests because I was using them for my own goals." In November 1973 Marjie became the first American to win the Miss World title.

Her post-coronation problems began with soccer star Best, who contended, "She wanted me because I was George Best, and I wanted her because she was Miss World. It wasn't exactly a meeting of minds." Nor was it any more elevating when Marjie was photographed smooching passionately with Tom Jones during a promo tour to Barbados. All along she had been seeing more and more of Revson, by then reportedly her fiancé, which was a violation of her Miss World contract. So the sponsors, a dance hall chain, stripped Marjie of her title and $120,000 in upcoming promotions, just as the Vietnam truce canceled her USO tour with Bob Hope.

She fled to the U.S. and to Peter just before his fatal crash. He died wearing Marjie's gold locket inscribed, "If Not For You..." In the aftershock, Marjie was hospitalized. "I was depressed and OD'd on a few too many sleeping pills," she explains. "I never attempted suicide." Wallace does not deny her obligation to Revson. "It was with him that I learned to be a background force for a competitive person." Also before their encounter, "I didn't know what Van Cleef & Arpels or Halston was."

Bouncing back, Marjie relocated to Beverly Hills. She guested on TV shows like Baretta and Switch but, she sniffs, avoided the Hefner vortex of starlets. "I had seen and done it all before I came. Some of these girls had never seen a Rolls-Royce or a money clip. They sleep with one bachelor and then get passed to another. They fast become old news." She insists her reported relationship at the time with Motown's Berry Gordy was strictly "platonic." He is still a chum in any case, and his conglomerate handles her publicity.

Marjie met Jimmy on the prowl a year ago at a friend's birthday party. "We sized up each other cautiously at first," she recalls. "But we clicked because we have the same basic values. We're both meat-and-potatoes kids from the Midwest who have made it." Also, she's found that "Jimmy has more respect for women than any other man I know." In their L.A. apartment, they're two young fogies. Marjie's into needlepoint and backgammon, while Jimmy shoots pool. Their only extravagances are her black Jensen, his ebony Porsche.

Marjie is still close to her parents and introduced them to Jimmy when he won the U.S. Clay Courts in Indianapolis this summer. She says that Gloria Connors has been "very kind" to her. "If Jimmy didn't go out with women, then Gloria would worry," she cracks. But that may be only because Mama assumes Marjie hasn't set her hook. Bill Riordan remembers that "Gloria worked for two years breaking up Chris and Jimmy. It was something out of Tennessee Williams. She would call me in the middle of the night screaming, 'I'm going to lose him.' " Another close friend agrees, "If Jimmy did marry Marjie, Gloria would die."

Marjie herself shrugs off marriage, saying, "anything's possible," but from her track record, it won't happen yet. She's unconcerned that her modeling career has dried up during her Connors period. "I might try sportscasting," she muses. "After all, I have certain advantages." Whether the attention Marjie Wallace covets tops out on the sports pages or the tabloids, she obviously believes that when the One Great Scorer comes to write against your name, He marks not that you won or lost but how you played...


Advertisement
Today's Photos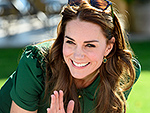 Treat Yourself! 4 Preview Issues
The most buzzed about stars this minute!