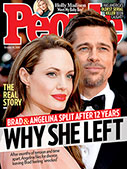 This Week's Issue!
People Top 5
LAST UPDATE: Tuesday February 10, 2015 01:10PM EST
PEOPLE Top 5 are the most-viewed stories on the site over the past three days, updated every 60 minutes

How I miss the old days when you could open a paper and read about some terribly shocking thing Mick and Marianne (Faithfull) had done or said. And while our parents clicked their tongues, we raised our fists and said, "That's it, Mick, give it to the Establishment." Now all you read about is whom his wife's sleeping with, and listen to her profess her independence while spending his millions (PEOPLE, May 2).
Nicki Grimm
Chicago

Bianca Jagger is one cool lady. What she needs with that faded has-been, Mick Jagger, is beyond me.
Cee Hromjah
New York City

At last, an unbiased article about Bianca Jagger. She is not catty, conceited, superficial or lazy as some would have us believe. She is a sensitive, caring and creative person at ease with her own identity.
Betty S. Stilt
Lusby, Md.

Super-beautiful Bianca makes Farrah look like a drip. Hear that, Fawcett?
Charlotte Osborn
Little Rock

I have seen some fantastic photographs by Francesco Scavullo, but nothing like the cover of Bianca Jagger. It's dynamite!
Kathy Klonowski
Kankakee, Ill.

Sinatra
Frank "did Francis Scott Key proud," you say. Obviously no one from PEOPLE heard Sinatra sing The Star-Spangled Banner at the opening Dodger game in Los Angeles.
Carol Breidenbach
Hermosa Beach, Calif.

Julian Bond
Julian Bond has been active in many fields. But you failed to mention his work with the Southern Poverty Law Center. The center represents many Southern indigents who would otherwise not be able to afford counsel. The most famous of its clients is probably Joan Little, who was acquitted of a murder charge.
Stacie Horton
Granite City, Ill.

Pat Collins
The CBS television producer of the Emmy-winning Pat Collins Show (April 18) at the end was not Pat, but me. A couple of golden statuettes on my connubial mantelpiece attest to this fact, which Pat herself would be the first to warmly confirm.
Dolores Danska
New York City

Henry Ford II
It's always nice to have a better Detroit. But why couldn't Ford have put some of that $337.5 million spent on the Renaissance Center into helping America beat the energy problem?
Kevin Cardin
Platteville, Wis.

Behind Henry Ford is a very familiar-looking scene. Was the Renaissance Center's hotel used for any of the interior scenes of the sci-fi movie Logan's Run?
Debi Kane
Washington, D.C.

No, it was Dallas' spacey, five-story Great Hall in the Apparel Mart.—ED.

The Danoffs
For the last 10 years, with love and great pride, I have watched Bill and Taffy Danoff cultivate their "special" talent. Thank you for acknowledging them and their Starland Vocal Band. I am Afternoon Delight-ed.
Lynda Cooper
Washington, D.C.

Natalie Cole
It's much too early to compare Natalie Cole with Aretha Franklin. You must remember that Natalie has to have time to discover who she really wants to imitate, Aretha or Ella. A better comparison to Aretha would be the brilliant soul singer Loleatta Holloway. She sings circles around Natalie (as does Aretha).
Oliver McKnight
New York City

Jane Frederick
While my girlfriends strive to achieve the Farrah Fawcett look, I dream of having a body like pentathlon star Jane Frederick's. What a beautiful woman.
Mrs. Bill Megnin
Seabrook, Texas

"That body, those muscles..." My only regret is that the opening photograph was printed on a split page. I would have liked to have framed it. Compliments to the photographer who captured it. Honor to the woman who lives it.
C. R. Clark
La Crescenta, Calif.

Chuck Barris
You call the Gong Show "cruel-and-un-usual"? It's magnificent. Open up your eyes, America, for the Gong Show and Chuck Barris await you!
Heidi M. Hornung
Manchester, N.H.

If you think the Gong Show is cruel you're NUTS! Every contestant knows exactly what she (he, or it) is getting into. I know, I was one. Chuck Barris should be praised for being kind enough to let us "looney tunes" do our thing. It does, however, look a little embarrassing on a résumé.
Helen Hudson
Santa Monica

Hudson, 24, played the guitar and sang an original composition, The Big Bad City Blues. "I lost to a robot that dropped eggs on the floor," she says cheerfully. "He did it very well."—ED.

Mr. Barris has gonged his own show. The elimination of Gary Owens as the nighttime host has really disappointed us and our friends. In this instance, Barris is on the wrong side of the camera.
The Doyle Family
Edmonds, Wash.

I don't weigh 350 lbs. I weigh 300.1 am not a "painful performer" and I was not "humiliatingly gonged." I was asked to do the silly belching because my real comedy act took three minutes (the belching song was only 90 seconds). I have received TV and movie parts since my first appearance on the show. I am now known as "300 lbs. of Sex" (above). And believe me I am!
Tiny Brooks
Burbank, Calif.

Marty Ingels
Your story on Marty Ingels, "Prince of Plugs" (April 4), claims that he completed a contract between Robert Wagner and the Timex Corporation for a sum of $200,000. The facts are that no talent contract exists between Timex (or any agent of the corporation) and Robert Wagner, nor has one ever existed.
James P. Fagan
Vice President
Grey Advertising Inc.
New York City

At the time the story went to press, Ingels believed that a contract was near. Negotiations subsequently broke down.—ED.

Donna Behrendt
Wing walker Behrendt may not be scared, but as a student pilot, I suggest she develop a little respect for the sky. Let's not forget the horrifying death of wing walker Gordon McCollom at the 1975 Reno Air Races.
Susan Kohl
Dixon, Calif.

McCollom, 25, a schoolteacher when he wasn't performing, was flying upside down in front of the grandstand when the plane encountered a downdraft. His head struck the ground.—ED.

Grady Nutt
Grady Nutt is the funniest man I've ever had the privilege of knowing. He is also an exegete of the Bible, and because of his unique approach often drives home a point that many of us never stop to consider.
Keith Bryant
Wayland Baptist College
Plainview, Texas

I am writing to you about a most interesting dimension to your publication that most of your readers will not be aware of. I was the subject of one of your features in the May 2 issue. More than eight hours of conversation and photography went into our initial interviews. I thought that would do it; but when time came to print the copy, I was called on five different occasions for information as minute as the spelling of nicknames. I thank you for that quality of writing and reporting. I am going to read future accounts with deep appreciation and admiration!
Grady Nutt
Louisville, Ky.

Wayne & Dern
Just so the record is straight, Bruce Dern was the fourth man to kill John Wayne onscreen (The Cowboys, 1972). His dastardly predecessors were: a Japanese sniper in The Fighting Sea-bees (1944); another Japanese sniper in Sands of Iwo Jima (1949); and a Mexican soldier in The Alamo (1960). Trivia buffs, take heart.
John Roberts
Los Angeles


Bianca Jagger
Advertisement
Treat Yourself! 4 Preview Issues
The most buzzed about stars this minute!