Archive Page - 12/1/12 39 years, 2,079 covers and 53,260 stories from PEOPLE magazine's history for you to enjoy
On Newsstands Now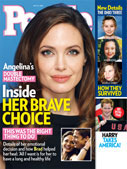 Angelina: Inside Her Brave Choice

New Details on the Ohio Three

Prince Harry Takes America!
Pick up your copy on newsstands
Click here for instant access to the Digital Magazine
People Top 5
LAST UPDATE: Monday May 20, 2013 04:10AM EDT
PEOPLE Top 5 are the most-viewed stories on the site over the past three days, updated every 60 minutes
Dressing the Stars
'A Designer's Only as Good as His Clientele,' Says Halston, Which Surely Makes Him Number One


For the Manhattan-based designer, helping out Elizabeth Taylor Warner meant whipping up 95 tablecloths from his rose-patterned sheets (to be launched this fall), tents to match and two new dresses for Liz. The first—layers of billowing red chiffon to show off her diamonds—was for early in the evening, while she wore a second model in blue for her final thank-you speech. Right up to curtain time Halston was also working on four stage costumes for Liza Minnelli, whom Liz had pressed into service (along with Beverly Sills, Sammy Davis Jr. and Henry Fonda). "They lie about their figures, you know," Halston confides. But this time neither Liz nor Liza was cheating. Great relief. All the gowns fit.

"When we get together, it's giggles, this-that-and-everything," says Halston, immaculate in a white evening suit. "Liz loves Liza: Liza loves Liz. I love them both, and I think they like me."

Indeed they do. Halston has been making clothes for Minnelli (who calls him "Baby") since 1970, and for Liz (who calls him "Pussyface") since he created the dress she wore at last year's Academy Awards. Their affection for Halston and his impeccable taste is shared by dozens upon dozens of the nation's best-dressed women, ranging from Marisa Berenson, Barbara Walters and Jackie Onassis to Betty Ford, Lauren Bacall and Martha Graham. Together this formidable group has made Roy Halston Frowick, 44, America's preeminent fashion designer.

"A designer is only as good as his clientele," Halston insists. "We only suggest things. It is fashionable people who make fashion." True, but there is no overlooking that Halston is the designer who (1) revived the shirtwaist dress—in Ultrasuede, some 58,000 have been sold at $360 each; (2) brought back cashmere, especially for dresses and pajamas; (3) elevated the flattering-to-all-figures caftan to high fashion; (4) engineered a strapless evening gown that needs no underpinnings, and (5) has given American fashion its own un-European pared-down elegance. "I'm Mr. Clean," says Halston.

It was to simplify her own bejeweled and decorative appearance that Elizabeth Taylor first came to Halston last year. "I wanted to take all the fancy stuff off her," he recalls. "Her overpowering clothes made her look bigger than she was. I promise you, she has the smallest waist and hips, wonderful legs, and what every man and woman likes—big ba-zooms." Spreading all her jewelry out on a table, Halston developed a wardrobe to match, this to go with emeralds, that for the rubies. "Of course, when Elizabeth is happy she puts on a few pounds," he cheerfully points out. Liz takes no affront. "He's a genius," she coos, "if he can make a lump like me get compliments about looking beautiful."

And Liza? "I always saw her as a young lady Fred Astaire," Halston says. "Shirts, pants and snap-brim hat, we styled her completely years ago. I think we gave her confidence, made her realize how attractive and womanly she was."

Whatever success he's had at redecorating prominent bodies, Halston is far more than just a talented designer. As the head of an empire that does more than a $100 million retail volume (with some 32 separate operations under the aegis of the Norton Simon conglomerate), he puts his stamp on everything from department store dresses to wigs, furs, sunglasses, perfumes, even rugs. What draws the star clientele, of course, are his made-to-order clothes. Halston' personally sees each customer. When he doesn't, they fret. Says Kay Graham, publisher of the Washington Post, whose wardrobe is almost exclusively Halston, "I always tell him what occasions I'll be needing things for. Once in a while I've ordered clothes while he's been away. Somehow they never seem to work as well without his personal touch."

At prices up to $1,200 (any higher would be "a bit chichi"), Halston can afford a soft sell. But a softie he is not. He keeps fit with regular workouts. And he can play as hard as he works, partnering the likes of Susan Ford or Bianca Jagger (on her birthday—"It was the best one of my life," she says). He insists that such splashes are unusual. "I'm not a social butterfly. I'm a professional man and I have an enormous corporate structure to look after."

Born in Iowa, and raised in Indiana (as were designers Norman Norell and Bill Blass), Halston attended Indiana University, and then parlayed experience as a hat designer in Chicago into a New York job, first at Lily Daché and later at Bergdorf Goodman. (It was there that he made the famed pillbox hat for Jackie Kennedy in 1960.) In 1969 he opened his own dress business. At 9:30 that first morning Mrs. Barbara "Babe" Paley, wife of the CBS chairman and fashion's most resplendent figure, was at the door. The rest of his former Bergdorf customers were not far behind.

For all his jet-set acquaintances and disco ways, Halston has never succumbed to New York flamboyance. "He's very American, very Midwest, apple pie and fried chicken," says artist Victor Hugo, long Halston's close friend. "There is no dark side to him."

Usually in his office by 7:45 a.m. and endlessly sketching at any free moment, Halston says, "I can do a collection in a day—conceptually, that is. Naturally, it sometimes takes three months to work out those concepts, but in an evening, if I'm hot, I can cut an entire collection. I'm on the floor there, the model is nude, we do the whole thing."

Usually soft-spoken and polite, Halston can show his claws when the subject of Paris and Yves St. Laurent comes up. "Bull," says Halston. "Name me one original thing St. Laurent actually invented." By contrast, he asserts, "We've done one-seam dresses, serpentine dresses made on the bias that curl around the body. We've invented cuts that never existed before. I don't go to museums and knock off Goya, or the peasants, or Proust, or Chinese robes."

Halston is often bemused by his success. "You know, people think of us as Establishment—but we've really been around a very short time." What's next? "I want to do furniture." And, finally, how does he see himself? Halston lights yet another True and shrugs. "I'm a dressmaker—what can I tell you?"


Advertisement
Treat Yourself! 4 Preview Issues
The most buzzed about stars this minute!