Archive Page - 12/1/12 39 years, 2,080 covers and 53,257 stories from PEOPLE magazine's history for you to enjoy
On Newsstands Now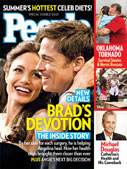 Brad's Devotion: The Inside Story

Oklahoma Tornado: Heroic Rescues

Michael Douglas on Catherine's Health
Pick up your copy on newsstands
Click here for instant access to the Digital Magazine
People Top 5
LAST UPDATE: Friday May 24, 2013 03:10AM EDT
PEOPLE Top 5 are the most-viewed stories on the site over the past three days, updated every 60 minutes
Jogging for Joy
Lee Majors, Farrah Fawcett and Other Stars (Huff, Pant) Are Latching (Wheeze) Onto the Great American Joggernaut


Brenda does it for love
"I like to jog because it helps my love life," laughs Brenda Vaccaro, 37 (right), whose television series (Sara) and long-running romance with actor Michael Douglas were both abruptly canceled last year. Now living alone and between film roles, Vaccaro has been urged back to a jogging habit nearly five years old by her Belgian sheepdogs, Brindle and Skeets, who pull her along the beach or around the woods near her home whenever she feels up to it. Often she doesn't—as last winter, when she also quit smoking and gained 15 pounds. After that, she devised a rather novel reducing strategy: she started running and smoking. "I thought the two would go very well together," she deadpans. The prognosis is guarded.

Farrah limbers with Lee
Though they've been accused recently of running out on their contracts, Lee and Farrah Fawcett-Majors (opposite) insist that the only real running they do is for exercise. "It makes us feel good and healthy," says ABC's Six Million Dollar Man, who points out that he also jogs every week on TV—"at 60 miles an hour." One of Hollywood's more athletic couples, Farrah is a devoted tennis player, Lee plays racquet-ball and touch football, and they started jogging together several years ago. Unlike some stars, they never got hooked on a particular time of day, and when busy schedules make it impossible for them to run together, the Majorses do it separately. Says Farrah: "It's part of my life—like brushing my teeth."

Zanuck unleashes body and mind by the sea
Richard Zanuck will be forgiven if he likes to run near the ocean: He co-produced that briny blockbuster, Jaws. Now working on a sequel, the 42-year-old mogul describes himself as a "serious jogger" (he's up to three seven-minute miles a day) who gets "withdrawal, emotional anguish if I miss a day." Zanuck says that since he got the faith from a book on running 10 years ago, his workouts have taken on the character of Za-zen. "I can lock my brain off and focus on one particular subject," he says. "It's hypnotic."

Reed runs like a bandit
"Hell, I've been runnin' since Hitler was a corporal," cracks country crooner Jerry Reed, 40 (below). Actually, his running habit dates from the late '60s, when a mediocre handball game and fishing ceased to satisfy. Reed's latest marathon is a 12-reel run from the law called Smokey and the Bandit, but in real life he'll never run alone: he ropes friends into his early-hours gambols around his Nashville neighborhood. "When the hardest work you do is pick up a guitar," says Reed with a shrug, "you have to do something."

The Lindens do it à deux
Hal Linden, 46, the star of ABC's Barney Miller, jogs two miles a day around UCLA's track, having shed 15 pounds and a chronic back problem since he started a year ago. He says he built up stamina gradually by "running until I was tired, then walking, then running again." Now he aims to "pick up speed before adding to the distance." Wife Frances usually joins him (above), but Linden admits he often runs in a fantasy world, imagining that he's competing in the Olympics or running a marathon. "The best fantasy," he says, "is when I see myself at the top of those stairs in Rocky and they're playing Gonna Fly Now."

Bess jogs to see Sis
Always "goal oriented," consumer advocate and 1945 Miss America Bess Myerson says that "even when I jog I need a place to get to." So her course is across Manhattan's Central Park to visit her sister, with stops between. Her weekly total: about 10 to 12 miles. A runner since childhood, Myerson is in it for the exercise, and she sometimes does her paces on the stairs of her apartment building or pedals a stationary bicycle in her bedroom. She maintains, "I'm not an addict. I'm not like some of those nuts."

Burgess faces himself
Burgess Meredith, 63, started jogging three years ago when he was in poor health. Now the veteran character actor and Oscar nominee (for Rocky) tries to log two or three miles every morning on the beach or splashing through the creek (below) near his Malibu home—unless, of course, he's been out partying the night before or has an early call. "I don't force myself," he says. What makes him run at all? "A full-length mirror with bad lighting and no clothes convinces you," he laughs. "You run like a stag."

Lola heads for the hills
"If I can get a couple of people to run, I go," says singer-dancer Lola Falana, "but given the choice, I'd rather play tennis." Perhaps familiarity breeds her mock contempt: she was an avid runner in her teens, recently outran Ed Asner on CBS's Challenge of the Sexes (looks are deceiving—he's in good shape), and can often be seen winding through the Hollywood Hills near her home around dawn—"so I beat the traffic and smog," she explains. "Sometimes I'll work out problems when I run, or sometimes I just float. Also, I sing music in my head—it's a nice way to keep the rhythm and keep grooving."

Thurmond's determined
"I expect to be jogging till I'm 90," declares South Carolina Sen. Strom Thurmond—and, at 75, he looks as if he could. Rising at dawn, he rips through half an hour of calisthenics, then collects 30-year-old wife Nancy and a couple of their four small children (below, with Nancy, 6, and Juliana, 3) for a one-mile trot around their McLean, Va. neighborhood. (After the kids go to school, Thurmond does another three miles.) "Chronological age doesn't mean a thing," says the life of the Grand Old Party. "It's your condition that counts."

Brokaw's persistent
Today show host and former White House correspondent Tom Brokaw, 36, never lets his job get in the way of his jog. While chasing down stories for NBC News, he has literally run all over the world—along the bike paths of Paris, through London's Hyde Park and even around the Kremlin wall. "It's as much a spiritual and psychological help as it is a physical help," he says. His present job confines him to sprints around Central Park's reservoir near his Manhattan apartment but, dressed in red shorts, a T-shirt and running shoes, Brokaw does it for an hour every afternoon. Says he: "I feel guilty if I miss a single day."

What makes the celebrities run?

New York writer Valerie Andrews, a jogger herself, has made a close study of running habits among people in high-stress, high-visibility positions for her book Running: Body and Soul, to be published in 1978 by Rawson Associates. Among her observations:

Public people jog for the same reasons that six million other Americans do, but the peculiar demands of fame seem to intensify their need for it. Physicians are telling many patients now literally to run for their lives; research shows that jogging promotes better circulation and diminishes the risk of heart attack. But it also improves skin and muscle tone, sheds water weight, eats up calories (about 100 on a one-mile run) and gives the proverbial "glow of health." Some celebrities may be running for their lives on doctor's orders, but in professions where looks can mean the difference between starring roles and unemployment checks, more of them are probably running for their livelihoods.

One of the most valuable side effects of jogging is an increase of energy, will and self-esteem. Shirley MacLaine, after campaigning for Mc-Govern in 1972 on the chicken à la king circuit, found the pounds stayed on. Determined to go back onstage, she started running, lost 25 pounds and returned to headline at Las Vegas' Grand Hotel—at age 40. Robert Merrill of the Metropolitan Opera says he needs his daily run to build up the-energy for such demanding roles as Rigoletto. "It's invigorating," says the star of ABC's Fish, Abe Vigoda. "I feel like a man in his 20s or 30s, but I'm 56."

Many creative people also report having sudden insights while running. Novelist Joseph Heller, who logs 15 miles a week, says bits of dialogue can coalesce into major scenes during his workout. "For the first eight or sixteen laps, I have an imaginary argument with someone," he says, "but then the hostility is gone and I can think about my book." Such feelings of euphoria may be due to the increase of epinephrine in the bloodstream during jogging, a chemical some researchers have linked with a reduction in anxiety. The feelings of guilt and anxiety some runners have when they skip a day is a form of withdrawal from that addictive high.

For other joggers, the pay-off is social. New Times publisher George Hirsch, for instance, sees his early-hours jog with friends as a kind of "morning cocktail party." And even marathons, once the sole province of serious athletes, are becoming splashy social and media events.

But for lionized celebrities, the chief benefit of jogging may be simply to steady their sense of identity in the onslaught of public expectations. As Farrah Fawcett-Majors once put it: "Perhaps my physical workouts are my way of getting centered—of getting a grip on myself."


Advertisement
Treat Yourself! 4 Preview Issues
The most buzzed about stars this minute!