Archive Page - 12/1/12 39 years, 2,079 covers and 53,260 stories from PEOPLE magazine's history for you to enjoy
On Newsstands Now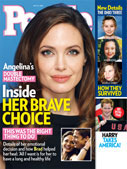 Angelina: Inside Her Brave Choice

New Details on the Ohio Three

Prince Harry Takes America!
Pick up your copy on newsstands
Click here for instant access to the Digital Magazine
People Top 5
LAST UPDATE: Sunday May 19, 2013 12:10PM EDT
PEOPLE Top 5 are the most-viewed stories on the site over the past three days, updated every 60 minutes
More Than Good-Looking
What Makes Rather Run 110 Hours a Week? Dapper Dan Denies It's for Cronkite's Throne


Those inconsistencies in his image make Rather, especially among less sexy males in TV news (which is most of them), a fat target. But a moving one. "I don't want people to say that 'he made it on his looks,' " snaps Rather. "When a hard assignment has been offered, I've taken it." That included volunteering for a tour in Vietnam and a long, contentious confrontation with Richard Nixon during Watergate (e.g., the notorious press conference in which the President asked, "Are you running for something?" and Rather brazenly shot back, "No, sir, Mr. President, are you?"). Summing up his career to date, Rather observes: "There are people smarter than I am, but nobody is going to outwork me."

Without 7-N Pan-Cake makeup covering his surprisingly fair skin, he looks older and more weathered than he appears on air. The bags under his eyes are darker, the lines around them deeper. The presumably glamorous profession of TV correspondent can be murderous. Don Hewitt, executive producer of 60 Minutes, says he went after Dan (to supplement his two other stars, Mike Wallace and Morley Safer) "when Mike called me, and I asked, 'Where are you?' 'I don't know,' Wallace replied, and he then went out and asked someone near the phone." Three anchormen—Hewitt calls Wallace his Kojak, Safer his Dr. Watson (à la Sherlock Holmes) and Rather his Mc-Garrett (the smoothy sleuth on Hawaii Five-O)—haven't necessarily helped. In one merciless recent 10-day push, Dan's secretary logged 42 different flights on his expense account. "Of my 15 years at CBS," he deadpans, "three have been spent in planes."

For all the jet lag and lack of sleep (his career average: four to five hours per night), Dan has never been one of the studio screamers and tantrum-throwers who thrive in the business. Observes Eric Sevareid: "He is the kind of a guy you want on a tiger shoot. A lot of writers and reporters have neuroses, but Dan is solid as a rock." Rather appreciates the compliment and the source but notes, "I subscribe to the old maxim—anytime you don't get nervous you should get out." He is a bug on rehearsal rundowns and reads each script at least six times out loud before the tape rolls. He recalls covering City Hall early on in Houston ("I opened my mouth to ask a question and nothing came out") and is not too proud to own up to "brother Sevareid's" kindly correction of his pronunciation of dour ("not like 'sour'").

Dan knows that Rather put-down stories are a staple of the cocktail-and-scuttlebutt circuit of the CBS News in-crowd that he's never joined. "This is a vicious and competitive business," he concedes, "and anybody who forgets it does so at his peril." But office gossip is a waste of time to Rather, who's called "the 60 Minutes scoutmaster" by one associate. Allows the raucous Barbara Howar: "He's such a replete Southern gentleman I have to watch my mouth around him."

It disappointed envious rivals that Rather's first best-seller, The Palace Guard, an account of the men around Nixon co-authored with ex-CBS Evening News writer Gary Gates in 1974, was well received by critics. So there's gleeful clucking now that Dan's taken a bit of a pasting for hiring professional ghost Mickey Herskowitz (previously employed by Howard Cosell) to collaborate on his latest tome. Says old Houston buddy Herskowitz: "It is his story, his material and, to an unusual degree, his language. Credit was given to me at Dan's insistence." Rather says plausibly: "I don't have the time to do a book by myself unless I could take a year off. And frankly," he adds with grace, "it's quite possible neither book would have been as good if I had done it all by myself. In Texas, it's a sin to try to be something you aren't."

Rather is seven-eighths Texas Baptist, and as for the rest, he explains, "my grandmother's father took an Indian woman." His dad felt finishing high school was achievement enough, but his mother was determined her children go to college (all three did). Dan financed his way through Sam Houston State Teachers College in Huntsville by pumping gas, working on oil rigs, and finally with a 40¢-an-hour job sports-casting at a local radio station. After the Marines (he just missed the Korean war) he worked briefly for the Houston Chronicle, then switched to broadcasting because his spelling was poor and radio paid $20 more a week. While announcing for Houston's KTRH and studying law at night, he met and married Jean Goebel, a secretary at the station. She was 20, he 24. "Given those times," he says, "I was getting on."

Not to mention upward. In TV, which was the inevitable next step, he always seemed to be the right face at the right place. His coverage of Hurricane Carla for Houston's CBS affiliate prompted the network to call Rather to New York, and at the early age of 29 he was knighted a CBS correspondent.

Returned to various Southern postings, Rather by chance decided to cover personally John F. Kennedy's November 1963 visit to Dallas. His solid work those next sleepless days made him a network star. "At 30," he says, "I figured I would never have a story near that, but then came Watergate." This time, as White House correspondent, he became a media heavy, particularly among conservative owners of CBS stations who lobbied to have him transferred. "Thank God on the story of my life I was correct," sighs Rather.

Inevitably, anyone as work-obsessed as he has had to slight family life and, like any other media star, groupies are in the wings. Remarks one of Rather's 60 Minutes producers, "He wouldn't have any trouble finding a bedmate any night of the week." Observes Rather on the abundance of women available to him: "TV is power—you learn to deal with it." He deflates the rumors constantly being floated about himself. "When I asked for an extralong couch for my office—to nap on—eyebrows around here shot up." If he teams with an attractive female producer everyone smirks. ("Of course, if I hired all males," he cracks, "they would say, 'Rather is Bruce.' It's ridiculous.") The final word from Howar: "Dan's a chauvinist, but he fights it. He admitted to me he doesn't want his daughter living with some man—yet it would be all right if it were his son." Dan does go so far as to say, "Women are more interesting than men. Men talk power and study power," he posits. "Women, because they have been oppressed—this sounds like it's out of Ms. magazine—have studied people."

In a field littered with busted marriages, he can't forget the solidity of his parents' relationship. Though he hokily paraphrases country singer Johnny Paycheck's new hit in conversation—"The only hell my mother ever raised was me"—he is obviously determined to maintain his own 21-year marriage. So is wife Jean, easily as tough and determined as Dan. A vegetarian who has half-converted her Tex-Mex and bourbon-bred husband, she plays tennis, paints, reads and is fiendishly protective of the privacy of the family, which includes daughter Robin, 19, a sophomore at Tufts, Dan Jr., 17, a senior at Sidwell Friends, a cat, a dog and, until recently, young Dan's 5-foot iguana. Jean is not now and never will be reconciled to the "jealous mistress" that is Rather's career. ("I think Dan is gorgeous," she declares, "and I could say fantastic things about him, but I won't.") She is not as amused as others about the time, years ago, when Dan popped in one night and her younger child explained to a playmate, "Oh, that's Dan Rather." Jean looks forward to next year when Dan Jr. is in college, so she can move to the new co-op they have just purchased in Manhattan. Currently, when not on assignment, Rather air-shuttles home at his own expense ($76 a round trip) as often as four times a week.

For escape, Rather reads Walker Percy and is scrawling notes for a novel of his own "so I can tell the things you can't tell in nonfiction." Despite his literary efforts, he has inferiority feelings about his education, and says, "I should take two years off and just read." Still athletic, Dan scubas, hunts, fishes and jogs down Park Avenue at 5 a.m. when he sleeps over in his present Manhattan pied-à-terre. He keeps his 6', 178-pound frame lean by lunching on diet cola and yogurt. Unspoiled, he often eats with the crew. "He is not a snob like a lot of them," remarks a cameraman. He flies economy class and wears bespoke Saville Row suits only because they don't wrinkle. The family car is a Volvo.

He first got into six figures in 1975, now earns about $125,000—hardly in the $500,000-$600,000 Cronkite or Harry Reasoner ballparks. Dan would be an obvious target for ABC's just-launched raiding war to try to buy news parity with its established rivals. But Rather is presumed to be too much of a CBS company man to jump. "Money matters, but it doesn't move me," Dan says with conviction, but he's less persuasive in suggesting that he's not gunning for Cronkite's job when the 60-year-old anchorman stands down in 1981. Rather is correct in pointing out that "there won't be a new Walter Cronkite. Whoever goes in will have a problem. Walter is believable—the rest of us are trying to live up to that." The heir apparent was once Roger Mudd, and he's still Cronkite's No. 1 vacation replacement. (Walter's new contract is the cushiest in the industry this side of Johnny Carson's, calling for three months off.) But insiders think the odds are shortening on Rather, and CBS News President Richard Salant throws in the names of long shots like Bob Schieffer, Ed Bradley and Lesley Stahl just to murk over the crystal ball. (Bill Moyers, Eric Sevareid's retirement replacement this fall, is another dark horse.)

Dan professes to be disturbed that appearance could be decisive in the final reckoning, especially among any women candidates: "We still haven't reached the point where the female equivalent of a Dan Schorr can make it." He admits, though, that "all other things being equal, in broadcast journalism the person with the best appearance is likely to do best. I would hate," cracks Dan Rather of all people, "to anchor the news opposite Paul Newman."


Advertisement
Treat Yourself! 4 Preview Issues
The most buzzed about stars this minute!