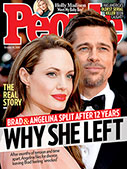 This Week's Issue!
People Top 5
LAST UPDATE: Tuesday February 10, 2015 01:10PM EST
PEOPLE Top 5 are the most-viewed stories on the site over the past three days, updated every 60 minutes
Picks and Pans: Pages
Not Quite a Hero


Le Carré didn't create the spy novel, but he perfected it, and his latest is perfection. It's George Smiley again, the pudgy, ostensibly plodding spy-master who ferreted out the Russian "mole" in Tinker, Tailor. Now running the circus, George doesn't get mad, he gets even. He sics sometime journalist Gerald Westerby—the schoolboy of the title—on the Soviets. But Westerby is a vulnerable man, which sets up the inevitable le Carré conflict between political ends and personal means. The Honourable Schoolboy deserves highest marks. (Knopf, $10.95)

by Laurence Leamer

Power is the measure of success in Washington; the price is that those who seek it are used by it. With that premise, journalist Laurence Learner meticulously dissects eight Washingtonians—ranging from-Ralph Nader to Henry Kissinger—in beautifully nuanced character studies. His listing of the bare contents of Sen. Robert Byrd's refrigerator—"an open bottle of Tab, two recapped bottles of Coca-Cola, a dried-out piece of roast beef wrapped in a wrinkled sheet of cellophane, a crust of bread, stale celery and carrots..."—tells us all we need to know about the human cost of politics. (Dial, $10)

by Annie Dillard

"Nothing is going to happen in this book," Dillard writes on page 24. "There is only a little violence here and there in the language, at the corner where eternity chips time." She lives on an island in Puget Sound, and her poetry is made up of descriptive passages about her cat, a candle, the landscape, a tragic plane crash in which a little girl's face is burned, and a lot about God, Jesus and the church. Some of it is unintelligible, but when Dillard hits, the language shimmers. (Harper & Row, $6.50)

by Larry Niven and Jerry Pournelle

End-of-the-world novels have to be pretty bad to bore a reader. You can, after all, while away the inevitably pointless and painfully inexplicit sex scenes by wondering what you'd really do if civilization were obliterated and you had to survive without Sears and McDonald's. This apocalypse comes via comet fragments striking the earth, destroying nearly everything with tidal waves, earthquakes and hurricanes. An even bigger disaster occurs when sci-fi veterans Niven and Pournelle try to turn their cast of surviving stereotypes into characters you care about. You'll probably want to stick out all 494 pages to find out what happens anyway. (Playboy Press, $10)

by John Reader and Harvey Croze

This is a book which truly explores the sweet mystery of life. Reader, a London-born photographer working in Kenya, asked ecologist Croze to help explain the natural events he saw around him in the bush. The result is a remarkable black-and-white-picture and text documentary of East African wildlife that happily bears little resemblance to either Disney or Wild Kingdom. One example they cite: 100 square miles of grassland will support 100 gazelles; one lion can stay alive on those 100 gazelles; when the lion dies, the carcass will decompose and feed the vultures and insects. Thus, the fearful symmetry. The pictures are memorable; one, of copulating elephants, is a classic. (Lippincott, $12.95)

by Milton Bass

Every bookstore is lined with novels and nonfiction about political skulduggery in Washington. This book is about how difficult it is to be an honest, effective mayor in a small town. When Bill Costain is elected, he finds he is completely unprepared for the job. He bumbles around, pressured from all sides. There is a melodramatic crisis when his wife is raped, and at the end he undergoes a moment of truth at a big rally where he's supposed to introduce a senator. Cynicism usually is the trait that makes heroes like Costain interesting, but here an appealing sadness pervades almost every page. Not Quite a Hero is original and effective. (Putnam, $8.95)


by John le Carré
Advertisement
Treat Yourself! 4 Preview Issues
The most buzzed about stars this minute!