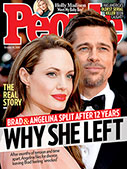 This Week's Issue!
People Top 5
LAST UPDATE: Tuesday February 10, 2015 01:10PM EST
PEOPLE Top 5 are the most-viewed stories on the site over the past three days, updated every 60 minutes
Picks and Pans: Pages
Playing for Keeps in Washington


The plot—terrorists of vague origins scheme to blow up the New York Stock Exchange—fades in and out of focus and the characters are notable for the intensity of their boredom and lack of commitment. So it's all the more admirable that DeLillo (End Zone, Ratner's Star) uses such ambient details of New York City life as glazed-eye commuters ("the fish of cities") and sidewalk prophets to fill his novel with a powerful subliminal hysteria. You know he hasn't written about screams of terror—but you hear them soundlessly, anyway. (Knopf, $7.95)

by Deborah Szekely Mazzanti

Since 1959 more than 20,000 people—including Barbra Streisand, William Holden, Dinah Shore—have fought their battles of the bulge with health guru Deborah Szekely Mazzanti at her Golden Door spa near San Diego, Calif. For those who would rather do it themselves or are simply unwilling to shell out $1,500 a week to be pampered, pounded and reprogrammed at the lavish spa, Mazzanti has put her fitness philosophy between covers. "Most health regimens fail because they lack the element of enjoyment," says Mazzanti, 55. "The Golden Door approach has nothing to do with food deprivation, calisthenics or guilt. Guilt makes you unsatisfied and therefore hungry. Food is both a pleasure and a friend and I mean to help preserve that friendship." So along with aerobic exercises and beauty tips, her book provides low-calorie menus for a month of gourmet meals. (Morrow, $12.50)

by Evelyn Keyes

You've read it before. Poor little fatherless girl from Atlanta goes west to make her fortune as a Hollywood star—and Keyes succeeded more than most with 44 films, including GWTW. The list of men in her life reads like a Who's Who in Hollywood, and if they made a pass at her—or more—she describes it all in breathless detail. "There was simply too much of Anthony Quinn (yes, there too). Legs and arms too long and miles of male body trying (and succeeding) to invade my limited space." The oft-told tale has become trite, but Keyes's candor is surprising, even in this let-it-all-hang-out era. (Lyle Stuart, $10)

by Lawrence Durrell

The author of The Alexandria Quartet evokes the island of Sicily the way a poet would—on several levels, historic and physical. The place has multitudes of memories for him. Durrell characterizes his fellow tourists and the natives exactly the way a novelist does, bringing them into sharply individual focus. This is a travel book by a master of the genre, so it is also more than that. It's a top-notch, solid entertainment. (Viking, $10.95)

by John Reader and Harvey Croze

Reader, a London-born photographer working in Kenya, asked ecologist Croze to help explain the natural events he saw around him in the bush. The result is a remarkable black-and-white-picture and text documentary of East African wildlife that happily bears little resemblance to either Disney or Wild Kingdom. One example they cite: 100 square miles of grassland will support 100 gazelles; one lion can stay alive on those 100 gazelles; when the lion dies, the carcass will decompose and feed the vultures and insects. Thus, the fearful symmetry. The pictures are memorable; one, of copulating elephants, is a classic. (Lippincott, $12.95)

by Annie Dillard

"Nothing is going to happen in this book," Dillard writes on page 24. "There is only a little violence here and there in the language, at the corner where eternity chips time." She lives on an island in Puget Sound, and her poetry is made up of descriptive passages about her cat, a candle, the landscape, a tragic plane crash in which a little girl's face is burned, and a lot about God, Jesus and the church. Some of it is unintelligible, but when Dillard hits, the language shimmers. (Harper & Row, $6.50)

by Laurence Learner

The premise is that power is the measure of success in Washington; the price is that those who seek it are used by it. Journalist Laurence Learner meticulously dissects eight Washingtonians—ranging from Ralph Nader to Henry Kissinger—in beautifully nuanced character studies. His listing of the bare contents of Sen. Robert Byrd's refrigerator—"an open bottle of Tab, two recapped bottles of Coca-Cola, a dried-out piece of roast beef wrapped in a wrinkled sheet of cellophane, a crust of bread, stale celery and carrots..."—tells us all we need to know about the human cost of politics. (Dial, $10)


by Don DeLillo
Advertisement
Treat Yourself! 4 Preview Issues
The most buzzed about stars this minute!