People Top 5
LAST UPDATE: Tuesday February 10, 2015 01:10PM EST
PEOPLE Top 5 are the most-viewed stories on the site over the past three days, updated every 60 minutes
'Da Ya Think I'm Sexy?'
Rod Stewart Asks That Question at 34—and Hopes the Answer Is Self-Evident


While in the heat of their two-and-a-half-year relationship, Ekland described them as the "last of the great lovers, a contemporary Burton and Taylor." The woman he dated while still living with Ekland—she may even have been lurking in the studio while Rod was recording You're in My Heart—was sleek American model Liz Treadwell. Rod subsequently had flings along the way with a Gong Show hostess and no fewer than two Playboy centerfolds. Then, in the past year, Stewart found love for actress Alana Hamilton, 33, the ex-wife of George Hamilton, who has this winter taken up with Treadwell on the slopes of Aspen.

For all his Don Blond complex, Rod gets surprisingly flattering reviews from his other women, even the short-timers. Marcy Hanson, an ex-Playmate and co-star of NBC's late Roller Girls, remembers Rod as an "incurable romantic who would go downstairs every morning, make tea and bring it up to me in bed. You don't find that kind anymore. He's not classically handsome, but he's incredibly sexy." As for Siv Aberg, the Swedish Miss Universe runner-up who went on to hostess The Gong Show, she found Stewart "sexy, not in a Burt Reynolds way but in a charming, boyish way." "He was very much the gentleman—not a blunt come-on like the majority of Beverly Hills men," she explains. "His clowning around is a way of protecting his vulnerability."

The most current and reliable view comes, certainly, from Alana. "If I'd known about the so-called series of blondes beforehand, I wouldn't be with him now," she proclaims. "But I hate people who assume Rod is just an insolent, egotistical womanizer. He is a wonderful man—bright, funny, sensitive and kind. This is the most fulfilling relationship with a man I've had," she continues. "He doesn't resent the fact that my career is important to me. I hate to destroy his image, but that's the man he is."

Alana waltzed into Rod's life at a party given by agent Swifty Lazar at L.A.'s Bistro. "I don't think we've spent 10 days apart in 10 months," guesses Alana. "Or one night," leers Rod. Born in San Diego, she grew up in Nacogdoches, Texas and studied at the University of Houston before heading for a minor Hollywood career and four years of marriage to Hamilton. To Stewart she's "a complete woman in all respects." How so? "For starters," he cracks, "she has longer legs than me. And for the first time I found it was possible to be with a flat-chested woman. I was always a T-and-A man before." Briefly forgoing his irrepressible chauvinism, Stewart protests that "to call Alana the latest in a series of blondes is unfair to her. She has a 140 IQ and can crush people with words. We are lethal together."

Her way with words will be put to the test at home. Alana is working on cutting down her man's excesses—including demon rum. Rod admits, "I've seen alcohol destroy more people than cocaine," and laments that kids who come to his concerts "feel obligated to get drunk first, because they think I'm a boozer." He has had one scare—his liver swelled so much that a doctor ordered him to lay off booze. But Rod is convinced it's under control. "I love the taste more than what it does. Alcohol will never kill me," he maintains. "But it may make me fat."

Stewart still lives in the Holmby Hills mansion that he once shared with Britt and his art nouveau collection. (Alana maintains her own home for her son, Ashley Hamilton, 4, and a live-in maid.) The elder statesmen of the entertainment world—Gregory Peck, Barbra Streisand and Burt Reynolds—all live nearby, and Rod jokes that since he moved in "the property dropped 23 percent in value because of the bad language alone." The fact is that he's trying to behave decorously as a Beverly Hills squire, even if he's installing a recording studio and a ballroom for large parties in his house. "Hollywood film people assume most rockers are morons," he says. "Some people are shocked to find that I stand up when a woman leaves the table."

Though he's dined with probably one of L.A.'s more elegant dressers, David Janssen, Rod still hits the streets occasionally in punk-prince outrageousness. A defender notes that Rod "owes it to his fans to act the star. Underneath he's very down-to-earth with regular tastes." Indeed, his closest friends are weekend soccer buddies who play strenuous pickup games at a Beverly Hills park and then meet for "a boozer on the strip."

A tax exile since 1975 (paying about 50 percent instead of 83 percent), Rod has another home in Gibraltar and admits to being homesick only for British soccer. "My dad videotapes games back in London and airfreights them in the Warner Bros. Records pouch so I can watch them the next day." His father, a Scottish-born London construction man, had to scramble all his life, and Rod's major indulgence is arranging family reunions when England plays his beloved Scotland's national soccer team. As a teen, Rod supported himself variously as a gravedigger and semipro soccer player. "Ahhh, the smell of liniment oils and leather boots after a game takes me back to my home as a boy, when Dad coached and the players all met there on game days. That smell," he waxes on with Proustian rapture, "is still one of the great pleasures of my life."

Despite his thirst for such simple joys, material wealth remains a vital factor in his career. Ekland, speculates a friend, might still be with him today if "in her mental agony she had not hit him in his pocketbook." "I'm extremely vulnerable in relationships and feelings," Rod concedes. "The only department I'm not vulnerable in is money—that's me Scot blood."

Stewart rightly describes himself as "a mass of extremes and contradictions and mistakes" and worries openly if he is capable of a commitment like marriage. "I'm still extremely restless. It's the wanderlust in me. I'm frightened it might just creep up on me and I would let my partner down." After a long pause, in an almost melancholic breaking voice, he adds, "Marriage—even living together with a woman—scares the shit out of me. I can't explain it, but it's like the end of everything. I've got a feeling I'll be a bachelor all my life. Once I feel the shackles and chain, it kills everything dead. I admit it, I am terribly immature."

Rod heads off next week for an Australian tour, followed by a concert swing through the U.S., which will provide time to brood about it all. Still ahead is Jet Lag, the film he and Elton John have signed to make about, of all things, "two singers avoiding taxation by flying around in a private jet." Yet Stewart threatens that "if it stinks, I won't make it. I ain't gonna risk my reputation coming off silly." Elton, he suspects, may need movies more because "he's lost the desire to get out and play in front of 60,000 people. But I feel like I'm still 16," Rod boasts. "I can't wait to get back onstage." Too old to rock? "That would be the hardest pill to swallow, mate."

Stewart's hopes for a long lifespan in rock have been aided by Alana's constructive counsel and his own introspective musings about roots and mortality. "Everybody is scared of growing old," he confides, and adds: "I would love one son—born in Scotland so if he turned his mind to soccer he could wear a Scotland jersey." For all the thrill of touring, Rod still has to confront a fear of flying. "I have a morbid interest in—and read about—all the air disasters." On his most recent trip back to L.A. after a UNICEF benefit, his 707 was jolted alarmingly in heavy turbulence 35,000 feet over the Rockies. As the seat-belt lights blinked on, the ex-gravedigger anxiously flipped up his plastic window curtain and stared bale-fully at the plane's trembling wings. Rod sneaked a glance at Alana, then punched the call button above his first-class seat. His order to the stewardess: "Another Bacardi and Coke, please."


Advertisement
Today's Photos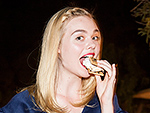 Treat Yourself! 4 Preview Issues
The most buzzed about stars this minute!