Archive Page - 12/1/12 39 years, 2,079 covers and 53,260 stories from PEOPLE magazine's history for you to enjoy
On Newsstands Now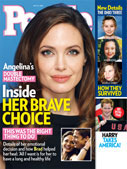 Angelina: Inside Her Brave Choice

New Details on the Ohio Three

Prince Harry Takes America!
Pick up your copy on newsstands
Click here for instant access to the Digital Magazine
People Top 5
LAST UPDATE: Tuesday May 21, 2013 10:10PM EDT
PEOPLE Top 5 are the most-viewed stories on the site over the past three days, updated every 60 minutes
Top 10 Romances of the Day
Streisand & Peters, Of Course – Plus Beatty & Keaton, the Kissingers, Caroline & Junot and Guess Who Else


A marriage and a career out of bodies beautiful
Frank Zane (successor to Arnold Schwarzenegger as Mr. Olympia) courted Christine Harris (Miss Universe Bikini) while popping multivitamins, wearing iron boots "to build up my legs" and cables "to build up my chest." She accepted his muscle-building life-style 11 years ago and they have parlayed it into a six-figure income, a house in Palm Springs and a condo on the beach at Santa Monica. Christine, 30, says, "Every morning he still makes a big protein breakfast for me." Then they meditate. Frank, 36, is a Buddhist, and he calls her "a Zen Baptist." They work out at separate gyms and return at lunch to jog a mile or two together. In the afternoons they tend a thriving mail-order business in how-to manuals. Neither wants kids. "We aren't going to have children just to see what they'd look like," Christine says. "That would be stupid."

An ardent Warren pursues the shy Diane
For two of the hottest properties in films, Warren Beatty, 41, and Diane Keaton, 33, are a neurotically private couple who have spent most of the last 10 months winging between his Beverly Hills mansion and her two-bedroom flat in Manhattan, trailing clouds of rumors in their wake. Among them: that the two would marry over the holidays. It didn't happen. "She's actually as smart as he is, which I think must be driving him bananas," says a friend. For the moment, Keaton is faithful to her New York schedule—analyst, gym, singing and acting lessons. They walk hand in hand through Central Park, share platters of linguine at Ballato's and seldom show up anyplace fashionable. "I've never seen him happier," says Beatty's flack. Says Diane's Grandmother Hall: "I'd like her to have a husband like Warren Beatty." Hush, Grammy.

A couple welded by devotion and power
They said it would never last. Now, after four years together, Barbra Streisand, 36, and producer Jon Peters, 33, are one of Hollywood's durable duos. The snickers are long past, replaced by an awe of the power they wield in West Coast show business. Ex-hairstylist Peters is refreshingly candid. "I didn't fall in love with Barbra independent of her star trip," he says. "I was fascinated by her and by Hollywood." Visitors to their Malibu ranch and beach house comment—sometimes with surprise—that they seem devoted and supportive. The day Barbara Walters filmed her celebrated interview of the couple, she recalls, "Barbra's dog had run away and she was brokenhearted. He was very sweet and understanding." On weekends they romp with his son, Christopher, 10, and hers, Jason, 12. For kicks they dine at Orsini's in Malibu or fly to France—as they did after wrapping their latest film, The Main Event, recently. Jon doesn't bring Barbra flowers anymore—he built her a bathroom with his own two hands.

Nancy made Henry play the waiting game
Henry Kissinger proposed to Nancy Maginnes one week after they met in 1964. "She turned me down," he recalls. "Everybody saw me with actresses. They thought I was a real heel when I had this great girl waiting for me. I regret to say that I was doing the waiting." Now, says friend Susan Brinkley, David's wife, "Their marriage is really a great love affair." Henry sends Nancy frivolous gifts—flowers and candy—and she responds with sensible ones—sweaters and cuff links. He worries about her chain-smoking, she monitors his weight. Says Nancy, 44, "He's up early in the morning talking and bouncing around. I can sleep through anything." He says, "I usually get out of the room as fast as I can." Though they entertain often, they also dine alone at New York's La Côte Basque. Both are passionate about theater, ballet, foreign affairs (he jokingly calls her a "wild-eyed reactionary") and their yellow Labrador, Tyler. He says of Nancy, "She has much better judgment than I about people." She says Henry has "taught me not to make brash statements without thinking them through." Last week they flew off to Acapulco, where he'll finish his book. "There's deep respect there," says pal Marion Javits, "a little bit of tease, and a little bit of flirt." Says Henry, 55: "We're very close—I don't know if that's romantic or not."

Mickey Rooney: If at 7th you don't succeed...
"I'm really sick of Mickey Rooney getting married," grumbled Mickey Rooney three years ago, denying reports that he and singer-composer Jan Chamberlin were about to tie the knot. Then last July never-say-die romantic Rooney, 58, did it the eighth time after five years of courtship. Jan, 40, says she was "scared" because of an earlier failed marriage. "I don't know why I finally said yes," she puzzles. On their wedding day "Mickey and all his friends took off for the church without leaving me a car." Jan got to the church on time in her son's VW but forgot the marriage license. "He thought I'd chickened out," she says, "and I thought he had." Things are calmer now. He calls her "Bunky," she calls him "Micker," and they enjoy taking bubble baths together when he's around, which isn't often. Now on location in New Orleans, Mickey expects to be home by—natch—Valentine's Day.

Sartre and de Beauvoir, still going steady
When they met, Jean-Paul Sartre was a 23-year-old philosophy teacher with big ideas, Simone de Beauvoir an anxious, brainy 21-year-old. "It fascinated me that he was better than I at using his intelligence," she recalled on French TV recently. Said he: "I found her good-looking, even when she had an ugly little hat on her head as she did when I met her." Instead of marriage they made a pact: "Never will we become strangers to one another." That was 50 years ago. They have always allowed each other lovers (her tastes are eclectic; he is fond of actresses). They still use the formal but tender French vous form (as did the de Gaulles). Now 73, Sartre walks with difficulty and can barely see; the two stroll only briefly in Montparnasse before he needs a cab. De Beauvoir has said, "I've sometimes wondered if he got along with such and such a woman better than with me. But once you know there is something irreplaceable between you and another person, many things become unimportant." Asked if he would prefer to be the first to die, Sartre said, "I don't know. I only know that without me, she will be very unhappy. And I will be too, without her."

The Turk keeps her eye on Dr. J
When Julius Erving met Turquoise Brown in Richmond, Va. in 1973, she remembers thinking: "How many black guys in the South drive around in a Mark IV legally? I didn't know what to expect." A year later it was a wedding. Now basketball's famed Dr. J of the Philadelphia 76ers and his stunning model wife, both 28, split their days between a condominium in Philly and a house on Long Island populated by their three children and a housekeeper. "Turk," as Erving calls her, takes no chances on that familiar pro sport hazard: groupies. "I'm never in Philadelphia by myself," Erving explains. Their togetherness extends from views on marriage ("it's got to be more than companionship") to the number of kids they want (six). How tall does the 6'6" Dr. J stand in the romance department? "He's quiet about it around other people," she says, "but it's there—except for our first anniversary. He gave me a set of dishes. Dishes! But then, on my 24th birthday, he took me to a candlelight dinner by limo and gave me a note saying I could pick out anything from Ben Kahn Furs." A full-length mink caught her eye.

R.J. and Natalie enjoy a loving encore
The first time Robert Wagner proposed to Natalie Wood, he dropped a diamond ring inscribed "Marry Me" into the champagne and offered her a sip. That kind of flash symbolized the goldfish bowl in which their first marriage existed and, after three and a half years, died. Both went on to other spouses. In 1970 the newly separated Wagner met a six-months-pregnant Wood at a Hollywood party. "We had never stopped loving each other," says she. "The second time it was just the right super conditions," says Wagner. They married again in 1972. Wagner, 49, and Wood, 40, see the second time around "working because we don't think about it that much." Says Wagner: "We both are much more appreciative and don't take each other for granted." Now bright linchpins of Hollywood society and soft touches for charity work, the Wood-Wagners conduct their romance in the privacy that makes it thrive, except for an occasional dinner date at L.A.'s posh La Scala. "I'm really in love with my wife," says R.J. "I got lucky."

She can't get used to 'Madame Junot'
The honeymoon seemed to go on forever (in reality, just two months), but now Princess Caroline, 22, of Monaco and her reformed boulevardier husband, Philippe Junot, 38, are tucked away in a penthouse close to the Eiffel Tower. The bride of eight months is sleeker, smilier and, as one chum puts it, "Now that she's become a woman, Caroline can be a kid again. She's out of her mother's shadow." She is taking a year off from the Sorbonne to chair Monaco's UNICEF Year of the Child committee. As for offspring of her own, Caroline has been advised by Princess Grace to wait, but her young friends doubt she will. She wants four children, the first one a boy. Says Caroline of marriage, in the style of a blushing bride: "I'm still surprised when somebody calls me 'Madame.' I think they're talking to someone else." She and Philippe mostly stay at home, dining on her hamburgers, braised rabbit and cheesecake. Can she really cook? The palace replies: "Philippe certainly hasn't lost weight."

It's May-December, and May Is the man
Morgan Mason was precocious as a kid; at 10 he was in The Sandpiper with Liz Taylor. Now, at 23, he feels perfectly comfortable with Oscar-winning actress Louise Fletcher, who is 20 years older. "We were lucky no one made a big deal out of it," he says. The son of British actors James Mason and Pamela Kellino, Morgan is no longer in showbiz but works as a director of his mother's textile corporation. When he told Fletcher she'd get over her infatuation with him, she firmly said, "No, I won't." Louise left her husband of 17 years, producer Jerry Bick, and their two teenage sons moved in with her and Mason in L.A. "They like Morgan very much," she says. "I think for the first time they are able to recognize that their mother is also a person, a woman with feelings who isn't just there for them." Fletcher seems both defensive and joyous about her role as the older woman. "Of course I could ask myself what it's going to be like in 20 years when I'm an old lady and he's a fantastic young blade, but I try to live day by day. I'm happier now than I've ever been in my life, so it's worth it."

The couple, sob, that never was...
Even Hollywood gossip Louella Parsons never knew about the affair between Cary Grant and Sophia Loren during the 1956 filming of The Pride and the Passion. While on location in Spain, the 22-year-old actress and Grant, then 52, "dined in romantic little restaurants, drank good Spanish wine, laughed and fell in love." As Loren reveals in her new biography, Sophia, Cary proposed, but she had already invested six years in her relationship with mentor Carlo Ponti. He was then married to another woman. Still confused ("In love with two men? How could it be possible?"), Sophia came to Hollywood, where she played house with Ponti by night and in Houseboat with Grant by day (right). When Cary kept calling her, an anxious Ponti obtained a divorce and married Sophia by proxy in Mexico. At that point Houseboat had one final scene to film—of all things, a full-dress wedding. "It was the wedding I had always dreamed of," Sophia recalls. "A very unkind quirk of cinematic fate." Cary Grant's office says today: "You may feel free to tell Miss Loren's side of the story."


Advertisement
Treat Yourself! 4 Preview Issues
The most buzzed about stars this minute!