Archive Page - 12/1/12 39 years, 2,079 covers and 53,260 stories from PEOPLE magazine's history for you to enjoy
On Newsstands Now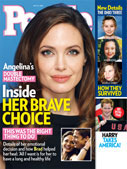 Angelina: Inside Her Brave Choice

New Details on the Ohio Three

Prince Harry Takes America!
Pick up your copy on newsstands
Click here for instant access to the Digital Magazine
People Top 5
LAST UPDATE: Monday May 20, 2013 11:10PM EDT
PEOPLE Top 5 are the most-viewed stories on the site over the past three days, updated every 60 minutes
Inspired by a Dog That Came Back, Lisa Teifer Searches for Three Men Lost in the Wilds


"I expected a call from Cris the next day," recalls Kip's sister, Lisa Teifer, who had been living with Ray for more than a year. "Instead I got a call from the New York State police. They said the plane was reported lost off radar. I figured it was just like Cris and the others to change their minds and go up to Montreal or someplace, but I knew Dick was a by-the-book professional pilot who wouldn't change his flight plan without notifying someone. The next morning I hired a Learjet and was up there from Key West in three hours. We flew into the airport and skidded off the runway into a snowbank. I just cried."

Twelve days later the search for the missing plane was abandoned, and Lisa flew home to Grosse Ile, Mich. to be with her mother. Unknown to her, however, a dog had been spotted several days earlier at Lake Placid, foraging for food in garbage cans. Eventually, starving and exhausted, the animal turned up at the home of Lawrence and Sheila Maxwell, who notified the local dog warden. He informed state police, and soon the identification was positive. The brown mongrel, with one blue eye and one brown, was Aqui, one of the dogs that had disappeared with the plane.

Quickly, Lisa returned to Lake Placid, transforming the Maxwells' farm into an impromptu search headquarters. The walls of the house were papered with maps of a 1,000-square-mile area within the huge Adirondack State Park, and sleeping volunteers littered the floor. "All hell broke loose," Sheila Maxwell recalls disbelievingly. "With help from the Red Cross, we were feeding 30 to 40 people at breakfast." Undiscouraged by the skepticism of state officials, who believe the fallen plane won't be found before spring, Lisa, 22, taught herself to walk on snow-shoes and take compass bearings, determined to bring the three out alive. "At the Maxwells' the energy was so high I was ready to explode," she says. "It was the first time I had ever worked with volunteers. It was such a treat after dealing with the bureaucracy, where you felt everyone was just doing his job, 9 to 5, with no sense of urgency."

Though dubious natives recalled that another light plane crashed 30 miles from Adirondack Airport in December 1972 and was not found for nearly a year, Lisa plunged ahead with unquenchable optimism. Financed mainly by Cris Ray's construction firm, she spent more than $25,000 for air and ground searches, hiring small planes and helicopters at up to $750 an hour. She hired scent dogs and in the beginning even paid skilled outdoorsmen $30 a day to join the hunt. When she concluded that officials were dragging their heels, Lisa angrily retained F. Lee Bailey's law firm to cut through red tape and obtain a transcript of Dick Pierce's final radio messages. "It's incredible that we have to pull, kick and yank information out of these people," she fumes. "We still need to know a lot more to really pinpoint where the plane went down." She is infuriated by a rumor that the Christmas Day flight involved a shipment of drugs. "Even if that were true, and it isn't," she snaps, "there are still human beings on that plane. People ask what I'm looking for so hard. I say three lives. Isn't that enough?"

Clearly, it is motive enough for the backpackers who have slogged through the wilderness in subzero temperatures. Among them is Bob Thomas, 29, of Remsen, N.Y., whose brother Steve disappeared in the Adirondacks while hiking three years ago. "When I first read about this plane crash," says Thomas, "I could tell that Lisa wasn't getting much help from the state. I said, 'Jesus, this poor kid is going through the same thing we did.' One of the worst things is people coming up and saying, 'Are you still looking?' You began to think maybe you're crazy." How long will Thomas help search? "Until the plane is found," answers his girlfriend, Sue Corrigan. "Or until Lisa tells us to stop."

Though funds are running low, Teifer won't consider leaving Lake Placid, where she's now rented a house. Inspired by the best-seller Alive, which tells how 16 members of a Uruguayan rugby team survived 10 grueling weeks after a crash in the Andes, she points out that her brother and his friends had food and sleeping bags, and could have eaten the other dog, if they had had to. The search, meanwhile, has given her purpose and a curious sense of fulfillment. "At times I have my downs, but at other times I actually enjoy being here," she admits. "I feel more effective now than I ever have, more confident." Her mother adds, "Lisa still feels that the men are alive. And she knows that Cris would do the same if she were lost—he'd go to the ends of the earth to find her."

Thomas offers another explanation, based on his own fruitless search for his brother (though he did find the remains of a hiker lost for more than three years). "For a few days, maybe weeks, you hold out the idea that the guy is still alive, probably suffering, and just waiting for people to rescue him," he says. "Then you realize that he's probably dead. But that doesn't matter, because then it's not the body you're looking for—it's the thought of the person, the soul." It may be that subtle quarry, the most elusive of all, that refuses to let Lisa surrender. "I'll know when to stop," she says. "When it becomes detrimental to me or to someone else, then I'll quit. But there is a green light inside me right now. I feel this is right. I can't go on with the rest of my life until I finish my chapter up here."


At 4:30 p.m. Christmas Day a twin-engine Piper Navajo Chieftain took off from Metro Airport in Detroit and headed east toward Saranac Lake, N.Y., in the heart of the snow-covered Adirondack Mountains. On board were Cris Ray, 26, head of a Key West, Fla. construction company, his friend Kip Teifer, 26, their pilot, Dick Pierce, 32, and two dogs, Crip and Aqui. By the time they neared Adirondack Airport two and a half hours later, on their way to a skiing vacation at nearby Lake Placid, winds were gusting up to 90 miles an hour. The airfield was deserted, the runway had not been plowed and the landing lights were covered by drifts. The little plane passed over the airport, then disappeared into the night.
Advertisement
Treat Yourself! 4 Preview Issues
The most buzzed about stars this minute!