People Top 5
LAST UPDATE: Tuesday February 10, 2015 01:10PM EST
PEOPLE Top 5 are the most-viewed stories on the site over the past three days, updated every 60 minutes
'Coming Home' to Penny Milford Means Climbing Hollywood's Greasiest Poll—the Oscars


Indeed, Coming Home's sweep of the Oscar nominations (best picture, director Hal Ashby, Fonda, Jon Voight, Bruce Dern) also included, in the supporting category, Penny—as all her overnight friends began to call her. "The minute the nominations were announced the phone started ringing," Milford notes. "A lot of people now are telling me they always knew I had talent and how wonderful it is that I've been nominated. They're the same guys who wouldn't take a phone call from me last week. I'd like to blast them," she continues. "But let's face it, that's not the way to play the game. You've got to keep cool."

One other reason for coolness is the strength of Milford's competition in the category this year: Maggie Smith, Maureen Stapleton, Dyan Cannon and Meryl Streep. Another humbling aspect of the unexpected acknowledgment by her peers was that she got her Oscar shot before her better-known ex-boyfriend Richard (Looking for Mr. Goodbar) Gere. Though his Days of Heaven was slighted by the Academy electorate, Gere gallantly phoned Milford to say that her nomination "was the best news he'd ever heard," she reports, adding with a sigh, "Richard is still very important to me."

Milford grew up with the stability to cope in the Chicago suburb of Winnetka, where her father published a trade magazine and her mother sang in the Christian Science church. "I still consider myself very religious, although I don't attend regularly," she says. Penny became a star of New Trier High School's distinguished drama department. After graduation she studied in Switzerland, which gave her an excuse to hitchhike around Europe. "The headmaster thought I was pretty racy," she reports. "Actually, I was pretty straight. I had slept with a couple of guys in high school, but I was a long way from being promiscuous." She returned to the States for night classes in New York, daytime auditions and a brief marriage to a composer. Penny wound up rooming with her younger brother Kim, also an actor, who later played the title role in the stage Rocky Horror Show. Nights, they hung out with a wild bunch that included Judy Garland.

Penny was by then breaking into theater, with multiple roles in Lenny. She also appeared in Norman Mailer's movie indulgence, Maidstone. ("Norman was raging drunk during most of the filming, but it was interesting.") But, personally, her most important part was her first with Gere in Richard Farina: Long Time Coming and a Long Time Gone as Farina's sister-in-law Joan Baez. "Richard and I did not have an easy relationship," she says of her seven-year hitch with Gere. "It was really more like one year because most of the time he was somewhere I wasn't. We each wanted things the way we wanted them and there was a lot of ego involved."

Meanwhile, Milford won admiring notices in the Broadway musical Shenandoah in 1975, then announced she "was going to Hollywood to become a movie star. I think it's ridiculous to pretend that you are going to Hollywood to become a better actor." She played a quickie nude sex scene with Rudolf Nureyev in Valentino, but found little else until Ashby cast her in Coming Home.

Penny is now settled in a house on a road that's more like a goat trail atop the Hollywood Hills. There she meditates and waits for the phone to ring. "My love life is in suspension," she confides. "So is my career." She has Danny Travis, a film with Richard Harris and Karen Black, completed and she and brother Kim are dreaming up a rock opera he wrote based on Oscar Wilde's The Picture of Dorian Gray. But even that presumably awaits the Oscar verdict April 9. "An Academy Award means you are a known and valued commodity," she reckons. "That means you get good roles. But right now it's wait and see."


If Penelope Milford clambers to the top in Hollywood, it will owe, aside from talent, less to her Tarzan-esque agility (left) than to her Jane. Fonda that is, whose apolitical pal Milford played in her first big movie, Coming Home. "Jane is a class act," she applauds. "She might have had a million things on her mind, but when the camera was ready for her she was there, totally." Fonda similarly praises Milford, 30 this week, as "brilliant. Her role was pivotal because her character was a real person, and you could feel her anguish—no matter what you thought about Vietnam."
Advertisement
Today's Photos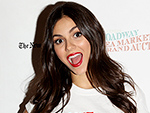 Treat Yourself! 4 Preview Issues
The most buzzed about stars this minute!