People Top 5
LAST UPDATE: Tuesday February 10, 2015 01:10PM EST
PEOPLE Top 5 are the most-viewed stories on the site over the past three days, updated every 60 minutes
Terry Jean Moore Fights to Keep Her Baby in a Florida Prison


Last March the 22-year-old Moore gave birth to a seven-and-a-half-pound, blue-eyed baby girl, whom she named Precious Agnes. The convict mother has been fighting ever since for the right to keep her daughter. "I think when she grows up," says Moore, "she'll respect me for this."

The struggle began even before Precious was born. Fearing she would be forced to abort, Terry managed to hide her pregnancy into the seventh month ("Precious was working with me, God bless her"). She then spent a month in solitary confinement after refusing to name the father. (He was later identified as a 43-year-old prison guard who subsequently resigned.) Finally she learned of an obscure state law which gives imprisoned new mothers the right to keep their infants for 18 months—and promptly enjoined prison officials from sending Precious to a foster home. The injunction, however, is temporary. Last month the department of corrections asked the state legislature to revoke the law. "This is no place for a baby," says prison superintendent William E. Booth. "A kid ought to grow up in a home."

State Sen. Pete Skinner, for one, agrees—and thinks that Precious and her mother should be allowed to leave together. "Seven and a half years for a $5 robbery, first offense, is atrocious," Skinner says. He demanded that Moore's next parole interview be moved up. It took place last Monday, and a decision is expected in the next two weeks. Meantime, Moore's status as a nursing mother has brought special restrictions—amounting to solitary confinement, her lawyer Jacquelyn Steinberg argues. "Booth is caging her up," she says. "Terry broke the law and she deserved to be punished, but not like this. For the first time in her life she's got something that needs her and that she needs to be responsible for."

Even Steinberg describes her client as "no angel—a girl who was headed for trouble." Her parents were separated when she was an infant, and Terry spent her first seven years in and out of foster homes, later shuttling between parents. She left Ohio after high school. "Youngstown was dull and gray," she recalls. "I was looking for a place to be happy." She went to Florida to live with grandparents. She got a job in a hospital, bought a car and found religion and a steady boyfriend. A few years later she had none of those things. "I left home too early," she says now. "I didn't know how hard the world could be."

In August 1977 Terry was paid a visit by Ralph Roulston, brother of her sister's ex-husband. Terry says she had heard of a waitressing job in New Orleans, and they decided to hitchhike there. As she tells it, they took a .45 automatic from a friend strictly "for protection." After waiting an hour and a half, they got a ride, then pulled the gun on the driver. "Both of them were frightened," says their victim, Randall Lee Cheever, then 19. "They didn't know what to do." They did not demand money, but Terry took $5 from a purse she found in the back seat. Eventually Cheever stopped the car and ran off with the keys to call police. Terry and Roulston were caught within hours. Though Roulston, then 17, appeared to Cheever to be the leader of the two, he turned state's evidence and got a year's probation.

In jail awaiting sentence for unarmed robbery after plea bargaining, Moore earned a reputation as a foul-mouthed, remorseless hard case. Unfairly accused, she says, of starting a fire in a garbage can, she tried to burn her cot. ("You want a fire?" she screamed. "You'll get a fire!") That resulted in five years for arson on top of her 15 for robbery—and transfer to a maximum security prison. There she met the guard who first became her protector, then Precious' father. "He helped me out a lot," she says. (They are still friends, she says, though he hasn't yet visited the child.)

Since Precious was born, Moore has become a far more sedate prisoner, spending most of her time in the nursery. "She makes my days and nights go by so fast," the new mother says. She and the baby are allowed to go into the yard together a half hour each day. Terry is also spelled by authorities for two hours in the afternoon. She hopes her own sad story will convince rootless young people that "no matter how small the crime, they could waste their lives away behind prison walls." She is also plainly hoping for parole—perhaps as early as July—and for a life on the outside with Precious. "I feel God will guide me through those doors," she says. "I feel if I do get out early, there's something out there waiting for Precious and me."


Last Sunday was a strange Mother's Day for Terry Jean Moore. She celebrated it—her first—in the Florida Correctional Institution at Lowell, where she is serving seven and a half years for a $5 robbery in 1977. The punishment alone—prison followed by another seven and a half years of probation—seems unusually harsh. The circumstances of her motherhood are no less so.
Advertisement
Today's Photos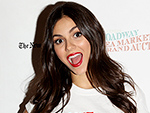 Treat Yourself! 4 Preview Issues
The most buzzed about stars this minute!