Archive Page - 12/1/12 39 years, 2,080 covers and 53,257 stories from PEOPLE magazine's history for you to enjoy
On Newsstands Now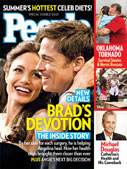 Brad's Devotion: The Inside Story

Oklahoma Tornado: Heroic Rescues

Michael Douglas on Catherine's Health
Pick up your copy on newsstands
Click here for instant access to the Digital Magazine
People Top 5
LAST UPDATE: Friday May 24, 2013 05:10AM EDT
PEOPLE Top 5 are the most-viewed stories on the site over the past three days, updated every 60 minutes
Satirist Ray Stevens Turns Barry Manilow on His Musical Ear

I'm miserable and I don't know what to do
Sing me a song, sing it sad and low
No one knows how to suffer quite like you

Ray Stevens started playing piano at the age of 6; Barry Manilow began tinkling at 13. Ray had his first monster hit, Ahab the Arab, in 1962, a decade before Barry was even into jingles. But then the career of Stevens, a once prodigiously successful singer-writer-producer-performer, went blooey (his last hit was Misty in 1975) while Manilow went on to write the songs the whole world sings.

Now, at 40, Stevens has sensibly decided that, as the lyric says, he can't smile without Barry. The result is his new mock-Manilow album, The Feeling's Not Right Again, which happens to be the funniest musical parody in memory. It began when Stevens discovered songwriter Dale Gonyea's put-on, I Need Your Help, Barry Manilow. Gonyea wrote it as "an affectionate jab," and Stevens felt "90 percent sure it was a hit." Then, says Ray, "The idea to do a spoof just struck us." For the album cover, Stevens posed with the Manilow-trademarked white piano and white suit and snuggled with a basset hound on the reverse side. "We had to rent the dog," he recalls, adding, "He smelled awful."

So did the record to some deejays, who at first hesitated to offend their legions of Manilow devotees. It was, after all, a rather brutal parody. With strings welling up to cover the tenor, Stevens warbles, "Hello, Mandy. It's me. I'm here at the Copa. You know, the Copacabana. I know I don't write the songs that make the whole world sing..." But as one surprised Memphis jock found, "The Manilow fans were the ones requesting it most often," and the single is on its way to gold.

Manilow, who never met Stevens, responded with a gracious telegram: "I'm knocked out by the record. It's the most flattering thing to happen to me in a long time. I hope it's a really big hit for all of us," he concluded (perhaps because he didn't have a new single of his own at the time). But on his special taped for airing on ABC this week, Barry acted as if it never happened.

For all Ray's buffoonery, a producer colleague regards him as "the greatest overall creative talent in Nashville." Stevens grew up in the Georgia mill town of Clarksdale, where he remembers "begging my mother to let me play more baseball and less piano." But he stuck out his lessons, gigging in high school dance bands (with buddy Jerry Reed, now a C&W star) before majoring in music at Georgia State. In Nashville he signed on as a gofer at Mercury Records before working his way up to piano, vibes, organ or backup in some 300 recording sessions. After Ahab hit, Stevens followed with Everything Is Beautiful, novelty tunes like Mr. Businessman, the Coasters' Along Came Jones and his biggest hit, 1974's The Streak, which sold five million. Between hits, he kept afloat producing Dolly Parton and Chet Atkins.

Less happily, Stevens blames career uncertainties for his separation in 1977 from his wife of 19 years, Penny. "I just kept sitting around thinking of my emotional problems," he admits (the chorus of his Manilow song goes "I wish I didn't have to feel so yucky"). Still, Ray is now building a solar-heated "dream house" on a ridge overlooking Nashville. More records—comedy and otherwise—are underway, and even though he feels his perfectionism keeps him moving forward "an inch at a time," he's not complaining personally. "A record is a work of art, and I want to make it as perfect as possible," Stevens says. Otherwise, "It would be like Michelangelo asking another painter to do the sky on the Sistine Chapel while he worked on another section." Stevens, like his Renaissance predecessor, doesn't really need any help from Barry Manilow.


I need your help, Barry Manilow
Advertisement
Treat Yourself! 4 Preview Issues
The most buzzed about stars this minute!