Archive Page - 12/1/12 39 years, 2,080 covers and 53,257 stories from PEOPLE magazine's history for you to enjoy
On Newsstands Now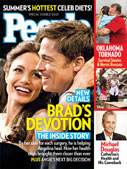 Brad's Devotion: The Inside Story

Oklahoma Tornado: Heroic Rescues

Michael Douglas on Catherine's Health
Pick up your copy on newsstands
Click here for instant access to the Digital Magazine
People Top 5
LAST UPDATE: Friday May 24, 2013 10:10AM EDT
PEOPLE Top 5 are the most-viewed stories on the site over the past three days, updated every 60 minutes
Need for Speed
Paul Newman at 220 mph! For Him Racing Beats the 'Rubbish of Hollywood'


That a million-a-movie superstar should strain his priceless blue eyes and risk his garlanded neck at Le Mans, an event that has claimed the lives of 18 drivers in its 47-race history, was enough to make his insurance man blanch, not to mention studio heads who want him for professional disasters in the line of Towering Inferno. Newman was a rookie at Le Mans—and, at 54, the oldest driver in a 24-hour race known as one of the toughest in the world. "This is his big test," a racing friend confided just before the start. "He's driven the 24-hour at Daytona, but Le Mans is something else."

Friends—and wife Joanne Woodward—thought him foolhardy to take on Le Mans and told him so. But after watching the Monaco Grand Prix (from a balcony with Princess Caroline), he made his decision public, and his performance more than vindicated it. Newman and his two co-drivers came in an upset second in a race that outwore all the favorites and saw 33 of the 55 unable to finish. "Perhaps now people will stop taking me for a stupid actor who is simply playing at racing and accept me as a serious racer," Newman said afterward. His peers already had. "He is now one of the top endurance racers in the world," said circuit veteran Sam Posey. Newman's team boss, driver Dick Barbour, euphorically agreed: "He's not just good—he's a tremendous driver."

Moments after accepting the silver cup, Newman put through a call to wife Joanne, who at that moment was watching their 14-year-old daughter Clea (the youngest of his five) in a horse show. Joanne accompanies Newman to the track only occasionally ("I don't expect him to go to my ballet all the time either"). When she does, her eyes are often on her needlepoint. "She was really very frightened about me driving in this one," says Newman, but he dismissed it. "Racing is the best way I know to get away from all the 'rubbish' of Hollywood," he says, "and I loved every minute of it. I was not the slightest bit worried."

Still, he was not above being caught up in the anxiety of the cliff-hanger finish. After his rainy-night rotation, he was unwinding with a cup of coffee in his trailer—sequestered from his clamorous fans by high cane fences and canvas shields—when a mechanic burst in screaming, "Paul! They've stopped! We're gonna win!" "They" was the first-place Porsche, stalled by a fuel pump problem. Newman rushed to the pit, only to watch the opportunity dissolve as his team lost 18 precious minutes (tire change and refueling usually take 30 seconds) to a seized wheel nut. The rival car, meanwhile, got back on the track, and the Whittington brothers, Don and Bill, of Fort Lauderdale and West German co-driver Klaus Ludwig went on to take first. Newman's team almost blew second place 22 minutes before the finish when their $140,-000 Porsche started spewing oil. At the wheel was Newman's West German teammate Rolf Stommelen, who finally nudged the dying car past the checkered flag.

For Newman, that moment was the culmination of a 10-year effort. He first learned race car driving for the movie Winning in 1969. Top coach Bob Bondurant drilled him for the four years it took to get his racing license. But "Old Balloonfoot," as he is remembered by pals from his first races, "didn't do well at the beginning," says one.

Now, says his famed friend Posey, "He's there. Newman has something that drivers can only be born with—a soft touch. He can get the most out of a car without hurting it, which is necessary in long-distance driving." Barbour traces that talent to his love of racing. "If Paul had come into motor racing earlier, he might never have been an actor," he says. "If he had started in his 20s," believes Lime Rock proprietor Jim Haynes, "there is no doubt he would be a world champion."

In two categories on the macho circuit, Newman already ranks at the top: hamburger barbecuing and prank-manship. Once he painted competitor Bob Tullius' logo upside down on a garbage truck and sent it around the track, following up with a banner, towed by an airplane, reading "TULLIUS GOBBLES." (In revenge Tullius & Co. put some Georgia cops up to detaining Newman for "impersonating an actor.") "Butch" Newman also has a running gag with "Sundance Kid" Robert Redford, who once sent him a wrecked Porsche for his birthday. Newman retaliated by sending Redford the same car for his next birthday—crushed into a cube and plunked (in his absence) in the middle of his living room. Newman also keeps a 1,000-roll stockpile of toilet paper with Redford's face on every sheet.

But behind the horseplay is a dedication to racing that has reduced his film career to a bill-paying, off-season gig. (Studios frown on his racing during shooting; as it is, extra insurance for a weekend race costs him about $500.) What staked him to his current championship season was another Irwin Allen disaster epic, The Day the World Ended, with Jackie Bisset. He began his 25-event racing schedule this year with the 24-hour Daytona—and was running a strong second with teammate Barbour when their Porsche quit. He has won all four Sports Car Club of America races he's driven in this year for his Budweiser-sponsored Datsun factory team—cracking track records, one of them his own, at Watkins Glen just the weekend before Le Mans. (Newman receives no direct payments, but all the Bud he can chug.)

"Paul is writing a new chapter in the sport of racing," says Sam Posey. "We're finished with the youth cult. Paul is in such good shape that it is eerie. He has to try to gain weight. He says he takes these saunas—maybe that's his secret." Pre-Le Mans, while holed up on the lush 1,500-acre estate of the Marquise de Vesins 30 miles south, Newman also jogged, played tennis and walked for miles, psyching up for the main event. "Staying here," he wrote in the guest book when he left, "may be the best thing that will happen to me all month."

It proved not to be. "Making Nixon's enemies list was the best thing that happened to me up till now, but this is even better," he exulted post-race. "I got higher placing." Before he left France, Newman had mellowed into self-effacement. "As my mother told me recently," he said, "I'm no spring chicken. I doubt if I'll come back next year. I'm getting a bit old for this sort of thing, you know?" But by the time he got home to Westport, Conn., he was already changing his tune about next year. "I want to be No. 1," he said. And he didn't mean at the box office.


Advertisement
Treat Yourself! 4 Preview Issues
The most buzzed about stars this minute!