Archive Page - 12/1/12 39 years, 2,080 covers and 53,257 stories from PEOPLE magazine's history for you to enjoy
On Newsstands Now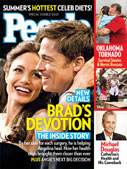 Brad's Devotion: The Inside Story

Oklahoma Tornado: Heroic Rescues

Michael Douglas on Catherine's Health
Pick up your copy on newsstands
Click here for instant access to the Digital Magazine
People Top 5
LAST UPDATE: Thursday May 23, 2013 08:10PM EDT
PEOPLE Top 5 are the most-viewed stories on the site over the past three days, updated every 60 minutes

One morning while standing in the registration line at an SCCA race at Daytona, I turned to look right into those beautiful blues of P.L. Newman (PEOPLE, June 25). I am serious about my racing, as is Mr. Newman, but as I looked at him in his cut-offs and moccasins, I couldn't help but think, "He has the cutest knees and yes...those eyes are really, really that blue."
Jill O'Brien
Lakeland, Fla.

Paul Newman is racing with Father Time, also known as the "mid-life crisis," while his poorer cohorts are racing around with younger women. Le Mans or La Female, no one ever wins the race to recapture youth.
Harris S. Dulitz
Harahan, La.

Jo Anne Spiro
Jo Anne Spiro's self-defense class for golden-agers is a refreshing idea. However, wouldn't it be great if the law and courts could protect them from society's scavengers?
William D. Nueske
Honolulu

Bernadine Brokenleg
When I read your story on Bernadine Brokenleg and her fight for custody of her child, I was shocked, and oh the fury I felt! It seems for every step we take toward conquering racism, someone pushes us two steps back.
V.L. Smith
Wichita

"I want her raised like a little girl should be." I wonder what Marie Butts' interpretation of that statement is exactly, since her idea of raising a little boy was obviously distorted. The proof: her son, the bigamist who used a gun to escort Bernadine out of town. Maybe the courts should take a long look at the Buttses' finished product (Skip) before letting them wreak havoc again with young raw material (Tiffany).
Mrs. Sara Mattingly
Louisville

My mother is Choctaw Indian, my father is black and my physical features are primarily of a "non-Indian nature." According to Texas Judge Ken Spencer's reasoning, I should completely deny my Indian heritage and move to a black neighborhood. After all, I don't want to "endanger my emotional well-being" by being proud of both of my parents' heritage.
Deborah Mayers
Tacoma, Wash.

Merle Haggard
"We all know they [women] have a terrible time once a month, and I'd hate to have one of them pushing the nuclear button," spouts country singer Haggard. I am puzzled that you would dignify such drivel by publishing it.
Merri Melodi Sansone
Mount Vernon, Wash.

John McEnroe
I'm glad you showed the other side of John McEnroe's personality. As for his wanting people to like him, not to worry, Mac. A lot of us judge players by their talent, not their tempers.
Hazel Potts
New Britain, Conn.

"The reformed brat," huh? Well, then, I'd like you to explain Mr. McEnroe's offensive and unbecoming behavior at the Queen's Club championships. No official or fellow player should have to put up with such garbage.
Nicky French
Caledon East, Ont.

McEnroe's antics at the Queen's Club in London got him two penalty points and the sobriquet "Superbrat" from the British press. He won that tournament but later lost in the singles competition at Wimbledon.
—ED.

John Wayne
How could you? After 30 pages you finally managed to spare three short paragraphs for the Duke. You could have devoted an entire issue to him and still not have covered—John Wayne, American.
Emma Peay
Dunn, N.C.

Truman Capote
I chuckled aloud as I read the latest installment in the trials and tribulations of my favorite author, Truman Capote. I am glad he has at last discovered that rich does not always mean nice.
Anna V. Carroll
St. Thomas, V.I.

Gloria Vanderbilt
Ms. Vanderbilt's name will not be "scrawled across" the backside of my jeans. The only person my clothes advertise is Alice K. Eberz!
Alice K. Eberz
Doylestown, Pa.

A Plea
I have a phobia of snakes. Therefore, I do not appreciate the trouble you take to find pictures of celebrities holding them. For months now there has been at least one in your magazine every week. I realize there are people who do like snakes and even have them as pets. But do have a little pity on people like me. And please don't print my name. I don't need some joker sending me pictures of snakes in the mail.
Name Withheld
Webster, N.Y.


Paul Newman
Advertisement
Treat Yourself! 4 Preview Issues
The most buzzed about stars this minute!