Archive Page - 12/1/12 39 years, 2,079 covers and 53,260 stories from PEOPLE magazine's history for you to enjoy
On Newsstands Now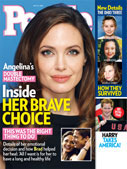 Angelina: Inside Her Brave Choice

New Details on the Ohio Three

Prince Harry Takes America!
Pick up your copy on newsstands
Click here for instant access to the Digital Magazine
People Top 5
LAST UPDATE: Saturday May 18, 2013 05:10AM EDT
PEOPLE Top 5 are the most-viewed stories on the site over the past three days, updated every 60 minutes
At 57, Francoise Gilot Recalls Life with Picasso but Enjoys It with Scientist Jonas Salk


The master's emotions burst forth in broad brush strokes, not delicate touches. Just as he was capable of great love, he could—like an unthinking child—inflict great pain. He showed it when Françoise left him after 10 years as his lover during which time she bore him two children. "You imagine people will be interested in you," Picasso sneered. "They won't ever, really, just for yourself. It will only be a kind of curiosity they will have about a person whose life has touched mine so intimately."

He was wrong. It was Françoise Gilot—independent, vivacious and a gifted artist in her own right—and not the companion of Pablo Picasso who appealed to Dr. Jonas Salk, developer of the polio vaccine and Gilot's husband now for nine years. How did this petite Frenchwoman manage to captivate two of the great men of the 20th century? Easy, she once explained. "I think I am just as interesting as they."

In her studio in California's Sorrento Valley, north of San Diego, Gilot stands amidst her paintings. "A creative venture is like a mountain," she declares. "You think you'll never get to the top, but once you're there, you see there's another peak so you go on climbing forever. There are no plateaus in art." For Gilot, it has been a long, unceasing climb. For years she was haunted professionally by the memory of Picasso. Clearly, her work has been influenced by her onetime lover, but Gilot considered herself "more a disciple than a pupil" of his. "Naturally," she once understated, "he set a most inspiring example." A fellow artist, attending a Gilot opening in Paris in 1952, phrased it somewhat differently. "Even if Françoise had had some originality," he said, "Picasso would have destroyed it. You cannot possibly be original when you live with him."

Perhaps that was once so, but Gilot's work matured and blossomed after she left Picasso. She describes her current style as "abstract expressionism" and believes that Matisse has had a more direct influence on her work than Picasso. Critics seem to agree that Gilot has come into her own. In language that only another art critic could love, or understand, French expert Waldemar George said of her paintings: "They heighten our vital tonicity. They stimulate our energy. They intoxicate like mysterious philtres."

Painting with both left hand and right (she is ambidextrous in nothing else), Gilot works on several canvases simultaneously. "I start fast," she explains, "and when there's a problem I go on to another. Toward the end, I cannot quit and the canvas and I are wedded until we are finished." Gilot sometimes paints in a lab coat borrowed from the Salk Institute. At the end of the day, she often uses whatever colors are left on her palette to start a new painting. "I hate a white canvas," says Françoise. "I am very color-oriented. What I paint is simple but the color is the statement." Her larger "statements" fetch in the neighborhood of $20,000 each. She has had one-woman shows in five countries and 12 states. Gilot never completely unwinds. "I find it difficult to shut my mind off at night," she notes. "I don't sleep so well because I like action so much."

It may have been some such yearning that led Gilot—a sexual innocent at the time—to accept Picasso's invitation to visit his studio after they met. She was surprised when he in turn went to her first exhibit. It was the time of the German occupation of Paris. "The Nazis had banned modern art," she recalls, "so it was part of the Resistance to paint. It was important to us to carry on the forbidden culture." The Nazis had given Gilot permission to show her paintings because they did not understand them. "They thought they were just paintings of birds," smiles Françoise. "But the birds were hawks, which symbolized the hated enemy, and [the exhibit] was a very anti-Nazi statement." Impressed with her courage and defiance, Picasso began to see Françoise regularly and in May 1946 he persuaded her to move into his Left Bank apartment.

As described in Gilot's 1964 bestseller, Life with Picasso, the famous artist was not the perfect roommate. He kept a goat in their villa in the South of France. He liked Franchise best when she was pregnant, so she had two children—Claude and Paloma—in their first three years together. Yet he would roar with displeasure if she borrowed a pair of his trousers for makeshift maternity clothes. The day she gave birth to Paloma, Picasso refused to let the chauffeured car drive her to the hospital until he had been taken to a conference first.

At the time Picasso was still married to, though separated from, the Russian ballet dancer Olga Khoklova. Divorce was legally impossible. Thus the question of marriage was never an issue with Gilot. One of her live-in duties was to get him on his feet daily. The artist would go through an existential blue period every morning, and it was up to "La Picasotte," as Françoise was called by the townspeople, to cajole him with breakfast in bed, then read him letters and finally point him toward his studio.

One by-product of Gilot's 10-year liaison with Picasso was an introduction to many cultural giants, and her memories are revealing. After a visit with Gertrude Stein, Gilot recalled, "I vowed never to go to that apartment again if it meant putting up with Alice Toklas." She and Picasso once caught Matisse playing hide-and-seek among his canvases with his secretary. Françoise remembers little of what Jean-Paul Sartre said, because he "was in the habit of speaking with Pablo in whispers. Very conspiratorial."

After the Gilot-Picasso relationship soured in 1953, Françoise moved to Paris with the children. "No woman leaves a man like me," Picasso railed. Wrong again. She saw him for the last time in 1955, when she married a painter named Luc Simon, whom she had known since childhood. The marriage lasted seven years and produced one daughter, Aurélia, who now lives in Los Angeles.

Gilot's trials with Picasso were far from over. Although she dedicated Life with Picasso "to Pablo" and the portrait of the artist was not an unflattering one, he sued three times over a book he never read. He lost all three suits and "was furious," according to Gilot. With his death in 1973, Picasso left a heritage of trouble. When Claude and Paloma were born, the registry was signed "father unknown," making them ineligible to claim a share of Picasso's $260 million estate. The only valid heirs seemed to be the artist's second wife, Jacqueline Roque, and his son Paulo, by his first wife. But Gilot's children contested. Invoking a 1972 law protecting illegitimate offspring, Claude and Paloma each eventually received shares worth a reported $24 million in artwork alone.

Gilot had a more than comfortable upbringing as the only child of an agronomist who also manufactured chemicals. As Marie-Françoise, she grew up in the Paris suburb of Neuillysur-Seine and was educated like the son Emile Gilot never had. In addition to sports, he fostered her interest in philosophy, literature and, most of all, law. But her mother, Madeleine, was an amateur artist, and young Françoise was already borrowing her brushes at the age of 10.

Gilot's father sent her to the Sorbonne to study law. "But with the Nazi occupation," she recalls, "being a lawyer seemed absurd. There was no law." Two-thirds of the way to a law degree, she switched to art. "I was very gifted," she says straightforwardly. "As soon as I began to paint, I knew that was what I should be doing." Her father disapproved of her moving in with a married man, even a famous one like Picasso. After nine years of not speaking, father and daughter reconciled.

As a sometime scientist, Emile Gilot would presumably have approved of Jonas Salk (although the doctor is divorced with three grown sons). Salk and Françoise met through mutual friends in La Jolla in the summer of 1969. "It was love at third sight," says Françoise. The first was a business lunch, the second a dinner party where they were at different tables. Finally Salk invited her on a tour of the institute. "We were astonished," she remembers. "I thought Jonas and I were from two different worlds but when we started to talk we knew we had so much in common." He followed her to New York a few days later, then to Paris, and within a year they had decided to marry. To confound the press, the couple flew to their wedding under assumed names—Mr. and Mrs. Peterson—and held the ceremony (in Neuilly, where Françoise's mother still lives) five days earlier than scheduled.

Gilot does not like to compare the two famous men she has lived with, but six years ago she told a reporter, "In Jonas Salk, the man is equal to the artist. Picasso, the man, was not on the same level as Picasso, the artist." Unquestionably, the doctor is easier to live with. The Salks have a contemporary wood-frame house overlooking the Pacific. Rising at 8 ("I understand why they execute men at dawn," she complains. "They can feel nothing"), the two share a continental breakfast and then go their separate ways—he drives his Citroën to his pine-paneled office at the institute and she takes her red Porsche to one of her two studios (in the Sorrento Valley or in downtown San Diego). For 12 hours they occupy their separate—but equal—worlds. "When I am working," says Françoise, "I do not see anything, hear anything or think anything else." They meet again for late dinner prepared by a houseman. ("I am a good cook," boasts Françoise, "but only a Sunday cook.")

Gilot's independence and accomplishments preclude the role of the little woman who merely stands and smiles at her husband's side. When he goes to scientific conferences, she travels too, taking her paintings to exhibits or working in Europe (she has a third atelier in Paris where she spends three months a year). Her favorite project at the moment is teaching art at the University of Southern California Idyllwild campus in the mountains above Palm Springs. "I don't really teach," she modestly protests, "I just open the gates to my students." The Salks are active in San Diego's cultural life. "Jonas has always been interested in art and architecture," Françoise says. "He loves music. He has curiosity in many fields, not just science."

"Françoise illuminates all," her 64-year-old husband returns the compliment. "She is very logical and more pragmatic than I. Sometimes I get wrapped up in details, but she attacks things and dissects them straight on. I could have been an artist and she could have been a scientist," Jonas Salk muses. Either way, he makes it clear, "We are a great match."


The years have been gentle to Françoise Gilot. Her hair is the same auburn color, her eyes the same pale green as on that May evening in 1943 when Pablo Picasso first caught sight of her in a Paris restaurant. What was it about the 21-year-old woman that prompted a man almost three times her age to rise from his table and offer her a bowl of cherries? Whatever it was—youth, vitality, mystery—the essence is still there. To be sure, the hair is dyed now and those liquid eyes are sometimes obscured by glasses. At 57, Gilot is not classically beautiful—the angles of her face are too sharp for that, the nose a bit long. She is not so much photogenic as lithogenic. And that, of course, is the quality that Picasso captured in so many of his portraits of her.
Advertisement
Treat Yourself! 4 Preview Issues
The most buzzed about stars this minute!