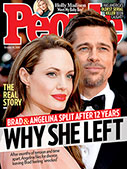 This Week's Issue!
People Top 5
LAST UPDATE: Tuesday February 10, 2015 01:10PM EST
PEOPLE Top 5 are the most-viewed stories on the site over the past three days, updated every 60 minutes
Jill Starts Over
Restless Jill Clayburgh Finds Contentment in Marriage and a New Movie Shocker on Incest
An Unmarried Woman. That won her the best actress award at Cannes, an Oscar nomination and seven months she awarded herself to brood over what was next.

America now has the answer. She has just opened simultaneously in two of the most talked about movies of the fall: Starting Over, a light romantic comedy opposite Burt Reynolds, and director Bernardo Bertolucci's portentous work about incest, Luna. Whether or not these films have helped her nails grow (on set she even has nibbled artificial ones to the quick) or ended her worrying (she's been in and out of therapy for 27 years), they prove for all time that Jill is more than—as she puts it—just another "putty face."

"She has a special innocence covered up by chutzpah," says Reynolds, who previously teamed with Jill in 1977's Semi-Tough to launch the screen's sexiest new comedy duo. Adds Starting Over director Alan Pakula: "The extraordinary thing is that she's so many people. In a Jill Clayburgh movie you don't know what you're going to get."

Well, Starting Over audiences get a mousily endearing teacher trying to woo Reynolds from glamorous ex-wife Candice Bergen—and Pakula got a Variety-topping box-office smash. But in Luna, Clayburgh plays a manipulative opera singer whose involvement with her 15-year-old drug-addicted son stops just short of incest—but not of nudity and masturbation. "The focus on incest has become disproportionate," claims Jill, despite full-page ads promising "the most extraordinary American actress of our time in perhaps the most shocking and provocative scene of our time." Clayburgh does admit: "Most great roles explore something that is socially taboo." The one problem (though Jill says she could care less) is that it could change her heretofore cozy, unthreatening image. "Men don't find me someone to idolize and I think they like me for that," Clayburgh observes of the frail male ego. "They think to themselves, 'Gee, I could charm the pants off her.' "

Forget it. Al Pacino's former live-in lady, Clayburgh has been with playwright David Rabe, 39, the last four years. In March, in fact, they were wed. When asked why, Clayburgh, 35, responds: "So people would stop asking me about my personal life. If you're married, they just assume you're happy."

They share an airy seven-and-a-half-room West Side Manhattan co-op with Blueberry, their part-Husky, part-shepherd pooch, and generally avoid the maddening crowd. "Night life gets so boring and repetitive after a while," says Clayburgh. "The only thing I miss is dancing. David doesn't dance at all." They spend most evenings in their separate rooms, he writing, she reading. "Both of us are obsessed with our work," explains Clayburgh. Rabe, who wrote two of the most powerful anti-Vietnam war dramas, Streamers and The Basic Training of Pavlo Hummel, is now tackling an undisclosed subject. Clayburgh, meanwhile, reads scripts and novels but no newspapers ("One and I'm depressed for the rest of the day"). At least once a month they travel to their Pennsylvania country place for a weekend with Jason, 7, David's son by a previous marriage to a Chinese lab technician. "I am very snappy with a lot of energy," says Jill, "and my husband has a slow, more thoughtful kind of energy."

Clayburgh works off some of the steam through running, a discipline to which Rabe introduced her years ago but now loathes. "It's an incredible high when you hit your third wind," says Jill, who rips off five to eight miles daily. She often chants scraps of an old mantra from her TM phase or practices her favorite swear words. "I don't like living with depression," she says, "and when I'm depressed I jog or cook." Consequently, her trips to therapy—which began with four a week at age 8—are now reduced to one. "I was seriously involved in psychoanalysis for a long time," says Clayburgh. "It's an important growth experience, like going to grad school or to Europe."

The only daughter of a wealthy book-cloth manufacturer and an actress turned assistant to producer David Merrick, Clayburgh grew up a poor-little-rich-girl on Manhattan's East Side. Her grandmother, Alma Clayburgh, was a prominent socialite and opera singer. "I was very assertive as a child, verging on violence and self-destructiveness. Once I threw this short little boy down the stairs," recounts Jill. "It was a kind of need for power at a young age that masks insecurity." Estranged from her parents for years, Clayburgh reconciled with her mother only shortly before she died of cancer in 1976. "With parents it's a hard-earned battle," Jill discovered. "It makes me very happy now to have a nice relationship with my father."

Though she remembers her private school years as aimless and "lonely," her dad thinks of her more as a "driven child, always taking singing, dancing and acting lessons." She didn't get hooked on theater, though, until a Sarah Lawrence College classmate talked her into summer stock one vacation. Then came a student film with other future lights—Brian De Pal-ma directed and her co-stars were Robert De Niro and Jennifer Salt. After her 1966 graduation, Clayburgh headed for Boston, where she joined the Charles Playhouse and met Pacino, who was appearing in the company's America Hurrah. "I worked more than he did because he was much more choosy in his roles," Jill remembers of their five-year relationship. "I took anything I could get." Their struggles were cushioned slightly by Clayburgh's $200-a-month trust fund, and they soon made the move to a mice-infested walk-up in New York. Jill had a run (as Grace Bolton) in the CBS soap Search for Tomorrow, but she mainly toiled Off-Broadway for $56 a week as Pacino's movie career began to take off. "Thank God we broke up!" Clayburgh says now, though she and Pacino remain friends. "We were all wrong for each other."

She did play in two big Broadway musicals, The Rothschilds and Pippin, but, ironically, it was an unsuccessful audition for Rabe's 1973 In the Boom Boom Room that changed her luck. When the part went to Madeline Kahn, Jill headed for L.A., and just when she was ready to chuck it all for graduate study in social work, she won an Emmy nomination for her portrayal of a hooker in the 1975 TV dramatization of Gail Sheehy's Hustling. The next year she got her first movie lead in Gable and Lombard—a megaturkey that no one blamed on Clayburgh. Then came the 1977 sleeper hit Silver Streak with Gene Wilder. Along the way, her salary per film has bounced from $125,000 into the $500,000 ballpark. But her ultimate commercial recognition comes this week at L.A.'s Bonaventure Hotel where NATO (the National Association of Theater Owners, that is) honors Jill as "Star of the Year."

In her boom-boom career there is no room at present for a child. She is committed to playing a mathematician in the upcoming film of director Claudia (Girlfriends) Weill and says, "I want to feel free enough to give time to my baby, should I have one." Though Clayburgh still doesn't feel all that free or fulfilled, she exults that her progress to date "has changed my life." Then she says in her blunt fashion: "I feel like a person instead of a piece of shit or meat. For the first time, people take me seriously. When you are trying to get work as an actress, you have such a rotten life," she reflects. "All you do is run around trying to please people: 'Oh, do you like me? Can I get a job? Am I pretty? Do you think I'm talented?' That's your whole goddamn life. That's over for me," sighs Jill Clayburgh. "And that is fabulous."


Advertisement
Treat Yourself! 4 Preview Issues
The most buzzed about stars this minute!