People Top 5
LAST UPDATE: Tuesday February 10, 2015 01:10PM EST
PEOPLE Top 5 are the most-viewed stories on the site over the past three days, updated every 60 minutes
Thoroughbred Actor John Forsythe Changes Colors in a Racy Role


Such professional risk-taking hardly seems necessary for a man who, by his own reckoning, has had "an inordinate amount of material success." Four years ago Forsythe stumbled into an oil well when he was cast as the unseen voice of Charlie in Charlie's Angels. "I put in maybe an hour a week and am excessively well paid for it," he admits. He is also the voice of Michelob beer and for the past decade has lectured on-camera for the syndicated World of Survival nature series. The last property is perhaps penance, since Forsythe considers most television, including Charlie's Angels, "a gigantic piece of bubblegum."

His recent transformation from leading man to character actor began with his recognition that "my hair's getting snowier and I've slowed up a couple of steps, romantically." That self-examination was helped along by a dangerous heart bypass operation last September. "A few short weeks ago I thought the hummingbird that drinks outside my window was routine, but now I find it miraculous," says Forsythe, who has recovered enough to walk a brisk two miles a day. "I'm much more highly sensitized—I've found myself crying a couple of times for no reason. I'm trying to lead a more meaningful life with my work and everything else." It was one of the rationales for his turning down Pernell Roberts' role in Trapper John. "I said to myself, 'You're 60; do you want to spend your declining years on Stage 5 at 20th Century-Fox?' " He told CBS, "The only thing worse than a failure, if I did the show, would be a success."

Forsythe is one of the few actors with the self-assurance to say, without a hint of false modesty, "I'm not a soaring talent. I am a good journeyman actor, but nowhere near the league of Brando or Scott. Those people are touched by the hand of God." So instead of seeking out work, John has been spending more time with his second wife, former Broadway actress Julie Warren, 60. They've been married 35 years, "the Hollywood record and possibly the California record," he jokes.

Born John Lincoln Freund in Penn's Grove, N.J., Forsythe found his first love in the Brooklyn Dodgers. He dropped out of the University of North Carolina to become their stadium announcer. A two-year marriage at 20 to actress Paula McCormick produced his son Dall, now 37 and an assistant to New York's Mayor Ed Koch. After serving as a speech rehabilitation counselor for shell-shocked Air Force pilots during World War II ("maybe the most rewarding moments of my life"), Forsythe came back to the Actors Studio and theater. Teahouse of the August Moon and Mr. Roberts on Broadway led to TV and Hitchcock films like The Trouble with Harry and Topaz.

Twenty-two years ago the Forsythes bought the Bel Air colonial they still live in, now spiffed up with sauna and pool and Julie's knack for interior decorating (last year she started a company of her own). Their daughters, Page, 29, a nurse, and Brooke, 25, who works for Norman Lear, live nearby. "I love to be fussed over," admits Forsythe, "and with all these women [he includes the household's three female dogs], I think I have attained every man's dream."

The Forsythes also collect antique silver and read biographies, but John's passion is "playing horse god." He owns a share of a $180,000 stallion as well as six other horses. Of one, a 2-year-old named Movie Buff, he boasts, "I plan to take him to the Kentucky Derby in 1980 even if I have to buy him a ticket to sit in the grandstand." In addition, John serves on the board of the National Association of Mental Health and is chairman of the board of the Los Angeles Shakespeare Festival. If Forsythe's commitments go beyond the guilt-shedding noblesse oblige sometimes exhibited in the film world, it's because he's wary of "the trap of believing you're a star because somebody says you are." By way of corrective, Forsythe reflects: "I always maintain there are billions of Chinese at this very moment who don't care what you're doing."


It is possibly the most shocking cinematic moment of 1979. The actor is the supremely sophisticated John Forsythe, 61, TV's Bachelor Father and now one of the Brahmans of Bel Air. In the denouement of the satirical...And Justice for All, lawyer Al Pacino flashes a picture of Forsythe, who plays a kinky judge, luridly clad in a black leather garter belt and straddling a naked woman. When his own wife and daughters saw the photograph, reports Forsythe, "they laughed like hell." Was the nude actress embarrassed? they asked. "Not that I could see," Forsythe blurted. "But I was."
Advertisement
Today's Photos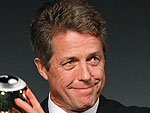 Treat Yourself! 4 Preview Issues
The most buzzed about stars this minute!