Archive Page - 12/1/12 39 years, 2,079 covers and 53,260 stories from PEOPLE magazine's history for you to enjoy
On Newsstands Now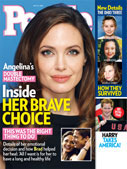 Angelina: Inside Her Brave Choice

New Details on the Ohio Three

Prince Harry Takes America!
Pick up your copy on newsstands
Click here for instant access to the Digital Magazine
People Top 5
LAST UPDATE: Saturday May 18, 2013 04:10PM EDT
PEOPLE Top 5 are the most-viewed stories on the site over the past three days, updated every 60 minutes
The Wildcats of Dallas
If the Eyes of Texas Bug These Days, Blame It on Those Three Sexy Wildcats from Dallas


But much of the prurient interest in Dallas is lavished on the womenfolk. When Barbara Bel Geddes, as kindly Miss Ellie, underwent a mastectomy last month, half of all TV-watching Americans were tuned in, an audience share exceeded this fall only by Jaws and the seventh game of the World Series. Most weeks, though, she is overshadowed by Dallas' younger generation of wildcats who, between them, have portrayed more sexual shenanigans than any show since Mary Hartman, Mary Hartman. Interestingly, all three were cast jarringly against type. Linda Gray, who plays J.R. 's promiscuous dipso wife, Sue Ellen, is really a monogamous mother of two. Victoria Principal, angelic as Bobby's wife, Pamela, has a past as fast as the cars she used to race. And Charlene Tilton, the spoiled and saucy Lucy, really grew up poor and fatherless. These three actresses—as ambitious in their own way as the show's femmes fatales—occasionally have tangled off-camera, but each now accepts that the MGM set where they shoot is not a lone-star state.

Linda Gray: I'm an 18-year overnight success'

"I got to his office and he asked me to lift my skirt. He needed someone with great legs," Linda Gray remembers. "I lifted my skirt to about mid-knee. He said, 'Is that it?' I said that was it. He hired me anyway."

Except for the propriety, Linda Gray, 38, could have been describing one of Sue Ellen Ewing's palpitating encounters. But Linda's hemming-and-hawing scene actually occurred some 20 years ago when, as a would-be model fresh out of a Catholic girls' school, she met Capitol Records executive Ed Thrasher, then designing an LP cover. Thrasher struck out with Linda that day, but two years later married her. "There was a lot of heavy breathing going on," Linda now laughs, "but I swear I was the only 21-year-old virgin married that year. My mother and my church told me that was the way it was supposed to be, and I bought it."

Some 17 years later, Linda and Ed are still together with two children on a bucolic three-acre spread in the canyons 60 miles north of L.A.'s wicked ways. Near their sprawling ranch house are stables for their four horses, a swimming pool and a tennis court. "I thought moving to the country was a really bad idea when Ed suggested it seven years ago," says Linda. "But it gives us all a chance to live like real people. My kids don't go to school in $30,000 cars or shop Beverly Hills. They're as normal as I could ever have hoped them to be."

Born in Santa Monica to a jeweler and his wife, Linda grew up just a few miles from the studio where Dallas is filmed. "I knew that everything magical happened once you got past the guard at the MGM gate," she remembers. "My friends and I would go there for autographs after school. I just didn't know how I would break it to my strict parents that I was going to be an actress." Happily, she didn't have to. A photographer spotted Linda at a fashion show and got her mother's permission to make her a model.

Linda finished a dismal sixth in the 1965 Miss Rheingold contest, but got a lot of TV spots like Alberto V05 hair-spray and United Airlines. Her guest shots on such shows as Marcus Welby, M.D. and McCloud were followed by a less-than-flattering offer from Norman Lear for his 1977 bomb, All That Glitters. "Norman assured me I'd be a perfect transsexual," Linda smiles. "He even imported one from San Francisco to coach me. It was unnerving, but I kept thinking, how can it be that bad?" It was, but proved to be a useful "learning experience" pre-Dallas.

"For the first couple of Dallas shows my lines ran to 'More coffee?' and 'I have a headache,' " she says, but that changed quickly. As Hagman explains, "When Linda and I work together, the sparks fly. She plays Sue Ellen with a smoldering sexiness coupled with an innocent bitchiness that just intrigues people." Adds Charlene: "She plays a drunk with such elegance that you feel for her even when she's almost killing her baby or lying in a ditch." (Abstemious off-camera, Linda even gave up Perrier because of the salt content.) Linda's fattened-up role has won her a slavish fan following if, at times, some jealousy from Victoria, the series' original main lady. "We have a pleasant relationship," says Linda, "but the situation must be hard on Victoria, and there has to be some resentment."

If so, Principal gallantly suppresses it in public. Linda, she says, "can act anyone right off the floor. She is so in touch with her own emotions and priorities." Charlene likewise finds Linda "warm, funny, and very, very generous." Indeed, for Linda, playing the bad girl she has never been in life may be better than any therapy. As she says, "I love it all."

Victoria Principal: She's outrunning a racy past

"We had heard all the rumors about Victoria. This is a small town," says Lee Rich, who produces not only Dallas but also The Waltons. "Victoria's background, her so-called checkered past, was a plus. We felt that she had experienced life and could understand the part."

Indeed, before Dallas, Victoria's off-screen credits had attracted as much attention as her roles in 1972's The Life and Times of Judge Roy Bean and The Naked Ape, a 1973 bomb financed by Playboy. The town was titillated most by her seven-page spread in the magazine and her nights with the high-rolling set at L.A.'s private backgammon club, Pips. Victoria was linked to pro footballer Lance Rentzel and young Desi Arnaz Jr. and admitted to a penchant for getting engaged every other year. For the two years before hitting Hollywood, she had been the "constant companion" of wheeler-dealer Bernie Cornfeld, whom she once accused of trying to strangle her. "Entirely too much is made of that relationship," she says now. "I dated a lot of men."

The fast-lane life drove her to some intense self-scrutiny and may have caused her early insecurity on the Dallas set. On her birthday last January, the cast and crew jokingly sent her a bouquet of dead roses and a note: "When you walked into makeup, these flowers were fresh." Observes a friend: "Victoria's a beautiful woman with a strong drive to succeed and a lot of self-doubt. Hollywood is cruel to people like that."

Her colleagues happily agree, however, that Victoria's marriage 10 months ago to actor Christopher Skinner, 22, has brought her new stability. They met when he did a Dallas guest shot. "He had a scene with a girlfriend of mine, and I asked who he was," Victoria recounts. "She told me, and I said, 'Don't ever dance with him again.' Everyone laughed but me." Victoria is at least a dozen years older than he is—"I am between Tatum O'Neal and death," she evades—but something clicked. After a cautious courtship ("I thought he was a little too gorgeous," she says), they got married in Vegas. They now share Victoria's simple, elegant home in a tiny Beverly Hills canyon and collect antique furniture and hand-knotted silk rugs.

The daughter of an Air Force sergeant major (her mother's unlikely maiden name was Ree Veal), Victoria grew up on military bases everywhere. The peripatetic life precluded lasting friends, so Victoria concentrated on sports, ballet and, later, stock cars. "When I was 15 I was full of undirected sexual energy that society says you must bottle up until you get married. I sublimated those feelings in fast cars. I loved the attention I got from men at the track." She briefly studied at Miami-Dade Community College, then split for New York and London and landed in Hollywood in 1971. "I took a tiny, dumpy apartment," she says, "and supported myself modeling and teaching backgammon. I would teach in a club or if it was a single man he could come to my home," she continues. "But I finally got sick of it. On a whim I took all my earnings and moved into a fabulous penthouse and got a Jaguar XKE. Two months later I had an agent and was up for two parts."

But when Roy Bean proved a dead end, Victoria reports, "I moved out to the beach and had long conversations with myself. Emotionally I was still a little girl. I was simply wrung out." She quit acting and started over as an agent. "Dick Martin became my client two days after I was licensed," says Victoria. "The agency loved me." That two-year stint, she adds, "was a turnaround in my life. I was not at anyone's mercy. I grew up." But in 1977 she returned to acting when Aaron Spelling coaxed her into doing a Fantasy Island gig.

Now, with her tempestuous past behind her, Victoria gets emotional talking about the changes in her life. "No matter what mistakes you've made," she reflects, "if you reach the point where you are happy, I think it's important not to tamper with that, not to let other people play God and try to punish you. Life punishes you enough."

Charlene Tilton: The cast's kid is growing up fast

The youngest and least experienced of Dallas' ladies, Charlene Tilton was only 17 when the show began rolling last year and looked even younger. (She's five feet flat.) She promptly caught pneumonia—"I think it was cold feet," she jokes—and was almost replaced. "We weren't sure she could do it," admits producer Rich. But instead of quitting, Charlene began intensive work with acting coach Jeff Corey and bought videotape equipment to practice at home. "She could have slid by on her beauty, but she worked her ass off," says Victoria. It worked. She just won the Hollywood Presswomen's Best Juvenile Actress award, aceing out competition like Kristy McNichol and Melissa Gilbert.

Charlene would never have gotten anywhere without gumption. Abandoned by her father two months after her birth, Tilton and her mother moved from San Diego "to the shack-city part of Hollywood and struggled," she recalls. "My mother is a wonderful, strong woman who supported me as a secretary. We have never discussed my father." From her early years, says Charlene, she made the rounds of dance and acting studios on her own. "When I was a tiny girl I knew I wanted to be an actress. I didn't want any part of the drugs and violence around me. I was a very determined child."

As a cheerleader at Hollywood High, Charlene answered a cattle call and landed a role in Disney's 1977 Freaky Friday. "I knew this was my chance," she remembers, "so I snuck into every scene they shot." The role brought her an agent and some modeling jobs (Carnation milk, a Japanese clothing ad with Ringo Starr), but then, Charlene adds, "Nothing happened, so I took a job in a T-shirt store."

Enter sometime actor Jon Mercedes, 29. After persistent attempts, "She finally went out with me," Jon relates. "Then I got her to agree to several things in quick order: First, move in with me; second, quit her job; third, go on unemployment so she could really interview for work as an actress." Charlene, then 17, adds: "He pushed and pushed me into believing I was an actress." Her career took wing with TV shots like Happy Days and the 1978 passion-pit movie Sweater Girls.

She bought the Hollywood Hills home she and Jon share after Dallas' success. (She's the lowest-paid of the threesome—with Linda making an estimated $10,000 weekly, and Victoria in the same ball park.) Around the house she makes the bed, both cook, and Jon does the dishes. For Charlene's 20th birthday December 1, Jon bought her a white Mercedes 450 SL; it is also a sort of engagement present, because they're contemplating marriage next spring.

Charlene sometimes seems almost overwhelmed by her good fortune. "The people on the show are really my family," she gushes. "Larry is like an uncle. Victoria is always mothering me. Barbara Bel Geddes is a wonderful lady of the theater who is willing to sit down with me and tell me her stories. Linda is the swellest lady in the world; she's my favorite."

Since Dallas began, Charlene has appeared in the TV movie Diary of a Teenage Hitchhiker and starred in a low-budget Poe film Fall of the House of Usher and three hot posters. But she doesn't feel home free. "I'm terrified about what I will do when the series is over," says Charlene. "It's tough out in the rest of the world. I can't think of any place to work where it would be as much fun as here."


Advertisement
Treat Yourself! 4 Preview Issues
The most buzzed about stars this minute!