Archive Page - 12/1/12 39 years, 2,080 covers and 53,257 stories from PEOPLE magazine's history for you to enjoy
On Newsstands Now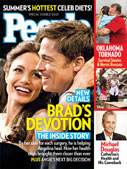 Brad's Devotion: The Inside Story

Oklahoma Tornado: Heroic Rescues

Michael Douglas on Catherine's Health
Pick up your copy on newsstands
Click here for instant access to the Digital Magazine
People Top 5
LAST UPDATE: Thursday May 23, 2013 03:10PM EDT
PEOPLE Top 5 are the most-viewed stories on the site over the past three days, updated every 60 minutes
Sperm Banker Robert Graham Wants the Brave New World to Be Sired by Nobel Prize Winners


To that end, Graham began more than two years ago to solicit every Nobel science laureate living in California (at right, a sampler of their responses). Only three of them obliged with sperm samples—and of those only one has consented to be publicly identified. He is, perhaps predictably, Stanford's William Shockley, co-inventor of the transistor (for which he won the 1956 Nobel in physics) and, more recently, purveyor of the discredited hypothesis that blacks are, by heredity, less intelligent than whites. "This is a remarkable attempt, and I'm thoroughly in sympathy with this sort of an approach," says Shockley, 70, of his fellow septuagenarian's scheme. "Everybody talks about it, but by God, Graham is doing something about it."

The arrangement is simple. Graham provides the sperm free of charge (except for a small handling fee and a $250 refundable deposit for the liquid-nitrogen packing equipment). To get it, candidate mothers must fill out a long questionnaire concerning IQ, general health, hereditary traits and personal achievements. They must furthermore agree to keep Graham informed about the offspring, if any. Graham says he prefers that the women be wives of sterile men rather than single.

An applicant approved for insemination is provided with a complete physical description of the three Nobel donors, including age. This is a potentially critical factor, since recent research indicates that the risk of birth defects increases with the father's age as well as the mother's, and most laureates are getting on in years. The number of children the donors have fathered is also included. "That's important to a woman who's choosing," says Graham, "so she knows he's not an untested stud." Graham also adds his personal assessment of each man. "A very famous scientist," reads one of the blurbs, "a mover and shaker, almost a superman." After familiarizing herself with the three prospective fathers (except for their names), the woman is allowed to choose one.

Graham got the idea for an elite sperm bank more than a decade ago from the late Hermann Muller, a geneticist who won the Nobel Prize in 1946—and who believed in improving the gene pool through carefully selective insemination. (Graham named his sperm bank the Hermann J. Muller Repository for Germinal Choice—over the objections of Muller's widow.) The notion that intelligence is mainly hereditary and can be passed on through careful breeding was popular in the 19th century and has long been a staple of science-fiction authors. But the idea is highly controversial at best; most experts dispute the theory vigorously. Graham incorporated Muller's ideas into a book he wrote and published (at his own expense) in 1970 titled The Future of Man. "The more intelligent you are," as he expressed his theorem then, "the more children you should have."

Graham has practiced what he preached. The former optometrist(who made his fortune by inventing the shatterproof plastic eyeglass lens) is the father of eight children, now aged 10 to 40, by two wives. His second wife, ophthalmologist Marta Everton, 52, is one of his two application screeners. The other is a young physician working on his doctorate in molecular immunology.

A member of Mensa, an organization for people with IQs in the top two percent of the population, Graham chose his first three candidates for artificial insemination from women who responded to an article about his program that appeared in the Mensa Bulletin last summer. Now he's thinking bigger. He is reluctant to advertise ("I don't want a whole flock of ordinary women"), but he soon hopes to be doing 100 fertilizations a year, and he knows that means finding more candidates—and convincing more scientists to participate. "Eventually," he says, "I hope to canvass all the Nobelists in the world."

Graham will limit himself to laureates in science—"There's less conjecture and less argument about the standing of scientists than there is in other fields," he explains. But he invites competition. "It's my hope that others will set up similar projects with other categories, such as Olympic gold medal winners or artists or movie stars," he says. "This is just a beginning. Whether it catches on, I won't live to see."


To some critics the project smacks of Nazi Germany's romance with the notion of a "master race." MIT geneticist David Baltimore calls it "dangerously elitist" and advocates the ultimate censorship: a government ban. To another Nobel laureate, physicist Burton Richter of Stanford, the idea is "weird." But to Robert Graham, 73, an eccentric multimillionaire deep into avocational genetics, the caldron of—192° C liquid nitrogen he keeps in an underground vault on his California estate contains nothing less than his last, best hope for humankind: ampules of sperm from Nobel Prize winners, with which he hopes to impregnate hundreds of "highly intelligent" women. Such inseminations will, Graham believes, produce children of superior intelligence and high potential. Already he has packed off specimens to three prospective mothers on the East Coast. "We're not trying to create a superrace," Graham insisted as the furor over his experiment built to a crescendo last week. "We are thinking in terms of a few more creative, intelligent and useful people who otherwise might not be born."
Advertisement
Treat Yourself! 4 Preview Issues
The most buzzed about stars this minute!