People Top 5
LAST UPDATE: Tuesday February 10, 2015 01:10PM EST
PEOPLE Top 5 are the most-viewed stories on the site over the past three days, updated every 60 minutes
Egyptian Actress Suzanne Taleb Plays An Executed Saudi Princess—and Pays a Price of Her Own


The role was based on the tragedy of Princess Misha'al—a grandniece of Saudi Arabia's King Khalid—who had an affair with a commoner and was executed for adultery in 1977. In making a docudrama of the event, British director Antony Thomas says his purpose was to portray "the dilemmas of an Arab woman growing up with one foot in the feudal Arab world and the other in the West." In one scene Saudi princesses are shown driving along a desert highway looking for lovers. In another, an Arab socialite is asked what rights are accorded Saudi women, and she bluntly answers: "Sex."

Not surprisingly, the Saudis reacted to the film with emphatic displeasure, reportedly offering Thomas $11 million not to show it. When Death of a Princess was aired on the independent ATV network last month, Britain's ambassador to Saudi Arabia was expelled, some 400 members of the Saudi royal family were called home from London, and King Khalid canceled a state visit to England scheduled for next month. The fear of economic retaliation in Britain was high; exports to Saudi Arabia amount to nearly $2 billion a year and Saudi Arabia sends back about 14 percent of Britain's oil. In Sweden a video company bought rights to the film only to shelve it to protect national business interests. Yet Holland's NOS-TV, which helped finance the film, ran it as scheduled last month, and Boston's WGBH, which was a co-producer, vows it will broadcast Princess on the PBS network next Monday night.

In the end the major victim of the imbroglio could be Suzanne. Though she appears in the two-hour film for only eight minutes, she has been blacklisted by Egyptian TV, film and theater producers, who are dependent on Saudi petrodollars. Yet she will not apologize for the film, defending it as an important statement about the subjugation of Arab women. "I understand everything Princess Misha'al went through," she says. "Her feeling of being caged up is also inside me because I am an Arab girl. My parents were very strict. I was never allowed out of the house without a chaperone." Married at 17 to one of her professors at Cairo's High Institute for Dramatic Arts, she was recently divorced. But her religious upbringing is inescapable. "I could not do what Misha'al did—commit adultery," she says. "Sex is one of the most important and beautiful parts of my life, but I have only been with my husband, and my feelings for him are still so strong that I couldn't share this with a new man." In any case, she says, love would take second place to "achieving my artistic goal—becoming the best actress possible."

That may be difficult, given the Arab blacklist. "The best thing for Suzanne," says director Thomas, "is to remain in Cairo, finish her exams and be cool. I am investigating the loss of her jobs, and I will compensate her financially so far as I can. She wants to come here eventually, and I will help her here." Her friends and relatives, however, worry that she may be in danger in Cairo. Not long ago she turned up late for an appointment with her mentor, Egyptian cartoonist Salah Jaheen. "I quite honestly thought they had gotten to her," Jaheen recalls. "Her film has revealed a rottenness at the center of the royal family, and their outrage at being pictured as they are has replaced reason."

Though Suzanne allows, "It would be a weird paradox if I suffered the princess' fate, wouldn't it?" she prefers to talk about the fate of Arab women, of the hypocrisy enforced on them, of "the thousands like Princess Misha'al who must hide their latest Paris fashions under the black abayyas until the next trip to freedom in Europe." She admits her own plight is difficult—"not being allowed to be an actress takes away the meaning of life"—but she is far from resigned to it. "I'm still young," she says. "I'll fight it through. One way or the other, I'll show them."


Until last month even the Sphinx seemed to be smiling on the young career of Egyptian actress Suzanne Abou Taleb, 22. A natural beauty from the desert city of Asyut, Suzanne was set to graduate from drama school in Cairo in June. Already her professional schedule was full—she had recently landed major parts in a TV movie and a Cairo play. Then Suzanne's debut in a Western film was broadcast on British television, and she suddenly found herself center stage in an international incident. The promised roles were abruptly canceled, no others were offered, and her family and friends began to fear for her safety. When she paused on a Cairo street two weeks ago to sign an autograph, she was quickly surrounded by an angry crowd taunting: "You're dead, Suzanne! You're dead!" Seeking refuge in a taxi, she nervously lit a cigarette and asked, "Why? Why? I only played in a film. I only portrayed something that happened two years ago."
Advertisement
Today's Photos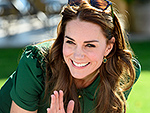 Treat Yourself! 4 Preview Issues
The most buzzed about stars this minute!