People Top 5
LAST UPDATE: Tuesday February 10, 2015 01:10PM EST
PEOPLE Top 5 are the most-viewed stories on the site over the past three days, updated every 60 minutes
Overtaxed by Work and Worry, Dance Master Alvin Ailey Takes a Bad Fall


But in the past several weeks the private Alvin Ailey has gone clamorously public. As sympathetic friends piece together the story, his troubles exploded when the Moroccan student left his apartment and moved to International House, a student residence near Columbia University, and shortly thereafter returned to Paris. Refusing to believe the man had left, Ailey reportedly barraged International House with phone calls and personal entreaties. In early March Ailey was arrested during one of his visits there and sent to Bellevue for observation after allegedly assaulting a security guard. He was released into private psychiatric care, but two weeks ago he snapped again. At 3 a.m. he called the fire department and ran through the halls of his building shouting "Fire!" When a woman neighbor opened her door, he is said to have attacked her. Hospitalized again and charged with burglary and assault, Ailey seemed preternaturally calm to the corps members who gathered in court for his arraignment. "I know it must have been the most humiliating moment for him when his eyes spotted us," says one of them. "But he never showed it."

Ailey bottled up a great deal. Last October Joyce Trisler, a friend and occasional collaborator of 30 years, died of a heart attack at the age of 45; the TV was still on when she was discovered days later in the apartment where she had lived alone. In her solitary death, friends say, Ailey foresaw his own. As one of his dancers observes, "I am sure it hasn't made facing his 50th birthday next January any easier for him." Still, he could not let up. He persisted in a rigorous liquid-protein diet, shedding 40 pounds. His administrative workload redoubled as, hard hit by inflation, his $4 million enterprise staggered deep into the red. "He has built one of the most important monuments in American culture," says one of his teachers, "but the weight of it is crushing him."

He was oddly cast to shoulder such burdens. His parents separated when Alvin was 3 years old, and his mother worked two jobs to support the family. Alvin did not begin to dance until he was 18—a very advanced age for the profession—but he soon caught the eye of choreographer Lester Horton, who induced him to drop out of UCLA and accept a scholarship with his company. When Horton died of a heart attack four years later, Ailey assumed the task of keeping the group together. In 1960 he formed his own black company in New York, and ambition gave way to obsession. "His ultimate dream has always been changing," says Meg Gordean, a spokeswoman for the company. "As he achieved parts of it, it grew bigger and bigger until it took all of him—his time, his energy and his spirit."

Last week his company was scheduled to open its 17th season at City Center—with Ailey, secluded in a private psychiatric hospital nearby, absent for the first time. "I just know he will choreograph another ballet," his mother, Lula Cooper, insists bravely. Principal dancer Judith Jamieson said she would serve as co-director of the company "only until Alvin comes back." But there was more hope than optimism that he would be returning soon.


In retrospect, the themes running through master choreographer Alvin Ailey's most recent work seem hauntingly prophetic: that art and life stand in opposition, that the handmaiden of creative success is personal disintegration. As an artist, Ailey could scarcely have been more successful: During 20 years as director, choreographer, designer and fund raiser for the Alvin Ailey Dance Company, he built a small empire. It consists of three companies—the principal one is in residence at New York's City Center—and a school with 5,000 students. His choreography drew from jazz, Africa and the classics and significantly enhanced the art of modern dance. At the same time, his private life moved deeper into the shadows. He left his midtown apartment several years ago to move to Harlem. Men not known to any of Ailey's colleagues presented themselves at the box office for his house seats. Last fall in Paris he met a Moroccan student, sponsored him to the States and they were said to have lived together for a few months. None of the choreographer's friends knew him either. "Alvin always kept his public and private worlds very separate," says one associate. "The private man is a mystery—perhaps even to him."
Advertisement
Today's Photos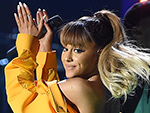 Treat Yourself! 4 Preview Issues
The most buzzed about stars this minute!