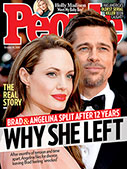 This Week's Issue!
People Top 5
LAST UPDATE: Tuesday February 10, 2015 01:10PM EST
PEOPLE Top 5 are the most-viewed stories on the site over the past three days, updated every 60 minutes

Presidential Press Secretary Jody Powell had to apologize for the third time in four years for the absence of his boss at the White House correspondents' dinner in Washington. But stand-in Jody had the makings of a stand-up comedian as he described his efforts to change the President's mind about passing up the dinner in favor of Camp David. "I walked into the Oval Office," deadpanned Powell. "I didn't pussyfoot around, I didn't mince words. I looked the leader of the free world straight in those steely blue eyes and I said: 'Rosalynn, make Jimmy do it.' "

Candy Kisses
Leaving her Park Avenue office in a drizzle, Doubleday editor Jacqueline Onassis walked a few blocks south to Grand Central before she could find one of Manhattan's notoriously rain-shy taxis to take her to her apartment at Fifth Avenue and 86th Street. As they headed uptown, Jackie realized she had forgotten something. She asked the cabbie to stop at a newsstand, hopped out and bought a magazine. As she got back into the cab, she handed the surprised driver a candy bar. That was sweet, but "It wasn't my favorite gift from a passenger," the cabbie said later. Once he picked up Faye Dunaway, he recalled, and "She gave me a kiss!"

Artist's Proof
Chicago ceramicist Harold Roman, whose previous objets d'art have included an Elvis Presley statuette filled with McCormick's bourbon and a wild turkey for you-know-what, now has created two new bottlings of dubious esthetic, if not spirituous, taste. A bust of John Wayne filled with 750 milliliters of Heaven Hill bourbon goes on sale for about $80 this month with the shipment of 5,000 cases to liquor stores. The Duke's estate eventually should collect close to a million dollars in royalties, Roman says. The Catholic Church is expected to wind up with a similar amount from sales of the other statuette: a likeness of Pope John Paul II containing a nonalcoholic amaretto.

Voice in the Wilderness
How are things in the environmental movement? Well, here's the lead item on the schedule of the May meeting of the Sierra Club board of directors: "It is the policy of the board that only reusable drinking cups be used at all board, executive committee and council meetings. Therefore, you are requested to please bring your own drinking cup with you to the meetings. Sierra Club cups will be available for purchase. Make sure your own cup is so labeled."

Proposition Nein
The man who made Proposition 13 a household word, California's Howard Jarvis, has suddenly become more of an issue than his legislative brainstorms as the state prepares to vote on Proposition Nine, a kind of Son of 13 that would cut the individual state income tax in half. The problem is Jarvis' campaign style, once considered feisty and cute but increasingly seen as vulgar. At a campus debate in Sacramento, for example, he called one student "a dumbhead," another "stupid," said a third had "a big mouth but no brains" and suggested that a woman heckler find refuge in a house of ill fame. All of this rancor delights his opponents, who hope he will alienate so many people that Prop Nine, currently in a nip-and-tuck battle, will go down the drain on June 3.

Furthermore

•The Dirt Band's John McEuen says that back in 1973 Steve Martin pointed to the words Elvis on Tour on a Memphis marquee and prophesied: "Someday that'll say Steve." Muses McEuen, who often performs with Martin: "The funny thing is that his dream came true—only the marquee read The Jerk."

•George Bush, trying good-humoredly to live down his media image as an elitist, told reporters his campaign had been a real learning experience. For example? "I found that you can walk into a store and buy suits that are already made."

NEXT WEEK IN PEOPLE

Gene Autry rides herd on his Angels
At 72, the millionaire ex-cowboy star dreams of a World Series win and bristles at talk of a baseball strike

Mac Davis' country roads led to Vegas, TV and a Hollywood hit
He lost his wife to Glen Campbell, but after North Dallas Forty and a musical comeback, he finds it Hard to Be Humble

A busy psychologist defends workaholics
They tend to be happier and better adjusted, says Marilyn Machlowitz; it's the people around them who suffer


Failure of a Mission
Advertisement
Treat Yourself! 4 Preview Issues
The most buzzed about stars this minute!