Archive Page - 12/1/12 39 years, 2,079 covers and 53,260 stories from PEOPLE magazine's history for you to enjoy
On Newsstands Now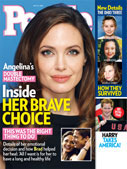 Angelina: Inside Her Brave Choice

New Details on the Ohio Three

Prince Harry Takes America!
Pick up your copy on newsstands
Click here for instant access to the Digital Magazine
People Top 5
LAST UPDATE: Tuesday May 21, 2013 08:10PM EDT
PEOPLE Top 5 are the most-viewed stories on the site over the past three days, updated every 60 minutes

It was really nice seeing a cowboy hat on your cover (PEOPLE, June 23). It's good to know that Travolta's back on his feet and that Urban Cowboy doesn't exploit Texas the way many of us feared. It's a simple, affecting film that doesn't blast away at the Lone Star State. In fact, the movie was downright ordinary. We enjoyed it.
Lisa Richau
Houston

To me John Travolta is the "king" of Hollywood. No one else even comes close. I may be 27 and married, but I think I've fallen in love again. Thanks for the latest on him.
S. Hanson
Redwood City, Calif.

Mr. Travolta is the most conceited, overhyped personality in the whole world. I know I sound mean, but glorified mush makes me mad.
John Glennon
Chicago

Gloria Steinem
Bravo, Gloria Steinem! I am a college graduate, a mother and a staunch supporter of the Equal Rights Amendment. I am also a full-time homemaker. Steinem recognizes the dignity and importance of my job. I can only hope other people will understand that intelligent, aggressive women may choose to fulfill themselves in the home rather than the office.
Betty Dempsey White
York, Pa.

A big thanks to PEOPLE and to Irene Kubota Neves for quoting our discussion accurately in word and spirit. That's a rare experience for interviewees in general, and for feminists in particular.

My only regret is that the courageous organization working to improve conditions on the sugar cane plantations was not named. The mostly female-led group is the Southern Mutual Help Association of Jeanerette, La.
Gloria Steinem
New York City

Gloria Steinem is a brilliant, beautiful and necessary figure in our times. But a wife and mother she is not, and her inexperience shows when she attempts to light our way with her simplistic and oftentimes hopelessly unrealistic point of view. Gloria, your expertise lies in living alone.
Rose Lieske
Phoenix

Bernie Taupin
Superb article on Elton's lyricist. I think Bernie shocked quite a few people with his solo release He Who Rides the Tiger. I know my chin is still on the floor. Bernie's had some rough times, but I hope that's all behind him and he continues to grow artistically. Whatever he comes up with next, I won't be surprised. The kid can do it all!
Michelle A. Gauvreau
Newton, Mass.

Lt. Colonel Herbert
I felt compelled to purchase Herbert's Soldier's Handbook only to learn how to "secure my door" so another reader can't "stomp to death my prostrate body." Tony Herbert contends that "Knowledge by itself is not dangerous." Knowledge does not exist by itself. It is contained in sometimes diabolical minds, not just terrorists or ex-cons but the boy down your street who buries his cats to the neck in sand and runs over their heads with his bicycle. If Mr. Herbert had a grain of conscience, he would sell only defense tactics to the general public and leave how to kill to the military and the heroes in his summer camp.
Arlene LaHera
Albany

Van Halen
You made a good kickin' rock'n'roll band sound like the equals of the punk Sex Pistols. Van Halen has a style unmatched by any other modern rock band. That is what your review should have said.
Dan Davisson
Greensburg, Ind.

Barbara Goldsmith
What a laugh I got reading your article on author Barbara Goldsmith (Little Gloria...Happy at Last). Says she: "I went to public schools and contracted lice." My children went to private schools where an epidemic of lice broke out. Private or public schools or snobs in either, lice don't discriminate.
Helen Ramirez
Stanton, Calif.

Jim Dale
Barnum's Jim Dale was a member of one of the funniest comedy groups in the history of film, the Carry On group. He played a variety of characters in 13 of the series. The Carry On movies have become a British institution and even their risqué humor has not kept them from American TV.
Shari E. Kegley
Bridgewater, Va.

Richard Kienast
Amazing! People in Aspen snort cocaine without interference from the Drug Enforcement Administration and crime does not run rampant and the sky does not fall in. Maybe Sheriff Kienast knows something the rest of us, including Uncle Sam, need to learn: Big Brother is a lot more dangerous to a (supposedly) free society than cocaine will ever be.
Susan Guberman
San Jose, Calif.

I am amazed that Sheriff Kienast has not recognized the "Gordon Liddy mentality" within himself. Mr. Liddy was a member of a group that also believed they were above the law. Sheriff Kienast is not the law but a law enforcement officer. As a law enforcement officer myself, I cannot equate selective enforcement with justice for all.
John Day
Livermore, Calif.

Luciano Pavarotti
I am somewhat weary of hearing about Pavarotti. Enough, please! Placido Domingo is still the greatest tenor in the world, and always will be. Furthermore, he has no need to resort to all this Hollywood hoopla or carry an oversize hanky as a security blanket when he sings.
Roger H. Dickens
New York City


John Travolta
Advertisement
Treat Yourself! 4 Preview Issues
The most buzzed about stars this minute!