People Top 5
LAST UPDATE: Tuesday February 10, 2015 01:10PM EST
PEOPLE Top 5 are the most-viewed stories on the site over the past three days, updated every 60 minutes
Rodney Dangerfield Has Known Worse—It's Usually An Albatross


It is tough—but these days no one can match the apparent ease of hangdog comedian Rodney Dangerfield in making misery monumental. Since adopting his shlemiel persona 15 years ago, he has embodied, in 63 To-night Show appearances, those ubiquitous Miller Lite beer commercials and his own New York nightclub, life's worst-case scenarios. Nervously adjusting his tie, craning his neck in helpless exasperation, his pop eyes like two creatures from some bleak lagoon, Dangerfield has become a household nerd. Now, at 58—"I thought it was time I began taking my career seriously"—he suddenly has his first big LP, No Respect, and a sleeper movie hit, Caddyshack, which he all but steals from co-stars Ted Knight, Chevy Chase and Bill Murray. Rodney is, in short, achieving success that would build up anyone else's ego.

"I'm not the happiest guy, put it that way," he says simply. "When you meet me offstage, I'm really down." The problem certainly isn't money. He lives in a five-bedroom Manhattan coop with river view, and recently turned down 10 weeks in Vegas at over $50,000 per. "Everyone needs money to exist, but I'm not into seeing how much I can die with," he shrugs. He still gets a lift onstage "when the audience is really into it." But often, "It's just a job. I know what I'm doing, more or less."

He is unlikely to make that claim about any other part of his life. He wistfully maintains he is "in love with love," but after marrying and divorcing the same woman twice (she died three years ago), he admits, "I find it difficult to sustain a relationship. I do a joke: 'My wife and I sleep in different beds, eat in different rooms and take separate vacations—I'm doing everything I can to keep this marriage together.' " After years of talking to "46 Austrian psychiatrists," he's come to a simple conclusion: "People think, 'With success, I'll be happy.' But it doesn't work. What matters is the head you were born with."

Born Jacob Cohen in Babylon, N.Y., Dangerfield always felt "on the outside." His father, a vaudevillian turned stockbroker, left when Rodney was a baby, and his mother moved to an area of Queens beyond their means. "It's really not too good to be brought up in a nice neighborhood when you can't afford it," notes Rodney. "The kids I went to class with, I'd be delivering groceries to their houses after school." Then, some peers were "anti-Semitic—some teachers too." At 15 he started writing jokes "to escape reality, I guess," and soon began to do his own stand-up gigs. By 19, using the name Jack Roy, he "hit the big time, $5 for Saturday night," at places like Brooklyn's Polish Falcon. But after nine years of struggling, he jettisoned showbiz to marry singer Joyce Indig and settled down as a house-paint salesman—"a very colorless existence."

Unhappy with the tumultuous marriage and prodded by "a burning desire to perform," Dangerfield returned to comedy in 1965 at age 44. After boosts by Ed Sullivan and Johnny Carson—"He's the present-day Ziegfeld, a starmaker"—Rodney opened his now successful East Side club, Danger-field's, mainly to be near his kids, Melanie, 16, and Brian, 19, who then lived with him. They take their lumps in his act ("My daughter—in school she was voted most likely to conceive"), but he says proudly: "We have a pretty good relationship. Everything's okay."

Rodney shares his apartment with a housekeeper, his poodle, Keno, and his closest friend, an idiosyncratic contractor named Joe Ancis. Archivists of American comedy worship Ancis as the principal model for Lenny Bruce's stream-of-consciousness, jive-patter delivery. "Joe is the funniest man in the world," says Dangerfield. "But it's not commercial stuff; you have to be there. And," he mock-shouts, "we are not gay." Ancis occasionally drags Rodney along to the opera or ballet. "I took him to see Baryshnikov," recalls Ancis, "and Rodney tells the ticket guy, 'I wanna dig Misha.' Real class."

Other pastimes include TV and the pursuit of romance. "Am I having any fun? Here and there. But I'm not involved to any great degree." What does stir Dangerfield's passion is joke theft: "Phil Foster used to say it was like they were hitting your kid." His friend and protégé Robert Klein, sympathizes: "Rodney gets stolen from more than anyone—he's as good a writer as Neil Simon."

Klein feels for Dangerfield's despair. "It's that old thing—he was never hugged enough and he's still working it out to this day." Dangerfield does not see himself as all that different from the rest of humanity. "It's like Joe Ancis says," he points out. "The only normal people are the ones you don't know too well."


I don't get no respect, no respect at all. What a childhood I had. My mother never breast-fed me—she told me she liked me as a friend. McDonald's, they told me I didn't deserve a break. My psychiatrist, he told me I was going crazy. I said, "If you don't mind, I'd like a second opinion. "He said, "Okay. You're ugly, too." It's tough, I tell you, it's tough...
Advertisement
Today's Photos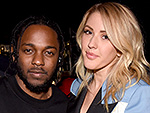 Treat Yourself! 4 Preview Issues
The most buzzed about stars this minute!