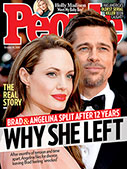 This Week's Issue!
People Top 5
LAST UPDATE: Tuesday February 10, 2015 01:10PM EST
PEOPLE Top 5 are the most-viewed stories on the site over the past three days, updated every 60 minutes

When Laura (a/k/a Genie Francis) and Luke are being chased by "the organization" on General Hospital, my heart beats like crazy. When I find Genie (a/k/a Laura Baldwin) on your cover (PEOPLE, Oct. 27), my heart pounds. Who says only housewives watch soaps?
Paul Ost
Springfield, Mo.

As a former staff nurse for the Planned Parenthood Association of Wisconsin, I wish to express my outrage at this exploitation of teenage sex. How truly wonderful it would be if teenage girls could experience a passionate interlude (such as Kristen Vigard's on The Guiding Light), buy their birth control pills after the fact and take a slap on the wrist from Mom for punishment. The Nielsen-hungry soap writers have overlooked the pregnancies, VD and continued sexual activity that frequently occur. I can only pray that others will join me in tuning out this very dangerous trash.
Mrs. Patricia A. Frame
Port Washington, Wis.

Gourmets' Bulge
I sympathize with food critics and their dieting woes, but I think mothers with young children have more of a problem. I am constantly finishing uneaten peanut-butter-and-jelly sandwiches, grilled cheese, pancakes, toast...
Mary Barnes
Essex, Mass.

Shame on Chicago food critic Allen Kelson and on you for printing his remark concerning his finger-down-the-throat technique. There are already too many emotionally ill women suffering from anorexia nervosa who do this to lose weight when there is a drastic need for them to gain. Sadly, many even die.
Mrs. Susan Oleksy
Fords, N.J.

Toxic Shock Syndrome
After suffering from TSS last summer, I am glad to see all the publicity on it. I know the risks are still very low, but all women should be aware of how dangerous the disease is. I myself still had unanswered questions and your article was very informative and helpful. My message to other women is, please be careful. I was one of those who was sure "it couldn't happen to me."
Carol Campbell
River Forest, Ill.

Northwestern
We loved your story on the Northwestern University dedication of the new Theatre and Interpretation Center. But where oh where was any mention of Charlotte Rae and Sheldon (Fiddler on the Roof) Harnick, who sang a socko duet of Do You Love Me? Doesn't PEOPLE love them? We do. So does everyone else.
Jo and Newton Minow
Glencoe, Ill.

Newton Minow was chairman of the Federal Communications Commission from 1961 to 1963, and author of the famous phrase "a vast wasteland" to describe television.
—ED.

Capote on Marilyn
It has been 18 years and her memory still remains. Perhaps she is kept alive through movies and biographies, but only with Mr. Capote's literary gem are we able to embrace the beautiful child who was Marilyn. I feel now that I've really known her.
Michael Kloongian
Waltham, Mass.

In recent weeks you've given us a story on Errol Flynn's biographer and the lawsuit by Flynn's daughters against him. Now it's Truman Capote's Music for Chameleons excerpt on Marilyn Monroe that reveals Flynn as one of Capote's lovers. This excerpt displays none of the author's brilliance. Capote, however, does shine as just another writer trying to make a fortune at the expense of the dead.
Donna S. Lounsbury
Norwalk, Conn.

Robert Goulet
While pleased by Robert Goulet's recovery from alcoholism, I'm concerned that his go-it-alone method can cause far more harm than good to others needing help. Alcoholism is a complex and deadly disease. For most alcoholics, effective recovery means medical, psychiatric, family, job and AA help for the rest of their lives.
James F. O'Neill Jr.
Executive Director
Serenity Hill
Canaan, Conn.

I thought the article by Robert Goulet was a very inspiring one. He deserves a lot of credit for overcoming his drinking problem. He is right when he says it has to come from within.
L. Hemsley
Long Beach, N.Y.

Picks & Pans
I don't know where your critic's head was when he wrote the review of the B-52s' Wild Planet, but his ears couldn't have been near his turntable. "Campy and delightfully absurd"? "Thoroughly addictive"? If the B-52s represent 70s singing and playing, then I'll go back to the '60s, when artists had something the B-52s don't: talent.
Don Hicks
Carson City, Nev.

Busing
Every American who values the freedom to choose should pray that the Supreme Court overturns Judge Scott's order to Forest Hill, La.'s school to submit to busing or forever lock its doors. Many of our self-righteous liberals already believe they are gods who can dictate every facet of our lives. They should be stopped cold—from every town and village all the way to Washington, D.C.
Mark E. Minor
St. Paul

It has to be unconstitutional for a family to buy a home in an area because of a good school system and then be forced to send their children elsewhere. Why hasn't all this time and money been spent on bettering schools? Or has improving education ceased to be a concern?
Patricia A. Murphy
Grand Rapids

The Kennedy Twins
I found the placement of your item on the birth of twin sons to Joseph Kennedy II and his wife rather amusing. On the facing page is an ad proclaiming: "A future President should be announced with more than a cigar."
Lezlie Jean Walser
Phoenix


Soaps' Torrid Teens
Advertisement
Treat Yourself! 4 Preview Issues
The most buzzed about stars this minute!