People Top 5
LAST UPDATE: Tuesday February 10, 2015 01:10PM EST
PEOPLE Top 5 are the most-viewed stories on the site over the past three days, updated every 60 minutes
Lacy J. Dalton, the New Diva of the Down-and-Out, Turns Her 'Hard Times' into Country Hits


They seem to be. The title track of Hard Times is in the Top 10, following three biggies she co-wrote including Losing Kind of Love and Crazy Blue Eyes. But commercial acceptance has not made Dalton's domestic life easier. She's on the road as much as 11 months a year, separated for long stretches from son Adam, now 9, and her love, musician John Fitzgerald, who's played househusband (though they aren't married). "I really got depressed when I first went out," Lacy recalls. "I found you just can't eat yourself into obesity and drink yourself into oblivion." But she felt compelled to tackle the road. "I'm so old, I figured, 'Honey, you'd better learn how to do it soon.' "

Still, touring has exacted a price back home. "Our relationship is incredibly weird," Lacy says. "John admits to being jealous, because he's a wonderful guitarist himself, but he's so honest about it that it's okay." Another problem: "My income is a whole lot more than his. I'd be jealous if things were reversed." The couple may even things out beginning in January, when John plans to join her touring band. (Adam will stay with two of her women friends who share their house near Santa Cruz, Calif.) Explains John of the rearrangement: "I was afraid that it would strain our relationship if we worked together, but it's strained it more the other way."

At least when she's gone, Lacy goes first class, touring with Johnny Cash and Waylon Jennings as well as Bare. One recent disorienting if delightful experience was attending the celebration of "Lacy J. Dalton Day" in her native Bloomsburg, Pa. She received the key to the town, but realized that "the person everybody keeps making a fuss over isn't really me."

What Lacy means in part is that she was named Jill Byrem back in bucolic Bloomsburg, and her now famous stage name is less than two years old. It came at the suggestion of Nashville's leading record producer, Billy Sherrill, who figured Byrem was too nondescript. "I may never forgive him for that," she laughs of the queen-maker behind Tammy Wynette and Barbara Mandrell. "I didn't want to be one of those country-and-Western singers that start out as Glenda Horowitz and end up as Cindy Lou Garrett." But the actual name was her choice, not Sherrill's. She got "Lacy" out of nowhere, "J." for Jill and borrowed the surname from guitarist friend Karen Dalton, who taught her how to sing and use her voice.

Of course, Lacy had grown up with music. Her father was a hunters' guide and her mother a bartender and truck-stop waitress, but they also picked country songs around the house. That was the gentle side of life. "Dad taught me to shoot guns and the bow and arrow," she recalls, "and both my parents shot deer and strung them up in the backyard. I'd cry for hours. I could never shoot anything." Lacy studied art at Utah's Brigham Young University. But in the second semester, she lit out for Salt Lake City, where she repaired shoes, and then on to her roommate's home in Minnesota. There Lacy switched to music, and as her folkie ambitions swelled, so did her 5'1" figure—to 187 pounds. The ultimate humiliation came when her parents visited and insisted she return home. "My father wasn't the kind of man you argued with," she notes. Lacy didn't—though she began doing one-woman concerts locally and in the folk mecca of Greenwich Village. Finally she split for California.

Not long after her arrival, Lacy met a Vietnam vet and mechanic named John Crosston, and fell instantly in love. She and some friends formed Office, a band managed by Crosston, and they communally occupied an eight-bedroom farmhouse in Santa Cruz in 1967. The following year Office moved to L.A., only to disintegrate within six months. By then she and Crosston had leased a house on Sunset Strip and rented rooms to make additional money. One tenant was Richard "Cheech" Marin, who had just arrived in town with partner Tommy Chong. "She was the only straight person in the house," Cheech remembers, "and somehow kept the whole place together." Lacy has a similar recollection: "It should have been a wild and crazy time for me, but I spent the entire '60s cooking and cleaning."

She also waitressed and did her go-go turn in that period. Then tragedy struck in 1974, when boyfriend Crosston was paralyzed after colliding with another swimmer in a neighbor's pool. A week later she found out she was pregnant with Adam. They married, and got by on food stamps and his GI benefits for 18 months until she resumed singing in Santa Cruz bars. In 1977 Crosston died. "I felt emotionally bankrupt," she remembers, "but I didn't get depressed. I was delighted to have Adam. I tried some relationships, but I was choosing men who couldn't sustain them. I guess I didn't really want them to work out." Then she and Fitzgerald met at one of her shows, and Lacy's luck finally turned when her manager David Wood sent some demos to Sherrill a year and a half ago. At the time she was flipping crepes in a Santa Cruz restaurant for $15 a day.

Dalton now lives in Ben Lomond, Calif., in a rustic cabin adorned by a forest of hanging plants and barnwood furniture, some of it crafted by Fitzgerald. Around the yard, their menagerie includes her German shepherd Sam and a ferret alternately called Rona Ferret and Ferret Fawcett. Reaching the top took both a sense of humor and courage. "People think you just waste away from sorrow," she says. "You don't. You become numb to it and deal with the everyday problems of life. But," she has to admit, "there are no easy answers."


Besides jostling for position on the country charts with the likes of Dolly, Loretta and Tammy, Lacy J. Dalton has proved she can also match traumas with them in that old Nashville game of down-and-out-manship. She comes by the title of her latest LP, Hard Times, honestly. Her husband died after a freak swimming pool accident, leaving her with a young son. She has lived at times on food stamps and once had to work as a topless dancer for two weeks. Now, at 34, Dalton has found better times. She won Top New Female Vocalist kudos last year from the trade press as well as from the Academy of Country Music. Observes singer Bobby Bare, with whom Lacy has often toured: "Lacy is one of the first to be exposed as an ass-kicking female country artist, and she's not just doing it for shock value." He means that Dalton, for one, won't "cross over" into the tamer territory of country-pop. "That's a no-man's land," she says. "You make lots of money and everybody knows your name. But I hope people are ready for my kind of music."
Advertisement
Today's Photos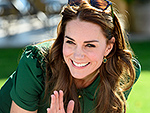 Treat Yourself! 4 Preview Issues
The most buzzed about stars this minute!