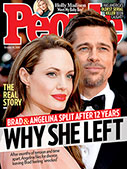 This Week's Issue!
People Top 5
LAST UPDATE: Tuesday February 10, 2015 01:10PM EST
PEOPLE Top 5 are the most-viewed stories on the site over the past three days, updated every 60 minutes

Melissa Gilbert (PEOPLE, Nov. 24) is beautiful, talented and unspoiled—a total joy to watch. Those of us who have followed Little House from its beginning know how far she's come. She deserves the success she now enjoys, and much, much more.
Robin J. Gary
Bridgewater, N.J.

I am glad to know my friends and I aren't the only good kids in California. Thanks, Melissa, for telling the country that not all of us from the Golden State are taking drugs, drinking and indulging in sex. My friends and I are all 19 years old and still good kids!
Jill Dwinelle
Sacto, Calif.

Auto Executive Thomas Murphy
My heart goes out to Thomas Murphy—I can't believe he hasn't "stopped to smell the roses" along the way up the GM corporate ladder. It also seems like $941,667 a year stands for stacks of papers, airplane rides and speeches—couldn't possibly be worth it! Mr. Murphy is the first Irish Catholic I've read about who doesn't seem to have a real zest for life!
Marge Gell
Bettendorf, Iowa

Climatologist Reid Bryson
While climatologist Reid Bryson is rightfully concerned about the socioeconomic and agricultural problems that may result from changing climate, it is probably not a cooling trend that we have most to fear. Many climate researchers fear that human-caused global warming—resulting from a buildup of atmospheric carbon dioxide due to our combustion of fossil fuels—offers a much greater threat. Popularly known as the "greenhouse effect," this climatic warming may be manifest by the turn of the century.
Harold W. Bernard Jr.
Nagog Woods, Mass.

Bernard is author of The Greenhouse Effect. Bryson replies: "Naturally Bernard must defend his book. However, The Greenhouse Effect is based on a yet-to-be-demonstrated theory that can't warrant a prediction."—ED.

Joseph Paul Franklin
As a black kid growing up in Tampa, I was made painfully aware of racial hatred. Now, as then, armed with the innocence and exuberance of living for today, but seeing the best coming tomorrow, I can only hope that the world is seeing the last of animals like Joseph Paul Franklin. Quite frankly, I find Franklin's aunt, Jessie Vaughn, disgusting when she says, "They say he's shot a lot of niggers. I hope he hasn't shot nobody important." I wonder how many other people think in this grotesque vein! I'm of the hope that education, our court system and time will eliminate those who would deny others the opportunity to be.
Darryl Mobley, 1st Lt.
Fort Leonard Wood, Mo.

In the article on Joseph Paul Franklin, I was very distressed to read the phrase "a battle-shattered epileptic." This phrase alone continues the myth, stigma and stereotyping our Epilepsy Society is trying to dispel. The phrase "a battle-shattered epileptic" makes as much sense as "a battle-shattered insomniac." And, since the military does not accept a person with epilepsy, I can only assume Mr. Vaughn Sr. acquired epilepsy compliments of the U.S. Armed Forces.

Statements such as this only continue the unfounded associations between epilepsy and crime or violence and between epilepsy and madness or mental incompetence.
Janice Books, Secretary
Epilepsy Society of Fresno
Fresno

Anwar Sadat
I knew when he went to Israel several years ago that Anwar Sadat was a very special man. Your interview with him reaffirms this. I've always respected Sadat, but now I have a kind of affection for him. Such a kind and peace-loving man. If only the powers that be in the world were more like him.
Randy Adams
Wilmington, Calif.

Last August I read that President Sadat was appealing to the people of the world to help him build a religious complex at the base of Mount Sinai. He said, "It will be a living symbol of the brotherhood of man."

I mailed him a check and not only did I receive a beautiful thank-you letter from a member of the Egyptian cabinet, but when I received the canceled check it was endorsed by President Anwar Sadat.

I enjoyed your article on President Sadat this week, and I do agree with him when he says that God is in everyone and in every living thing.
Shirley LaRochelle
Holyoke, Mass.

Picks & Pans
Bruce Springsteen deserves all the accolades given in your review of his latest album. But as proud Jerseyites, we hope Bruce never loses his Asbury Park adolescence.
Janet Gilberti
Dawn Hartman
Bloomfield, N.J.

I think your reviewer has a lot of nerve labeling Springsteen's earlier work as "poetic bombast," considering his own pretentious literary style, e.g., "torque of previous efforts," "felicitous couplet," "adolescent Asbury Park angst." Tell your reviewer to shove his thesaurus
in a drawer and eat the key.
Cheryl Wade
Berkeley

Dean-Paul Martin
I guess the "All Volunteer Force" is stooping to a new low—accepting Hollywood dropouts. Will Dean-Paul Martin's agent really let him put his life on the line with the rest of us if worse comes to worst?
John B. Schaaf, PO1
U.S.S. Saratoga CU60
FPO NY 09587

Dr. Jevitch
I appreciate your interest in my work on the important human problem of impotence, but I want to clarify two points. The bypass operation, or "revascularization," was developed by Dr. Vaclav Michal of Czechoslovakia in 1973. At the present time revascularization has improved sexual capacity in less than 50 percent of cases. There are several centers in the U.S. and abroad for diagnosis and surgical correction of impotence caused by defective penile circulation.
Milorad J. Jevitch, M.D.
Washington


Melissa Gilbert
Advertisement
Treat Yourself! 4 Preview Issues
The most buzzed about stars this minute!