Archive Page - 12/1/12 39 years, 2,080 covers and 53,257 stories from PEOPLE magazine's history for you to enjoy
On Newsstands Now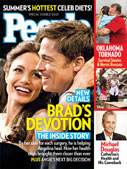 Brad's Devotion: The Inside Story

Oklahoma Tornado: Heroic Rescues

Michael Douglas on Catherine's Health
Pick up your copy on newsstands
Click here for instant access to the Digital Magazine
People Top 5
LAST UPDATE: Thursday May 23, 2013 08:10AM EDT
PEOPLE Top 5 are the most-viewed stories on the site over the past three days, updated every 60 minutes
Ronald Reagan Opens Up
The President-Elect Talks About His Health, His Children and His Divorce


He walked into the library of Blair House wearing his customary dark blue suit and a slightly daring striped blue shirt with white collar. He looked remarkably fit and pleased with himself. For 45 minutes Reagan answered questions about his family and his plans for life across the street at 1600 Pennsylvania Avenue. Interviewing the President-elect were Richard B. Stolley, PEOPLE Managing Editor, and Garry Clifford, Washington Bureau Chief.

Have you begun to feel like the President?

That is not the most easy question to answer. In your fantasies, when you are striving and campaigning, you think there will come a sudden great moment when the light will dawn and you'll feel that way. But it hasn't. Every once in a while something happens that impresses it on you—in a social event, or in contacting someone on some matter. Their acceptance of the fact that you are going to be President suddenly shakes you a little bit. Maybe part of my inability to feel that way goes back to Election Day. I was so convinced that it was going to be a long night, seesawing back and forth, and we really wouldn't know for hours and hours. Then my historic moment came late in the afternoon in California when Nancy brought me out of the shower to tell me that the White House was calling. There I stood dripping wet with a towel around me listening to the President congratulate me. Somehow there never was that magic moment when the suspense had built up and then you said, "It's over, I've done it."

Because of your age, the public is naturally going to be concerned about your health. How are you going to deal with that?

I believe in a private life but I think this is one thing the people are entitled to know about. As a matter of fact, I get a little kick out of it. I confess to a little ego on this because the reports usually come out benefiting me.

What do you do to stay in shape?

I've always been in athletics and have maintained kind of an athletic life. When I go to the ranch it isn't to wear a tweed jacket and walk around stick in hand, looking at the acres. If I see something that needs pruning, I do it. I also have a little regimen of exercises that I think are beneficial. Today I weigh the same as when I played college football—just under 180.

How often do you plan to go home, and will it be to the ranch? If so, will the ranch be like another Casa Pacifica?

I haven't set any schedule on that, but I have let everyone know that I expect every once in a while to turn Air Force One to the West. Vandenberg Air Force Base isn't too far away from the ranch. I think everyone has to have some place of that kind, particularly when you live over the store. I know that come the depth of winter, we have never exactly been snowbirds, Nancy and I, so Camp David might give way to an occasional long weekend in California.

We have seen what the Presidency demands of a man. Are you going to try to make it more of a 9-to-5 job, as you did in Sacramento?

I know they keep talking about that 9-to-5 thing, but it didn't always happen that way. There are moments, even as a governor, when you are there at 4 o'clock in the morning because the legislature is battling through the night on something. I've always felt that jobs of this kind go with you wherever you are. Yes, I tried to go home. Our son was quite small and living at home with us then, and Nancy and I tried to keep a normal family relationship. It's pretty hard on children whose parents are in public life. You know, when my son was on his sixth-grade football team, I'd slip out there to stand on the sidelines and hear other kids picking him out and saying, "Let's get him."

Because he was Ronald Reagan's son?

Yes, and you bleed a little. I went home because so much of the job entails reports, memoranda, things to be read. What point would be served if, when the day's activities were over, I sat at my desk for another three hours reading, when I could put them in a briefcase and take them home? I was doing the same work, but I was there. I was visible. If my son wanted to interrupt me on homework, or whatever, why, the old man was there.

Another President, Harry Truman, did not take kindly to bad reviews of Margaret's singing. How do you suppose you will react to reviews of Ron's dancing and Patti's acting?

Maybe I will be more understanding than he was, having been in that business. A picture that I was in has been named one of the great classics among pictures—King's Row. Everyone concedes it was the best picture I was ever in. Well, I like to remember that I was not in any picture all those years that was as universally torn to shreds by the critics as King's Row. And it winds up a classic. So I think I'll be able to take criticism of them and know how to evaluate it—and may be even help them evaluate it.

What examples in cost-cutting do you and Mrs. Reagan think you could incorporate into your own lives that would be symbolic to other Americans caught by inflation?

I don't know. We both happen to be really conservative in our personal lives. You'd be surprised how many times our Christmas presents to each other have consisted of redoing the living room. Or we make an agreement that our birthdays for that year will constitute a piece of equipment. I like to joke that one year I romantically gifted Nancy with a pneumatic log splitter.

What will Mrs. Reagan's role be in your Administration? Might she sit in on meetings or be your ambassador abroad occasionally?

In eight years as First Lady of California, Nancy did not sit in on cabinet meetings. I think it is a style that is determined by the individual. I think also that in the world today, in spite of our enlightened attitude toward women in our own country, there are some countries where they would be affronted if you did send your wife. Nancy knows that her husband is going to use her as a confidante, try out things, hear her opinion on them, which we've always done. We certainly have communicated.

You are the first President to have been divorced. Does it concern you that the image of the Presidency is thus changed forever?

No. Adlai Stevenson had been divorced, and I don't think that is why he wasn't elected. I've never talked about this, but it's true: I was divorced in the sense that the decision was made by someone else.

You mean Jane Wyman divorced you?

Yes, and I don't think this is considered by many people. If I had a multiple marriage record, like a few people in our former industry, that might be something to look at. But I think that going on 29 years of happy marriage to Nancy must settle it.

Have you heard from Miss Wyman since your election ?

Yes. After all, we had two children, and it's been an amicable arrangement.

Vernon Jordan and other black leaders have suggested that the Reagan administration is going to be a bad time for minorities. Why do you think they believe this, and what can you do to correct that impression?

I know that there was this wave, almost a hysteria among people who, I think, were looking at me in stereotype. They knew very little about me. But I have had several meetings with minority leaders recently and, though there were some differences of opinion, I think I was able to reassure them that they weren't based on any racism on my part. No. 1, I don't know of anything that arouses my anger more than bigotry and prejudice. That goes back to the way I was raised. My father was Catholic. My mother was Protestant. It's hard for young people to realize, but there was as much prejudice and discrimination in many communities against Catholics as against today's minorities. I'd go to school and hear kids talk about how the Catholic church basement was filled with guns for the day the Pope was going to conquer America. I was doing things along that line before there was any civil rights movement or any marching. When I was a sports announcer, I used to editorialize against the rule that no blacks could play professional baseball.

Moral Majority and similar organizations have indicated that they expect to have a voice in your Administration. Can you tell us what role they will play?

The President is the only one in Washington elected by all the people. I think therefore that constituents, whether individuals or groups, who have a particular bond or interest should have a method of access, and I will provide that for them. They have taken an awful lot of criticism and I think much of it is undeserved. I have found them to be good people who have some specific problems in their dealings with government, just as all Americans do today.

Do you plan to go abroad soon as President of the United States?

Hopefully, no. That doesn't mean I might not issue invitations to meet others here, but I think world leaders understand that the first responsibility for anyone in this position is to put our house in order economically. I think we have enough effect on their economies, that they want nothing more than that. That's going to be top priority. I'm going to reach out and make sure they know that I value very much the relationships that we have with NATO, but also I'm going to start moving north and south here in our own hemisphere. I believe it's high time the Americas have a far closer bond than we've ever had.

There is a strong feeling against the federally imposed 55-mph speed limit in the West. As a Westerner, do you anticipate any change?

Yes, I want the matter turned back to the states. I think there has been a great exaggeration with regard to total fuel savings in this. Indeed, some truckers can make a pretty good case that there's actually a fuel inefficiency driving at this speed. Maybe you could keep the slow speeds for the freeways in the cities and loosen them up for the cross-country haul. But let the states make that decision themselves. Conservation is a worthy thing in and of itself. We shouldn't waste anything. But I believe the answer to our energy problem is going to be the development of more energy and to achieve self-sufficiency.

Do you think this job is going to turn your hair gray?

Well, no, because I don't think worry does that. I've got an older brother, and his hair looks just like mine. My mother was 79 when she died, and there was just a little touch of iron gray in her hair. I think that's dictated by genes and nothing else.

How are you going to get out of the White House once you get in?

Well, this question came up at a dinner party last night. Someone said that Presidents couldn't accept private invitations. I tried to think what could militate against it. Maybe there's a self-consciousness because of the security requirements. Some of them say, well, this is an imposition on a host or hostess, and I won't do it. That would be the only thing, but I finally solved it last night by saying to the questioner, "I'll tell you what. Wait until after January 20, and invite us."


Advertisement
Treat Yourself! 4 Preview Issues
The most buzzed about stars this minute!