Archive Page - 12/1/12 39 years, 2,080 covers and 53,257 stories from PEOPLE magazine's history for you to enjoy
On Newsstands Now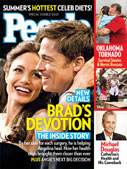 Brad's Devotion: The Inside Story

Oklahoma Tornado: Heroic Rescues

Michael Douglas on Catherine's Health
Pick up your copy on newsstands
Click here for instant access to the Digital Magazine
People Top 5
LAST UPDATE: Wednesday May 22, 2013 04:10PM EDT
PEOPLE Top 5 are the most-viewed stories on the site over the past three days, updated every 60 minutes
Checking In With Yoko
A Month After the Eulogies Ended, Yoko Ono Begins to Face the Pain of Life Without John Lennon


Even after all these years
I miss you when you're not here
I wish you were here my dear Yoko, oh Yoko
I'll never ever let you go.

At first she was strong, stronger than all the stricken friends and fans who turned to her for consolation. But now, a month later, all the people have gone, the music outside has stopped, and she is left to cope with the silence. Although neither she nor John considered themselves Christian, they viewed Christmas as a beloved occasion for public charity and family closeness. The holiday season was hard. She composed a Christmas message to the staff at her office elsewhere in the Dakota, apologizing for the burden of "the sudden trauma" and adding: "I am deeply touched by your expression of genuine grief and support at this trying time for myself and my family and wish you a happy Christmas nonetheless." But the composure that she mustered in the aftermath of the shooting began to dissolve. Now she cries. Some of her days are nearly unbearable; the rest are merely difficult. In the first three weeks after the December 8 killing, she did not once venture outside her fortress-like building.

Her life has mixed extraordinary privilege with intense suffering, but the loss of her husband poses the severest test yet to Yoko Ono's formidable will. To the outside world, she has often seemed cold and arrogant. But as the Lennons resurfaced after five years of refuge from the limelight, it became clear that Yoko—whose artistic career was aimed always at the few—had chosen to direct her life's performance to an audience of only one.

Yes, I'm your angel
I'll give you everything
In my magic power
So make a wish
And I'll let it come true for you.

While John reared their son, Sean, she took over the massive financial involvements that were distasteful to him. What he had sought in the Beatles and the Maharishi and primal therapy and drugs he found finally at home, "staring me right in the face," as he put it. "Yoko taught me everything I know." Even short separations from her could seem almost physically painful to him. "Ah, you're back, my love," a relieved John would sigh as Yoko returned from a business meeting. "Did you slay the dragons today, dear?" Her response was always a giggle and a loving grin, glimpses of a part of her that no one else evoked. She recalls such moments as if to engage her power over the grief and her faith that something survives. "It is still the two of us, really," she says. "Our dreams won't ever die."

No life can educate the mind to adapt to an event as brutal as John's murder, but perhaps Yoko is better prepared than most for the passage that faces her now. Her childhood was itinerant and emotionally rootless. The eldest of three children born to a Tokyo banker and his aristocratic wife, Yoko (her name means "ocean child") recalls that she had to make an appointment with a secretary to see her father. The family moved to San Francisco when Yoko was 3, but they returned to Japan at the outbreak of World War II. After the war they came back to the U.S., settling in the elegant New York suburb of Scarsdale. Yoko enrolled at Sarah Lawrence College but dropped out after three years. "It was such a dull scene—just a highly advanced finishing school," she complained.

What fascinated Yoko in the late 1950s was the yeasty art scene of Manhattan. Sharing a Greenwich Village loft with her first husband, avant-garde composer Toshi Ichiyanagi, Yoko staged such events as a show of paintings placed on the floor to be stepped on. Much of her work was conceptual, consisting of suggestions, for example, to dig "a shallow hole for the moonlight to make a pond" or to build "a house of many rooms designed so that the wind may blow through, creating a different sound for each room." Divorced in 1964, she married American filmmaker Anthony Cox the same year. One of their collaborative works, entitled The Stone, involved helping spectators into a black muslin bag (from the outside, the people-stuffed fabric resembled a stone). When Lennon came to see her exhibition at a fringe London art gallery in 1966, Yoko did not recognize him as a Beatle. "I was very artsy-craftsy and, you know, you did not talk about Beatles in that kind of crowd," she explained. John took an instant liking to her work—particularly a fresh apple on a plastic stand that sold for £200. When he asked her permission to hammer "an imaginary nail for an imaginary five shillings" into a piece entitled Hammer a Nail In, she thought, "This guy is playing the same kind of game I am playing."

Their immediate rapport led to an intense but platonic relationship that lasted three years. In 1969, with a tape recorder running by the bed, they consummated their relationship. (They used the tape in their first joint album, Two Virgins.) Having divorced their spouses (John had been wed for six years to his Liverpool sweetheart, Cynthia Powell), they were married in Gibraltar. Not everyone was as happy about it as they were. At the time, the Beatles were breaking up, and some thought Yoko was to blame. The rifts with Paul, George and Ringo were just healing when John died. "All the bad blood is over with," Yoko says. "All that remains is the love. The rest is past. John felt that way too."

They were not, however, at peace with Yoko's ex-husband Cox, who defied a court decree in 1972 and went into hiding with their daughter, Kyoko, then 8. Father and daughter are still missing. "Since Kyoko left, a part of me has been missing," Yoko says. One of John's last statements was a plea to Cox to let Yoko see her daughter.

The greatest challenge to the marriage began in 1973, when the couple separated for 18 months. John was drinking heavily and romancing his secretary, but he still depended on Yoko. One night he was thrown out of a Los Angeles club for heckling the Smothers Brothers. He telephoned Yoko in despair. "I'm miserable. They're laughing at me. What can I do?" he asked. She replied: "Don't worry what they think." The reunion was painful and tender. "We sat trembling in each other's presence, not talking, and sometimes crying the first times we were together again," says Yoko. When the strain became too great she remembers saying, "You'd better go now." But the reconciliation worked. Numerous physicians insisted they could never have children, but they would not accept the fact. They consulted an acupuncturist in San Francisco, changed their diets, abstained from liquor and drugs, and on John's 35th birthday Yoko gave birth to Sean. She was 42. John's enthusiasm for house-husbandry was equaled by hers for the business because, she says, "we were both working for the family."

Yoko did sometimes make financial decisions on the basis of astrology or numerology, and the couple was very superstitious about jinxing their happiness. On the Double Fantasy album, John briefly changed the title of Losing You to (Afraid I'm) Losing You, fearing that the unqualified title was an invitation to disaster. He then went back to the original, laughing at his "silliness." Faced now with the knowledge that John is lost, Yoko finds her greatest consolation in Sean, 5—and in the thought that the peace and love they had preached all those years had come closer to them than ever before. "After 14 years," says Yoko, "we were nearly there."


Advertisement
Treat Yourself! 4 Preview Issues
The most buzzed about stars this minute!