Archive Page - 12/1/12 39 years, 2,079 covers and 53,260 stories from PEOPLE magazine's history for you to enjoy
On Newsstands Now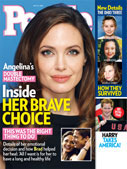 Angelina: Inside Her Brave Choice

New Details on the Ohio Three

Prince Harry Takes America!
Pick up your copy on newsstands
Click here for instant access to the Digital Magazine
People Top 5
LAST UPDATE: Tuesday May 21, 2013 03:10PM EDT
PEOPLE Top 5 are the most-viewed stories on the site over the past three days, updated every 60 minutes
Don't Worry That Vidal Is Out of Oxen to Gore: He Says He's Running for the U.S. Senate


Are you serious about running for the Senate?

Yes. These are very bad times in every sense, and it's at moments like this that people with fresh ideas about society and how to change it ought to get involved. In fact, I may quit writing novels and concentrate on politics before the dummies we've got running the country succeed in burning it down.

You've been an expatriate. Why should Californians vote for a carpetbagger?

I'm not a carpetbagger. True, I have a place in Ravello, Italy, where I go during the summer, but I've lived in California off and on since 1929. At the age of 5 I became the first child to fly across the country. Of course the plane wasn't pressurized, and I vividly recall getting off in L.A. with blood streaming out of my ears. Anyway, California is where I've made my living for years. I was one of the last contract writers at MGM—a far more distinguished studio than Warner Brothers, which gave us Ronald Reagan.

What do you think of Sen. Hayakawa?

He didn't give a very respectable performance during the televised Cabinet confirmation hearings. The poor man seemed somewhat uncertain of where he was. But I don't really expect to be running against him. Maureen Reagan says she's interested, but the word is that California Congressman Barry Goldwater Jr. will be the Republican candidate for the Senate.

Do you still, as you once proclaimed, seek ultimately to be President?

No. Now I'd like to abolish the Presidency. It's a dangerous office. Thank God, the real rulers of the country—the Eastern bankers and the Sun Belt nouveaux riches—only give us mediocrities to choose from. If anybody first-rate got in with powerful ambition, God save the Republic. Ideally, we should go to a parliamentary system, putting the Supreme Court and President back in their cages and giving more power to Congress. The House Majority Leader would pick the Cabinet. Given that sort of government, I don't suppose I'd mind being prime minister.

You once called America "the land of the dull and the home of the literal." Aren't you afraid statements you've made in the past will haunt you?

This is a country where no individual has any past. If you had to live by what you've done or said, how could Richard Nixon or Teddy Kennedy or Ronald Reagan succeed? No one is held responsible in politics. If they were, half the officeholders in Washington would be in jail. The fact is that America reinvents itself every morning.

What is your opinion of Ronald Reagan?

The real rulers have to have a front. They tried Nixon, but he kept shooting himself in the foot. Then Carter didn't work out. The choice of Reagan is fascinating because it shows just how desperate the ruling class is. NO-body reads cue cards better than Reagan. They're writing the scripts, he's playing the role—but Ronnie is no more President than I am.

What do you think of Nancy Reagan?

She doesn't interest me. It does amuse me that the color of the First Lady's dress is given the same coverage as the President's views on unemployment—seven minutes. The networks have decided that's the attention span of the average American.

Will Teddy Kennedy ever be President?

No. I think it's all over for him. Americans don't have a memory, but they do get bored.

Does the Moral Majority worry you?

Not really. I think they'll probably go to jail. I can just see some of them sitting in a courtroom trying to explain their finances. The Jesus Christers have to swing down from the trees every couple of generations. The last time they did was in 1919, when they gave us Prohibition.

In 1968 you called William F. Buckley a "crypto-Nazi" on television, and he retaliated by calling you a "goddamned queer." Whatever came of this flap?

He sued me, but he dropped the suit four weeks before we were to go to trial, and now everybody thinks that I, in some way, lost the suit. It's amazing to me that nobody ever talks about Buckley's securities violations. In 1979 he was investigated by the SEC and charged with defrauding public stockholders. He wound up having to pay more than $1 million in restitution and had to sign a document saying he would not become an officer or a director of a publicly held company for five years.

Meanwhile you sued Truman Capote for writing that you had been thrown out of a White House party in the early '60s. What is the legal status of that case?

Truman asked for a summary judgment, lost, and is appealing, but you'd never know it. In the New York lit world, I've watched entire careers flourish solely on manipulation of the press and unremittant lying. People are what they are, as Eleanor Roosevelt used to say. And if Truman Capote is a habitual liar, then perhaps he cannot help it. But why do they let him babble on? It's so annoying.

How are you and Norman Mailer getting along?

The last time I saw him was at a party, and he threw a glass of Scotch in my face because I had written an article criticizing his anti-feminist views. He could save himself a lot of trouble by changing his name from Mailer to Male-est.

Are you less thin-skinned than some of your targets?

At an early age I learned that it mattered not what others thought of me, but what I thought of them. I was also born with the character of the true critic, and that is essential if you are to survive as a writer.

Are you a cynic?

No, a realist. I don't have to work anymore. I could retire and amuse myself to the end of my days, but instead I'm involved in something that could be very unpleasant for me personally: politics. If people think I'm cynical, it's because human beings can take very little truth. And I'm in the business of dispensing it to the best of my abilities. If I'm standing in a room and somebody says something false, I must say it's false. That leads to great distress, particularly in a society as self-serving as this one.

Do you think your defense of bisexuality would hurt you at the polls?

There are always immoral minorities trying to impose Leviticus on the rest of us, but they frequently end up in jail—and often for sexual misconduct. Remember the radio evangelist Billy James Hargis? It was only after he'd performed the wedding service for two of his Bible college students that the bride and groom discovered he'd deflowered both of them. Then he got in terrible trouble. There's a truce in politics when it comes to sexual matters, because everyone can get everyone else.

What about the recent arrests of congressmen on homosexual charges?

There are limits! Particularly when you become a public nuisance. And, to give equal time to the heteros, let's not forget Rita and John Jenrette making it on the Capitol steps. And they say Gore Vidal is cynical when he writes about politics? I couldn't compete with the Jenrettes. My writing—including Myra Breckinridge and Kalki, in which I destroyed the world—is quite demure compared to the present reality. Only Rabelais could have thought this up.


He's making new noises about running for office, but Gore Vidal is no more politic than when he savaged LBJ and daughter Lynda Bird suggested that "he must be the nastiest man in the world." On TV, he draws the blood of so many sacred cows that he's known as "the Dracula of the talk show. "And Vidal has been at least as provocative in print ever since he wrote a daring homosexual love story titled The City and the Pillar in 1948. The West Point-born son of an aeronautics instructor, he subsequently turned out a succession of best-selling novels (Myra Breckinridge, Burr, 1876), and this week, at 55, he publishes his 17th novel, Creation (Random House, $15.95), an epic set in the fifth century B.C. Meanwhile he has begun talking about seeking the Senate seat of California's S.I. Hayakawa in 1982. (In 1960 Vidal, a Democrat, ran unsuccessfully for Congress in upstate New York.) After spending much of the last 18 years in Italy, he has taken up residence in L.A. and plunged into screenwriting. A recent effort, Caligula, backfired when the finished film proved such a departure from Vidal's script that he demanded his name be excised from the title. Since then he has finished scripts for Burr and Kalki (Mick Jagger is set to play the lead), and he is co-producing with Norman Lear a six-hour NBC-TV biography of Abraham Lincoln. Though Vidal is not yet on the stump, he let fly on politics and personalities to Senior Editor Christopher P. Andersen of PEOPLE.
Advertisement
Treat Yourself! 4 Preview Issues
The most buzzed about stars this minute!