Archive Page - 12/1/12 39 years, 2,080 covers and 53,257 stories from PEOPLE magazine's history for you to enjoy
On Newsstands Now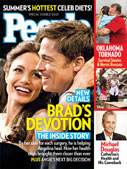 Brad's Devotion: The Inside Story

Oklahoma Tornado: Heroic Rescues

Michael Douglas on Catherine's Health
Pick up your copy on newsstands
Click here for instant access to the Digital Magazine
People Top 5
LAST UPDATE: Friday May 24, 2013 03:10AM EDT
PEOPLE Top 5 are the most-viewed stories on the site over the past three days, updated every 60 minutes
Wild and Woolly Ken Russell Finds the Golden Fleece Directing Altered States


In fact, much of his moviemaking career had been marked by bizarre and profligate risk taking. Once an adventurous documentary maker whose BBC biographies of dancer Isadora Duncan, composer Frederick Delius and others had raised the form to something like art, his imagination began to run riot when he made the transition to directing for the big screen. During the 70s his visually sumptuous hits and equally spectacular misses reaped a whirlwind of accolades and abuse. Many critics were appalled by his apparent indifference to historical accuracy (as in The Music Lovers) and by his Grand Guignol sexual fantasies (The Devils). Others were awed by the power and imagination he brought to his films. His interpretation of D.H. Lawrence's Women in Love was damned by some for its sweaty explicitness—and won an Oscar for Glenda Jackson. The critics finally approved the esthetic of excess in his adaptation of the rock opera Tommy, which made Russell a kind of cult hero and was his biggest commercial success.

At that the chunky, cherubic director seemed to lose the elusive touch that had raised his self-indulgence toward the level of genius. Mahler, his campy 1974 biography of the controversial composer, lasted only briefly in U.S. theaters. Lisztomania, a pseudobiographical fantasia based on the life of composer Franz Liszt and starring Roger Daltrey, was likewise a commercial disaster, and Valentino (with Rudolf Nureyev and Michelle Phillips cast as lovers no star would have crossed) followed close on its heels. It looked like an ignominious fade-to-black for the man who had once been called England's Orson Welles. Then came Altered States.

Ironically, the vehicle of Russell's professional renaissance had the look of a stillborn fiasco when he assumed control in preproduction two years ago. The film, a sci-fi fantasy about a young Harvard researcher (William Hurt) who changes himself first into a ravening ape-man and then into a disintegrating blob, would have presented problems for any director. Indeed, Arthur Penn had already left the project and Columbia Pictures had withdrawn as distributor. Unwilling to quit on the picture, producer Howard Gottfried signed on Warner Bros, to distribute it and Russell to direct. "I wasn't their first choice," Russell admits. "Valentino had been a disaster, and they were not falling over themselves to have me. But they decided to risk it."

Once in Hollywood, Russell discovered he was going to have to take some risks of his own. He threw out special effects devised by no less than John (Star Wars) Dykstra and laid the lumber to Paddy Chayefsky's script. "Much of it was pretentious," he says. "Really embarrassing." Although Chayefsky agreed that his dialogue would have to be trimmed, the friction between them could not be contained. Matters came to a head, according to Russell, when he discovered Chayefsky treading on the director's prerogatives. "He was grilling the actors behind my back when they were supposed to be taking their cues from me," says Russell. "I went home and got sloshed on red wine, then rang up Paddy and called him everything under the sun. It must have made his beard turn blue," Russell continues. "We patched things up a couple of days later when he agreed to confine his comments to the dialogue. But when he kept interfering, I had to tell Howard that I couldn't carry on like this, and that Paddy couldn't remain on the set." Fuming, Chayefsky exiled himself to New York and ordered his name removed from the credits as screenwriter. He and Russell have not spoken since.

Russell's amatory ups and downs have roughly paralleled his filmmaker's fortunes. Until 1976 his marriage to Shirley had seemed as secure as a government bond. She was his right hand at work as well as at home, and her influence on his films went considerably beyond the costumes she designed to be worn in them. In the 1960s Russell had had a brief affair and admitted it to his wife. Years later, he says, when he suspected her of dallying with a member of her wardrobe staff, she denied it. "I always felt at a disadvantage," Russell remembers, "and she fostered that. It wasn't until seven years afterward that Shirley finally admitted that my suspicions were true. 'Tit for tat,' she explained. It was that phrase that broke up my marriage. If she could wreak such revenge over seven years, she must truly have hated me."

Still, the crippled union kept creaking along until the second coming of Vivian Jolly. The filmstruck daughter of an aircraft products executive, she had first met the Russells in 1971, when she talked herself onto the set of Savage Messiah as a $13-a-week runner, passing around tea, coffee and call sheets. Evenings, when she wasn't working as a go-go waitress in a London nightclub, she babysat the five Russell children. She was plump and 19 at the time, and terrified of Russell, 25 years her senior. After the film was wrapped, Jolly went home to New England, majored in film studies at Boston University and graduated summa cum laude. She returned to London in 1976 to do a film of her own. Her subject was Russell shooting Valentino. "When I first met him I was fat and stupid," she recalls. "Now I was thin and gorgeous. It was obvious the marriage was not going well. They were fighting all the time. Ken was miserable, and he made a miserable film. But I wasn't thinking of anything, much less with a man who had a wife and five children."

Despite such protestations of innocence, Vivian created unforeseen ferment by her very presence. The blowup came, says Russell, when Shirley found Jolly relaxing in her husband's director's chair and refused to continue as the film's costumer until Vivian was banished from the set. Because the movie could not proceed without Shirley, Russell reluctantly complied. "Part of the madness of the situation," Vivian recalls, "was that if Shirley's venom did anything, it threw us together. I was not in love with Ken yet. I just felt very sorry for him."

Returning to the U.S. that fall, Jolly began postgraduate film studies at Harvard. Undeterred by the ocean between them, Russell bombarded her with letters and phone calls. The couple became lovers the following February, when Russell spent a week with her in Connecticut. He returned to London and a final showdown with Shirley on their 20th wedding anniversary. Vivian recalls that Shirley marked the occasion by presenting Ken with a beribboned envelope, on a tray, containing the remains of Vivian's love letters, which he had hidden in the dust jackets of his records.

Ken moved out that day, setting up housekeeping in a studio suite. Vivian joined him in a month and was welcomed in the high Russell style. After picking her up at the airport in his red Alfa Romeo Spider convertible, Russell made her wait in the car while he dashed inside, lighting candles, turning on Gershwin and snatching up a wedding veil for her to wear as he bore her across the threshold to bed. The room was fairly awash with champagne and gifts. "No one but Ken would have had the imagination or the guts to do something like that," Vivian purrs. "How could I possibly consider anyone else?"

That spring, on vacation with Russell in Malta, Vivian decided she wanted a baby. Ken consented, she says, "and I flushed all my pills down the toilet." When she became pregnant, however, Ken wanted her to have an abortion. Vivian refused—partly, she implies, to keep him from going back to his wife. "He didn't want to move back with Shirley, but he had a terrible conscience about the children," she recalls. "I respected him for it."

Nonetheless, Russell briefly moved back in with Shirley and eventually took her to Malta for a week. Vivian angrily flew back to Boston and issued the classic her-or-me ultimatum. Russell vacillated, and the melodrama ground on until Vivian was five months pregnant. "Then," she says, "all uncertainty was removed. We've been together ever since." Their daughter, Molly, is 3 now, and Ken has been divorced from Shirley since 1979. He and Vivian have no plans to legalize their own relationship. "We both feel that if we were married, we might start acting in a different way," Russell explains. "One would have power over the other person. I'll probably marry Viv on my deathbed."

For now, Russell and his new family are living at his farmhouse retreat in the English Lake District—the vacation home he once shared with his wife. Despite their age difference (he is 53, she is 28), Russell says the relationship has made him feel like a boy again. "Shirley made me feel old and decrepit. Vivian came along and made me feel I wasn't. We carry on doing all sorts of crazy things, mostly unmentionable, not necessarily sexual, but a lot of fun." Like the time, for instance, when they were overtaken by boredom at Manhattan's Guggenheim Museum. Vivian spotted a wheelchair, and Ken took a seat. Then, as gallery-goers looked on aghast, he rolled headlong down the museum's long spiral ramp like a runaway charioteer.

Not since infancy, perhaps, has Russell been a stranger to the theatrical gesture. He was raised in Southampton, the son of a shoe shop proprietor, but his movie buff mother shaped his consciousness early, taking him to the cinema nearly every afternoon. After graduation from nautical college, Russell shipped out to Australia and quit as soon as he got back. A brief hitch in the RAF was followed by an even briefer career as a dancer, during which he toured with the third British road company of Annie Get Your Gun. Enrolling in a technical college to study photography, he met Shirley, who was studying design. Their collaboration began almost at once, and they were married two years later, in 1957. Soon Russell was hired by the BBC to produce documentary biographies. The rest is acetate.

Now, anxious to parlay Altered States into a winning streak, Russell is nurturing other projects, including a four-part TV bio of Beethoven. Disenchanted with some of the films of his past, he awaits the critics' reaction to what he does next with mingled anticipation and fatalism. "They don't like the passion and emotion and great operatic gestures that reflect the life of the subjects I choose," he explains. "A critic's typical praise is 'Beautifully understated.' That means beautifully false. Louis Malle [Lacombe Lucien] makes the world's worst films," Russell continues ungraciously. "I'd rather go the other way—to gamble rather than play it safe. If I err it's by overstating, but I try to get it right. Critics can't wait to pour out their black bile," he concludes with a sigh. "Yet I live in hope that they'll like what I do."


They may have laughed when Ken Russell, of all directors, took over Altered States—no one's state, after all, seemed more desperately in need of altering than his—but the snickering has been drowned out by cheering. Almost unexpectedly, the film is a succès d'estime and a solid hit at the box office, and suddenly it seems like ancient history that only three years ago Russell was wallowing in the critical quagmire that followed his bomb Valentino. It was Russell's second straight turkey, and his career looked like cranberry sauce. Simultaneously, his marriage to costume designer Shirley Kingdon Russell ended bitterly after 20 years and five children. At home and behind the cameras, Ken Russell had finally struck bottom.
Advertisement
Treat Yourself! 4 Preview Issues
The most buzzed about stars this minute!