Archive Page - 12/1/12 39 years, 2,079 covers and 53,260 stories from PEOPLE magazine's history for you to enjoy
On Newsstands Now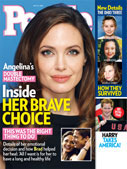 Angelina: Inside Her Brave Choice

New Details on the Ohio Three

Prince Harry Takes America!
Pick up your copy on newsstands
Click here for instant access to the Digital Magazine
People Top 5
LAST UPDATE: Sunday May 19, 2013 12:10AM EDT
PEOPLE Top 5 are the most-viewed stories on the site over the past three days, updated every 60 minutes
Equal Rights at the Schlaflys Means That Phyllis Shines in Public and Fred Reigns at Home


As it turned out, attorney Schlafly was wrong on all counts about the spunky young Radcliffe M.A. he eventually married. At 56, Phyllis Schlafly is now well established as the nation's most relentless champion of the housewife. In fact, she has made a career out of writing and lecturing about her devotion to Küche (kitchen), Kirche (church) and Kinder (children, of whom she and Fred have six) and is the U.S.'s most formidable foe of the Equal Rights Amendment and of feminists in general, whom she scorns as "Typhoid Marys carrying a germ called lost identity." For their part, ardent feminists take pride in asserting that her success proves their point about women fulfilling their potential. Says former NOW chief Karen DeCrow: "If I had a daughter, I'd like her to be a housewife just like Phyllis Schlafly."

Indeed the lady is onstage so much that it might seem that if there is a Schlafly threatened with lost identity, it is her husband. But Phyllis makes a point of gloating over her man, and in scoffing at the ERA, she's apt to say, "Well, I'm sorry, but it isn't going to get all those unhappy women out there a nice husband like Fred Schlafly!"

Fred does not mind his wife invoking his name in her causes. In fact, it was he who nudged Phyllis into starting her anti-ERA crusade in the first place. That was in 1973, after 30 states (of the 38 required) had voted to ratify the amendment. At the time, Fred recalls, Phyllis was writing and speaking mainly about the Soviet challenge and other geopolitical issues. "At first she did not see ERA as a threat," he says. "But I convinced her of its dangers. The amendment has a good name—I think girls should have equal rights too. But consider the draft problem. Never have wars been won with female soldiers."

At present the focus of Phyllis' political energies is her so-called Eagle Forum, a Washington-based organization that claims 50,000 dues-paying members; it lobbies against both women's lib and U.S.-Soviet detente and plumps for greater defense spending. She also publishes The Phyllis Schlafly Report, a $10-a-year newsletter mailed weekly to 35,000 subscribers. A chief target: feminists, who Phyllis believes are bent on "changing our schools, our textbooks, our Constitution, our military, everything—and taking our husbands' jobs away."

In Phyllis' case, her husband is both provider and political mentor. Described by a friend as "somewhere to the right of Charlemagne," Fred, 71, is the grandson of a Swiss immigrant who built a St. Louis-based business empire which included several banks, a Pepsi-Cola franchise and a firm that bottled a popular domestic Perrier called Mountain Valley spring water.

Phyllis, by contrast, was the daughter of a sales engineer who lost his job in the Depression. Though he later found work on the staff of the War Production Board, he left little when he died in 1955. Phyllis' mother, Dadie Stewart, whom friends recall as "the driving force in the family," sold yard goods and later worked as a librarian to pay the bills and keep her two daughters in the best Catholic schools. Phyllis had drive of her own: She won a Phi Beta Kappa key at St. Louis' Washington University while putting in 48 hours a week as a gunner testing ammunition at a wartime plant. Then, at 20, she moved on to Radcliffe on a scholarship to study political science.

From the start, politics has played a big part in the Schlaflys' relationship. Fred met Phyllis when he went to see the writer of a piece in a bank newsletter that interested him. When the author turned out to be Phyllis, Fred was dumbfounded: "I had assumed a man had written the article. I was astonished a woman could think that way. I went to the bank around 11:30 a.m. and I was in love by noon."

Phyllis concedes that for her, too, "it was love at first sight." They kissed on the first of what were to be weekly dates (often at the local law library) over a seven-month courtship. Their love letters read like political treatises. (One of Phyllis' included an essay on "The Meaning of Liberalism.") When Fred finally decided to pop the question, he did so by telling Phyllis to listen carefully to the reading of the Sunday Gospel. When she heard the priest intone, "Thou canst be steward no longer," Miss Stewart caught on and immediately accepted Fred's proposal.

Schlafly biographer Carol Felsenthal (The Sweetheart of the Silent Majority) describes Phyllis' life with Fred as that of "an elitist—a Catholic upper-class socialite." Fred admires her forcefulness. "Phyllis' determination is even more impressive than her talent," he says. But she is careful not to test that admiration too hard. Says one of the Schlafly children: "If Dad thinks she is doing too much—or away too much—she cancels her engagements and stays home."

One telling tiff occurred in 1975, when Phyllis decided to enroll in the Washington University Law School in hopes that the training would help her in her jousts with feminist attorneys. "I dropped the bombshell one night at dinner," she recalls. "Fred stormed away from the table," complaining that she already had too much to do. She dutifully dropped out: "I told the university I had changed my mind—like a woman." Three weeks later Fred changed his own mind. She finally got her degree in 1978, but now finds "it's more fun being a lawyer's wife than a lawyer. A man wants the security of knowing he doesn't have to compete against his wife."

In 1978 Phyllis considered running for the Senate seat held by Illinois Republican Charles Percy, but decided against it. If she moved to Washington, she says, "Fred would think I didn't need him anymore." But her husband backed her unsuccessful efforts to win a seat in Congress in 1952 and 1970. He also supplied her 1970 campaign theme, "A woman's place is in the House"—a slogan, ironically, that New York feminist Bella Abzug used for her own victorious congressional race the same year. Fred confesses that he "wasn't all that enthusiastic about Phyllis running. When she lost, I didn't go into mourning."

Predictably, Fred and Phyllis are conservative parents. Since their children legally did not have to be in school until age 6, she taught her four sons and two daughters—they range from 16 to 30—to read at home rather than send them to kindergarten and first grade. "Preschool and kindergarten are just places to pick up germs," she says. As for criticism that she's been an absentee mother, Phyllis retorts: "I enjoyed taking care of my children. Now that I see the results, I'm convinced I did it the right way." The Schlafly children—all academic achievers—don't criticize their parents' politics or strict mores. But when Phyllis boasted to a reporter recently that "I don't know what stress is," one of her daughters couldn't resist adding: "Mother! You live from one desperate moment to the next. It gives me an ulcer just to watch you."

Phyllis says that she and her husband "encourage our children to do their own thing—of course, it has to be morally right." Fred concurs: "I don't like this modern trend of living together. I'm amazed that the Reagans are so tolerant with their children. I'd handle it by saying, 'All funds are cut off until you straighten up.' "

Phyllis' Washington ambitions seem to go beyond her anti-ERA lobby. For a while, she says, she "toyed with the idea of letting people recommend me for Secretary of Defense," but there was apparently no enthusiasm for the idea in the Reagan camp. During the two or more days and nights each week that Phyllis is away furthering her causes, Fred stays at their rambling 12-room home in Alton, Ill., just across the Mississippi River from St. Louis. A housekeeper tends to his needs. Though a Michigan organization once dubbed him the Underdog of the Year for his unfailing devotion to his peripatetic spouse, Phyllis regularly opens her speeches, "I want to thank my husband Fred for letting me come here." Why? "Well," she smiles, "it's true, and it irritates the women's libbers more than anything."


In 1949 a prosperous 39-year-old St. Louis lawyer named Fred Schlafly had just about consigned himself to permanent bachelorhood when he met the bright, blue-eyed blond love of his life. Phyllis Stewart was 24 and also a family-oriented Catholic, but he feared all she cared about was getting ahead at the bank where she had risen to research director. At one point during the courtship, the cautious suitor wrote his intended a pouty poem: Cover girl with executive know-how/ You don't desire a home now/ For Küche, Kirche and Kinder/ Will surely a career hinder.
Advertisement
Treat Yourself! 4 Preview Issues
The most buzzed about stars this minute!