People Top 5
LAST UPDATE: Tuesday February 10, 2015 01:10PM EST
PEOPLE Top 5 are the most-viewed stories on the site over the past three days, updated every 60 minutes
Archie's Angel
Danielle Brisebois Is 'My Co-Star Now,' Marvels Carroll O'Connor, 'But Not a Hollywood Brat'
Archie himself doesn't think so. "We've been picked up for another year and I think we're going to make it," says Carroll O'Connor. "I was very sorry to see Marty go. We're very close friends, but he wanted to get back into free-lance work." Balsam has signed to play the defense attorney in NBC's May docudrama about the Scarsdale diet doctor murder trial, so Murray will be leaving Archie Bunker's Place on the arm of a new wife, bound for an existence Out West. Archie too might someday remarry, but O'Connor's hopes for the show are mainly pinned to its loyal audience—Archie still ranks in the Top 15—and to his king-size faith in the pint-size Brisebois.
"I think her work this coming season would have expanded, regardless," he says. "The better she gets, the more she can handle—and she's been getting very, very good." Next season, he discloses, there will be more scenes at home between him and Danielle. "Offstage, she's a smart kid and very easy to love—not at all a Hollywood brat," he says. "She's a sweet, joyful little girl, and I think that says an awful lot for her home situation. But professionally she has to carry a lot of weight, and she's well able to do it. She's a co-star now."
Archie's 4'11", 85-pound Atlas shrugs. For her, giving a performance is no big deal at all. "I just do it," says Brisebois (pronounced breeze-bwah). "If you read your lines a couple of times, they stick in your mind." And so, it seems, does Danielle. Since bowling over Broadway audiences as a member of the original cast of Annie in 1977, she has emerged as one child star who fathoms the difference between showbiz and show-off. Memorably affecting as Patty Duke Astin's illegitimate daughter in last year's syndicated TV movie Mom, the Wolf Man and Me, Danielle has made a career for herself without losing her sense of being a kid. "I'm still in my childhood," she says. "I haven't missed anything."
Much of the credit for that goes to Danielle's soft-spoken Italian-American mother, Mary, 33, who accompanies the youngster to the set every day. "We're together all the time, probably more than mothers who work or whose kids are in school all day," says Mary. "I think what she's doing now is the best thing for her. So does her father." Danielle's French-Canadian dad, Frank, 40, a computer instructor with ITT, lives alone in the family's Brooklyn home during the eight months each year that his wife and only child work in L.A. "My husband and I discussed all this before I came out here with Danielle," Mary adds. "We made a commitment to each other and to her."
Thanks to frequent visits by Dad, the arrangement seems to be working. Danielle's mother even made an effort to find a "normal" neighborhood in L.A., like the enclave Danielle knew back in Brooklyn. As a result, she and her little girl live in a sparsely furnished two-bedroom condo in un-trendy Canoga Park. Danielle's room sports a frilly canopied bed, a mound of stuffed animals and a huge dollhouse modeled on the home of cartoonist Harold Gray at the time he created Little Orphan Annie. She dotes on Muffin, her Shih Tzu puppy, plays with neighborhood kids, and wears braces at night to straighten her teeth. Lest anyone mistake Brisebois for her role, though, Danielle hastens to point out the differences: "Stephanie's the kind of girl who belongs to the Brownies and stuff like that. And she doesn't like show business and she doesn't like boys."
Danielle, on the other hand, likes both. One of her current friends is 12-year-old Harold (The Tim Conway Show) Pruett Jr., already a millionaire thanks to his wealthy and indulgent father. Their meeting was fortuitous. "I was playing in the hallway at CBS and he accidentally ran into me and knocked me down," says Danielle. "P," as he is called, later gave Danielle a unicorn necklace to add to her collection of unicorn trinkets. "We're good friends," says Brisebois, "but my mother goes along when I go to his house or when we go to an event together." Says Mom: "Believe me, Danielle doesn't date. An 11-year-old child isn't ready for that. I want her safe and protected until she can take care of herself." Teases Danielle: "Yeah, I can just see Mom now, coming along to my sweet-16 party."
Given her likely future in show business, is there anyone Danielle would choose as a role model? Probably not. "People always say, 'Who do you want to be like?' " she explains. "I don't really want to copy anybody." Still, she does admire
Brooke Shields
—tight jeans, near-nude movie scenes and all. "Well, I wouldn't do anything like that, but that's what sells for her and that's what makes her
Brooke Shields
," says Danielle. Another favorite is Judy Garland. "I'd like my screen life to be like hers but not my off-screen life," says Danielle. "I don't think you have to be unhappy just because you're in show business."
Obviously the course of Danielle's brief career has run smooth. She started dance lessons as a 4-year-old to gain some poise, says her mother, and successfully auditioned for a nightclub and sang in a New York City Opera Company chorus at 6. Still a tyke, she made the first of her 52 TV commercials and a forgotten 1976 movie, The Premonition. Then, at 7, she landed the role of the littlest orphan, Molly, in Annie. "Danielle Brisebois has the look of being the future all by herself," raved the New York Times' normally sedate Walter Kerr. "When her two front teeth are restored to her, there's just no saying what theatrical territories will have to be ceded, what surrenders arranged."
An unofficial critic was also impressed. "She wasn't Annie, but she was the kid you remembered," recalls O'Connor. "What struck me most was her attack, her verve. Johnny Carson was at the same performance and he said, 'She's a wow.' " Two years later Danielle had outgrown Annie, but was just right for Archie Bunker's Place. O'Connor suggested she be hired, and Brisebois, though signed for only seven shows initially, quickly established herself as a regular. Danielle finds O'Connor "fatherly" and burbles "I like him a lot" but admits that she misses her real dad. "He is the only one who knows everything about every computer his company has," she says proudly. "He has to travel a lot to teach other people how to work them."
In L.A., Danielle attends weekly singing and dancing lessons and Sunday services at St. Joseph the Worker Catholic Church ("It's right near Wendy's—Hot and Juicy—so I know where to go," she giggles). As for the future, she says, "I'd like to do movies and plays, but I like doing things in front of a live audience. If you fluff it, you fluff it." College? "I definitely want to go and study either veterinary medicine or astronomy," says the straight-A student at Valley Professional School. "I want to be the first veterinarian on Mars." Marriage? "Not until I'm at least 24 or 25. I couldn't travel or do all the things I want to do if I got married young." So far, despite her accruing responsibilities and bank account, she remains charmingly unburdened by the weight of success. "I have time for everything that's important to me—my work, my friends and my family," says Brisebois. "There are enough hours in the day to do anything."
Advertisement
Today's Photos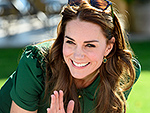 Treat Yourself! 4 Preview Issues
The most buzzed about stars this minute!