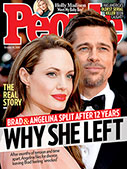 This Week's Issue!
People Top 5
LAST UPDATE: Tuesday February 10, 2015 01:10PM EST
PEOPLE Top 5 are the most-viewed stories on the site over the past three days, updated every 60 minutes

Your cover on Carroll O'Connor and Danielle Brisebois was a refreshing change of pace from the usual cheesecake (PEOPLE, April 27). She is sweet, unspoiled, determined and obviously far beyond her 11 years. Keep your eye on Danielle. She'll be the one to watch in the '80s.
Jennifer Crema
Minneapolis

Ted Kennedy Jr.
I was very touched by your story of Ted Kennedy Jr. I want to be a courageous person like him. I was born deaf, and I grew up with a negative feeling about my handicap. I always said, "Why me?" After reading your story, I began to think about others who can't hear the roar of a football crowd or a waterfall or the sound of words. Everyone must take what he gets, good and bad, and do the best he can.
Kerry M. Belser
Monterey, Calif.

Maybe after your story on this special young man people will understand not only what he had to endure but the stress and strain his mother had to cope with. As the mother of two children, I can understand the helplessness she felt as her son was going through all this. Nothing hurts more than when your children are hurting and there's nothing you can do to make it all better. The Kennedys should be proud of the sensitive and courageous human being that Ted Jr. has become.
Nettie Lespron
San Gabriel, Calif.

Skip Webster
I was absolutely horrified while reading the story of Skip Webster's attempt to rescue his grandchildren. I commend him and only wish that he had succeeded. How can the members of this so-called River of Life ministry believe that abusing their children will bring them closer to God? Their calling the experience "beautiful" is totally frightening.
Julie Collins
Onset, Mass.

Sen. Harrison Schmitt
Thanks for the article on former astronaut Harrison Schmitt and the space program. The successful mission of the shuttle Columbia was terrific! I am proud to live in a country which accomplished such a great achievement.
Jeff Brummitt
Church Hill, Tenn.

The SAT exams
I am a good student with a 3.0-3.7 average, and I have a friend who can barely get by, with a D in everything. We took our SATs on the same day in the same room. Although I had higher grades in harder courses, she scored higher than I did, and a college might have picked her over me. In my opinion SATs are a stamina test of sitting still three hours straight on a Saturday morning, not a measure of how well one has done or can do.
Kathaleen Allan
Pittsburgh

Hollywood Drug Probe
I could not, as hard as I tried, understand the actors' decision to "boycott" any proceedings regarding the drug issue in Hollywood. Perhaps they cannot name names for fear of their own being mentioned. For them to stand up on their pedestal and shout their fear of becoming victims similar to those during the McCarthy era is borderline retardation. There is simply no way to relate one's political beliefs to the known abuses of drugs and those who solicit their use. How can they possibly defend one's right to sell, buy, use or abuse this emotionally and physically disgusting killer of the body and mind? How much destruction need be done in the name of one's rights? Actors and others in the business are never too busy to stand up and support a political party, or roll around in the slush to cuddle a dying seal, or lend their name to some popular cause, all in the name of caring, of course. Oh, yes, Mr. Actor, Mrs. Actor and others, you owe me and my children your name and your power to stop those who use drugs. More than that, you owe it to yourselves to stop looking the other way.
Dianne Phelps
Eugene, Oreg.

Don McLean
As a singer-songwriter, Don McLean is without peer, and he doesn't need charts and numbers to validate his talent. I have several wonderful albums from the "lost years" between American Pie and Chain Lightning that are proof enough for me. I've seen Don in concert four times. He's been introspective, witty, sensuous, rowdy and political—but he's never "fizzled."
Judy Kidder
Whittier, Calif.

Fred Astaire
Fred Astaire has been my ideal since I was old enough to watch his movies. I took dancing for 10 years, primarily because of Fred and Ginger. I became a community-theater choreographer and enjoy it immensely. I echo James Cagney: "I hope you go another 100 years—why the hell did it take them so long to recognize your contribution to the art?"
Kathi Rider
Covington, Ky.

Bernadette Devlin McAliskey
I was appalled by the unprofessional bias obvious in Jimmy Breslin's article on Bernadette Devlin McAliskey. Mr. Breslin seemed to accept without question Mrs. McAliskey's view of the motives and actions of the soldiers at the scene of the attempt on her life. These were the soldiers who, in all probability, saved her life.
Ewan Wauchope
New York City

Dual-Career Marriages
In response to "Name Withheld" who feels that a couple cannot have two careers and have their children turn out well: I am married, have a 2-year-old daughter and a full-time job. It started out as a necessity because we needed two incomes to get by financially, but my job has turned into a career. My daughter has been going to a babysitter since she was three months old. She is happy, well adjusted, bright and unspoiled. She gets along well with other children, and is even learning a second language as well as English because her sitter is Chinese. She has advantages at the sitter's that I could never give her at home. I do not feel selfish, nor do I have a guilt complex. I'll even sign my name to this letter.
Arla Bowman
San Francisco


Danielle Brisebois
Advertisement
Treat Yourself! 4 Preview Issues
The most buzzed about stars this minute!