People Top 5
LAST UPDATE: Tuesday February 10, 2015 01:10PM EST
PEOPLE Top 5 are the most-viewed stories on the site over the past three days, updated every 60 minutes
Britain's First Lady of Love, Barbara Cartland, Colors the Colonies Pink


But Cartland's two-week American tour was more than an attempt to educate a déclassé nation in the rudiments of style. It also enabled the High Priestess of Romantic Love to evade a sticky controversy at home. The British press is currently agog with allegations that Cartland and her family are cashing in on the upcoming wedding of Prince Charles and Lady Diana Spencer. The trouble began with press protests that Cartland's daughter Raine, 51, Lady Diana's stepmother, together with her husband, Lord Spencer, were hawking portraits of the future royal bride, soaking tourists for pictures of their home and lunching for a fee with wealthy American tourists in the Spencers' historic Althorp Hall mansion. Cartland is incensed at such accusations about Raine—now known to British tabloid readers as the "wicked stepmother." "I don't believe a word of it," says Barbara. "Whenever there is a lull in the news, the press comes to my daughter and myself for flavor. I was glad to escape it when I came to America."

Far from being a crass attempt to capitalize on Lady Diana, points out Cartland, the controversial tours of the Spencer home were scheduled long before the royal wedding was planned. "The first tour was arranged for October 11," she says, "and five others had been organized before the engagement was announced." Furthermore, maintains Cartland, it was not lunch with the Spencers that enticed 60 Americans to spend $2,200 apiece for the tours. (See story, page 28.) The real draw was a chance to have tea with Cartland herself at her 27-room, ivy-covered mansion, Camfield Place, 17 miles north of London. "People seem happier to see me than Prince Charles," observes Cartland, and the 12 American women who made the latest "Barbara Cartland Romantic Tour" clearly agreed. "Of course I think the engagement is wonderful and I'm thrilled to be meeting the Spencers," said Mrs. Mary Hertenstein of Mount Vernon, Ill., "but it's really Barbara Cartland we've come to see."

Not many writers inspire that kind of adulation. But Barbara Cartland is more than a writer; she is a one-woman fantasy factory. In 1923, five years after her polo-playing father died in action in Flanders' fields, she published the first of her 307 books—the vast majority of them slim historical romances—selling a total of 197 million copies. She does not, however, endanger her fingernails by sitting down at a typewriter. That would be too, well, beige. Instead, she retires to her library after lunch each day, curls up on her pink-cushioned sofa, snuggles her feet under a white rug and dictates a chapter of her next novel to one of her four secretaries. Last year she produced 24 books, and she plans to do just as well this year. The secret of her output is simple: All her novels have the same plot. A beautiful young virgin meets a rich, noble hero in an exotic locale. They fall in love and, still chaste, marry. Cartland's trademark is the lyrical climax, like this one from Dollars for the Duke: "Then love carried them on the waves of ecstasy into the starlit sky, and they knew that nothing mattered except that as man and woman they were one now and through all eternity."

Writing two best-sellers a month, however, is barely a warm-up for the Promethean Cartland. Three years ago she recorded Barbara Cartland's Album of Love Songs, backed by a local group called the Royal Philharmonic Orchestra. Last November United Features began syndicating a comic strip based on her oeuvre, and Barbara Cartland's Romances now appears in 75 U.S. and British newspapers daily. The grande dame also oversees a magazine called Barbara Cartland's World of Romance, which brings a Cartland novella, Cartland recipes and Cartland beauty tips to some 100,000 readers each month. Her most insistent muse is the elusive pound sterling. "It takes a lot to keep this place up," she says of her mansion, "and my children always need money." Her married son, Ian, 43, is her business manager; bachelor Glen, 41, is a stockbroker who lives at home and helps with her research.

Cartland's latest project—home furnishings—should help her keep body, soul and family together. Soon her fans, most of them middle-aged women, will be able to drape their bodies in pink Cartland towels, sleep between pink or sapphire Cartland sheets and eat from pink porcelain Cartland tableware. Within a year or two they will be able to buy Barbara Cartland perfumes (one tentative label: Love Wins), nighties and wedding gowns. The mastermind behind this outpouring is Richard Kirkham, president of Kirk-Brummel Associates, a manufacturing and licensing firm also responsible for the Laura Ashley and Mary McFadden lines. Kirkham saw Cartland on TV's 60 Minutes in 1978, when she described herself as an amateur artist. Kirkham fired off a letter suggesting that she create a line of wall coverings for his firm. Immediately Cartland summoned him to Camfield Place. "My ideas for Barbara were useless, because she had so many of her own," says Kirkham. "She has an infallible eye and an instinct for what women want. She is involved in every single facet of product design down to the selection of the lace ruffle on the bed comforter."

Such attention to extraneous detail might sap the creative energies of a writer less dynamic than Cartland, but it hardly throws Barbara off-stride. "It isn't a conflict of interest," she says. "I'm grateful to have been born with the gifts of literature and art so that I can give of myself to help others." One needn't ask where she gives of herself. "I design and draw my sketches in bed, because I am very creative there," Cartland says with a smile. "I feel a woman should never stand when she can sit and never sit when she can lie. Everything is much easier that way."

The wedding of her step-granddaughter, however, is one event that Cartland won't take lying down. Though she remains uncharacteristically coy on the style of the gown she is designing to wear to it, it is reliably reported to be pink. Meanwhile the irrepressible Queen of Romance, widowed in 1963 by the death of her second husband, Hugh McCorquodale, is as excited as a bride herself. Barbara thinks that Lady Di might do well to follow the example of America's First Lady. "Nancy Reagan is the ideal wife because she supports her husband and sits back, acts glamorous and lets him lead. If more American women would follow her example, there would be less divorce," maintains Cartland. She counsels further that "men are a promiscuous animal. If you cage them, you must make that cage very attractive, colorful and desirable; otherwise they jump out and look for something new. Women must work on marriage and quit trying to be pseudo men. If a man wanted another man he would have one, you know."

Fortunately, the royal wedding, Cartland senses, is life imitating art—her art. "It mirrors my plot lines," she says, "where a virginal heroine, like Di, falls passionately in love with a man of nobility and rakish, if not raffish, characteristics, like Charles. Di is chaste and chased, just like one of my characters," Cartland declares, meaning she'll be a virgin on her wedding night. "Girls Di's age are idealistic and particular, unlike some of the girls at 30 to 35 who have been through a lot of sexual affairs and regret it now," Cartland observes. "The world is returning to love and pure morals. It turns out I was right all along."


Pink. The wallpaper, the sofa, the pillows, the comforter—everything in the boudoir display at Macy's Manhattan store seemed aglow with a not-so-virginal blush. Amid this pastel panorama, like some sort of esoteric flamingo, perched the world's best-selling author, Barbara Cartland, arrayed from the tip of her feathery hat to the polish on her 79-year-old toenails in her favorite color. Having already laid waste the worlds of literature, music, magazines, television and even comic books, she has now entered the lists in the crowded field of home design. The results, as usual, are staggering: Her "Decorating With Love" line—including everything from towels to tableware—is expected to gross millions this year. Enflamed by a certain missionary zeal, Cartland left the comfort of her 114-year-old English mansion to relieve the drab-ness of life in the Colonies. "Americans have no color," she complains. "They live in beige rooms, wear beige clothes, look at life in a beige way. I designed my products in vibrant pinks and pastels to create romance, love and beauty."
Advertisement
Today's Photos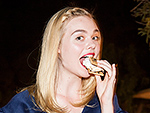 Treat Yourself! 4 Preview Issues
The most buzzed about stars this minute!