People Top 5
LAST UPDATE: Tuesday February 10, 2015 01:10PM EST
PEOPLE Top 5 are the most-viewed stories on the site over the past three days, updated every 60 minutes

Dolly Parton will star as the proprietress of The Best Little Whorehouse in Texas when the raucous Broadway musical comes to the screen, and Burt Reynolds will play the sheriff who shuts the place down. Not much basis for a relationship, perhaps. Still, Dolly is pressing to have love scenes written for them before shooting begins in August. Explains Dolly, "If you think I'm going to be in a movie with Burt Reynolds and not get a little huggin' and kissin', you're crazy."

Talk's Cheap
When Chicago politico Rich Daley, son of the late mayor, asked Bill Bradley to speak at a Democratic fund raiser, the ex-Knick and New Jersey senator said he'd love to. But, recounts Bradley, "Daley said, 'Hold on. We don't let just anyone speak in Chicago. First, do you believe in the Constitution?' And I said, 'Of course.' Then he asked, 'Do you believe in the Bill of Rights?' and I said, 'I sure do.' Finally he asked, 'Do you believe in free speech?' and I said, 'Yes.' 'Good,' he said, 'because you'll be giving one.' "

Tall Tale
When Rock Hudson was introduced to New York TV newswoman Pia Lindstrom recently, he remembered that the first time he met Pia's mother, Ingrid Bergman, "I told her, 'You sure are tall.' " Bergman is, in fact, 5'8", and Hudson (6'4") told Pia he's still embarrassed about the "dumb" icebreaker. Confessed Rock, "That's all I could think of to say."

Giddy Liddy
After a two-and-a-half-hour speech at California State University in Sacramento, G. Gordon Liddy asked if there were any questions. A young woman took the mike and, ignoring the Watergate conspirator, announced a vigil the next day for the slain Atlanta children. Responded Liddy, in front of his audience of 4,000 Sacramento students: "I'm not interested in listening to you. But I'll tell you, you've got a great body."

Blurbin' Cowboy
Why did Randy Jones, the caballero of the Village People, quit after the boys' calamitous movie, Can't Stop the Music? "It was a '70s phenomenon," Randy says of the group. "I signed up for a pleasure cruise, and didn't want to stay to see the sinking of the ship." So he bailed out, spending a reported $57,000 to dissolve his contracts. Now Randy is making a solo LP. As for the rest of the group (which just played Vegas with replacement Jeff Olson), Randy shrugs: "I don't know why they're still there."

Stocking Feat
"She has a good proportional relationship of the developmental musculature in her lower extremities," proclaimed L.A. podiatrist Dr. Jay Borstein. What he means is, Angie Dickinson has great legs. Others named by the L.A. County Podiatry Association (Borstein is president) to a "10 best legs list" included Ann-Margret, Suzanne Somers, Ann Miller, Debby Boone and Marie Osmond.

Furthermore

•Dashing from the Detroit News Building after an interview, Alan Alda was approached by a reporter demanding "a good quote." Coatless on the still-chilly May day, Alda grinned, "If I had a good quote, I'd wear it."

•Record whiz David Geffen says at least one person believed a recent tabloid story that he planned to marry Penny Marshall. "My mother called up," reports Geffen, who previously squired Cher, Joni Mitchell and Laura Nyro, among others, but has never wed. "She asked if it was true. I told her no, and she was pretty disappointed."

•At 35, she's already on her third marriage, but Sandy Duncan has an explanation. "A lot of people have that many affairs. I just happen to come from Texas, so I marry 'em."

•Carl Sagan says it's not so hard to popularize complex ideas in science. "All you have to do when you are trying to explain something," he reveals, "is remember a time when you didn't understand it either."


Reynolds Wrap
Advertisement
Today's Photos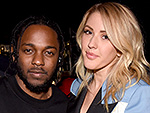 Treat Yourself! 4 Preview Issues
The most buzzed about stars this minute!