People Top 5
LAST UPDATE: Tuesday February 10, 2015 01:10PM EST
PEOPLE Top 5 are the most-viewed stories on the site over the past three days, updated every 60 minutes
The Burt & Angie and Marvin & Carole Show Is Closed, and the New Duo Is Bacharach & Sager


"Falling in love with Carole was the last thing I wanted to do," recalls Bacharach. "I told her if the relationship didn't go well, it would be very hard to sit in a room and write together." And Burt is clearly not the sort to rush into major decisions: He is only now finalizing his divorce from Angie after almost five years of separation. The Sager-Hamlisch romance will be even slower dying, at least in the public mind. They're Playing Our Song, the hit musical they (and Neil Simon) loosely based on their affair, is in its third year on Broadway and has become part of the repertory of the genre. "The show is a romantic comedy," notes Sager. "Every night those people end up happy, kiss and take their curtain calls. But, obviously, Marvin and I were not totally like those characters," she now points out. "Marvin had a very fatherly way about him and liked to take care of me, but that brought out my childish qualities. Yet there was also an area within me that was fighting to be an adult," she continues. "With Burt, I do a lot of the taking care."

Both are seeking to rebound from some lean professional years. About the time Bacharach and Dickinson split in 1976, his partnership with Hal David, the lyricist of hits like Alfie and Raindrops Keep Fallin' on My Head, also ended. (So too did his strictly business collaboration with Dionne Warwick, who sued Bacharach and David for $5.5 million over a contractual dispute, but settled out of court.) "I hardly wrote anything for three or four years," he says. "A separation can work one of two ways. It either fires you up or makes you retreat. I did the latter." When Burt did compose, the results were disappointing. An album with the Houston Symphony was received coolly, and his most recent scores were for the movie disasters Lost Horizon and Together? Sager and Hamlisch had a biggie with Nobody Does It Better four years ago, but she hasn't had a smash since, and the two earlier albums on which she sang her own work sold poorly. "They're rebuilding careers while building their relationship," says Melissa Manchester, the singer-composer with whom Carole has often worked. "I think Burt offers a lot of cushioning and Carole returns the support—and it's needed because they're living in a fast lane."

Whether or not their new album changes their luck, it certainly breaks new ground. It is a concept album, a song cycle in which each track ties into the next. "It's a labor of love—love of the work and love of each other," explains Burt. Says Carole: "I care about this album as much as anything I've ever worked on, if not more." Sager credits Bacharach with shaping a new style for her on the album. "I totally trusted Burt's instincts and he made me sound better than I ever have," she says. "My voice is smoother and more palatable."

The pair met in 1978 when he called to ask her to write for him. "I was still living with Marvin, and Burt brought over a melody for me to put lyrics to," she recalls. "It was very awkward. Marvin was never thrilled to share me with another composer." Nothing came of the encounter, personally or professionally. But a year later, when Hamlisch and Sager were on the verge of their final breakup, they went to a party for Bacharach; soon after, Burt asked Carole to appear on a Mike Douglas show he was co-hosting. Afterward they went to dinner. "We talked about how neither one of us did well in the sleep department," reports Sager, adding, "The insomnia hasn't gotten any better, but now we have each other to talk to."

They have much more in common. Both are from New York City—she from the Upper West Side, he from Forest Hills—and each was an only child who took to music out of social shyness. Both are still uneasy performing in public. "I'm not really comfortable out there," admits Burt. Likewise, Carole is famous for her microphone phobia. "I have a self-deprecating streak," she says readily. "Burt likes my voice, but he does think it's different. At one point recording the album I was having difficulty and I said, 'We spent all this time and the songs are so good, and it's your reentry into the pop recording field—I wish I sang like Dionne Warwick.' " Gibed Bacharach: "There's no one I'd prefer to sing them more—except maybe one or two people."

To promote their album, Sager and Bacharach have taken to the road. "I hate it," Carole says of the talk-show-and-promo circuit, "but it would be worse not to do it and then wonder if the album would have done more if we had." Both agree they would rather stay in her glossy aerie overlooking L.A. (Burt owns a beach home by the racetrack in Del Mar.) The house is crammed with gadgets, including a videocassette recorder, a synthesizer, a computerized playback piano and pinball machines. (Burt's daughter, Nikki, 14, lives with Angie but visits with Burt and Carole.) Bacharach and Sager rarely leave their space-age pleasure dome, and only for a party or the races. Burt owns 20 thoroughbreds. "At the track," he explains, "I'm able to completely shut out music."

The latest project on their song board is the music for Dudley Moore's new movie Arthur—and Sager and Bacharach talk like a long-playing item. "I think Carole is the best lyric writer in the country," glows Burt. He is envious of the "consummate ease" with which she creates—and she returns the admiration. "Burt starts out with the seed of a song and by the time it's finished there's just a fragment of the original left," she says. "That makes me think he's a genius and more of a perfectionist than I am, and then I start getting down on myself." Surprisingly, they are still friendly with most of their earlier partners—she is on good terms with Peter Allen (who collaborated on their album), Manchester (Don't Cry Out Loud and Midnight Blue)—and even Hamlisch. The only sour note in this seeming idyll is Carole's queasiness about the love songs on her latest album. She is nonplussed that they led to a personal encore. "I can't believe I did the same thing again," she sighs, ruefully. "At least I haven't lived with Peter Allen."


I always thought you shouldn't mix business with pleasure," declares composer Burt Bacharach. Indeed, the 52-year-old three-time Grammy winner never collaborated with actress Angie Dickinson, his wife of 16 years, in anything heavier than a wine commercial. But singer-lyricist Carole Bayer Sager, 34, never suffered such notions. In 1970 she married record producer Andrew Sager (they divorced in 1978). Then in 1975 she began working with composer Marvin Hamlisch; they fell in love and lived together for two years. Finally, in 1979 she started collaborating with Bacharach; and Burt was the one who changed his thinking about office romance. For a year now he has been a frequent fixture of Carole's hilltop mansion in Beverly Hills, and this month the first fruit of their love-work relationship is hitting the record racks. Sometimes Late at Night is an album of romantic songs sung by Carole, including one whose title announces what she and Burt have clearly discovered: It's Easy to Love Again.
Advertisement
Today's Photos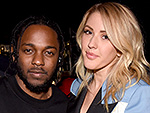 Treat Yourself! 4 Preview Issues
The most buzzed about stars this minute!