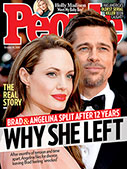 This Week's Issue!
People Top 5
LAST UPDATE: Tuesday February 10, 2015 01:10PM EST
PEOPLE Top 5 are the most-viewed stories on the site over the past three days, updated every 60 minutes

Three cheers for Billie Jean for stopping all this absurd blackmail and being honest with her fans (PEOPLE, May 25). She squelched a lot of nasty rumors, and I'd be proud to have her represent me as a woman any day. And three cheers for Larry for giving her room enough to grow.
Gail Gallo
Tucson

I am a member of the Moral Majority and in my opinion anyone who reads your story on Billie Jean King and does not feel compassion and love for this woman is really not a follower of Christ. As I remember, it was Christ who said: "He that is without faults, let him cast the first stone." He also said: "Woman, you are forgiven." I am so glad that my God is a loving, understanding God.
C. Greenwood
DeSoto, Texas

Ms. King says she hates being called a homosexual and that just because a person has a homosexual experience does not mean he or she is gay. This is very true; however, someone ought to point out to her that there is a difference between a homosexual experience and a long-term affair with someone of the same sex. When Ms. King decides to level with herself, maybe she'll do for gays what she did for women's tennis.
Michel V. Puga
Los Angeles

Billie Jean King and her husband should be proud of the way they stuck together and are making their marriage work. So she had an affair with a woman. No one would think anything about it if she had an affair with a man.
Gayle Patrick
Milwaukee

Billie Jean is one of the strongest, most admirable women currently in the public eye. She has the courage to defend her convictions. If she loses one contract over this unfortunate incident, that company will lose this customer. Count on it.
Dan Cranfill
Jacksonville, Fla.

We are horrified when we learn that our heroes or heroines are gay. My sympathies go with the lovers that struggled through the relationship's end and then are left to pick up the pieces. If Marilyn Barnett did have a relationship with Billie Jean over the years, why are we not concerned about the damage it may have done to her? Let's get off the sexual morality issue and focus in on matters of the heart.
Pamela Esther Nask
Phoenix

When I first saw your cover with Billie Jean and Larry King, I feared that sensationalism was not far behind. Instead, what I read was a tasteful, objective interview that allowed all of us to pass our own opinion on Billie Jean's private life. However, it has never been this woman's private life that has motivated my admiration for her but rather her professional and unselfish approach to women's tennis. I am still far more upset by the antics of some players on the courts than their antics off!
Keri Johnston
Toronto

Kermit Love
Your story on Kermit Love was truly heartwarming. It was a joy to read about the man who gave life to the characters our son adores. One could feel the love this charming man not only has but shares.
Lynda M. Shearer
Bricktown, N.J.

Herb Cohen
Having never heard of Herb Cohen nor his book You Can Negotiate Anything, I started to read with some hesitation. Well, I found his answers to your questions to be interesting and enlightening. Actually, I read it over twice. Thanks for exposing me to an original thinker who also has some pizzazz.
Robin Blunen
Westbury Hills, N.Y.

Raul Espino
Your story on Raul Espino Jr. was both tragic and touching. However, I cannot agree that the Brownsville, Texas school system has an obligation to compensate for this cruel act of fate. The belief that government can and should finance solutions to every person's problem, no matter how unusual it might be, has been accepted for some time and seems to have contributed to the disaster of our federal budget.
J. Combs
Akron

Doug & Julie Hayes
The honest love that came across in the memorable reaffirmation of vows between Doug and Julie was unlike anything ever seen on daytime television. Thank you for honoring the King and Queen of Days of Our Lives.
Heidi Shevawn Hughes
South Lake Tahoe, Calif.

Barbara Cartland
I have just seen the issue dated May 25. I consider the remark on the front cover insulting. Also, the misquoting and fabrication of the report on Lady Diana and the Prince of Wales is an insult to American journalists who treated my request for restraint with good manners and good taste.
Barbara Cartland
Hatfield, England

While recognizing the sensitivity of Miss Cartland at being quoted about the Prince of Wales and his bride-to-be, PEOPLE stands by the account of her conversation with our correspondent.
—ED.

I suggest that Barbara Cartland enter the 1980s and realize that the ideal wife is not one who sits back and acts glamorous for her husband, that "promiscuous animal." Maybe this is the thing to do when one lives in an English mansion, but here in the colonies many women would prefer to do something more meaningful with their lives.
Elizabeth Much
Wilmette, Ill.

The love stories of Barbara Cartland are a breath of fresh air in the pollution of current romance novels. I have purchased 126 of her books in the last two years. She is not only Britain's "First Lady of Love" but the patron saint of romance.
Ann McIntosh
Austin


Billie Jean King
Advertisement
Treat Yourself! 4 Preview Issues
The most buzzed about stars this minute!