People Top 5
LAST UPDATE: Tuesday February 10, 2015 01:10PM EST
PEOPLE Top 5 are the most-viewed stories on the site over the past three days, updated every 60 minutes
As State's Man, Hodding Carter Used to Meet the Press; Now He's More Likely to Beat It


Early on, he'd joked that the only question about his TV career was "How big an egg am I going to lay and how fast?" The truth is that, his new William Morris grooming notwithstanding, Carter does seem uncharacteristically stiff on the PBS show, despite occasional comic turns by Bob and Ray (see page 64). "I'm afraid it'll be called The Bob and Ray and Who? Show" Carter cracks. Still, for early segments on press coverage of the Atlanta murders and the El Salvador civil war, the program has won praise from the Atlanta Constitution as "a genuinely important show" and from the Detroit Free Press as "entertaining and enlightening." His own experience has heightened Carter's awareness of the influence of the media, especially of television. "The power to create an impression on television is overwhelming," he says. "And you have to be so damn selective in a minute and a half." His own hour-long State Department briefings would be condensed each night to a few moments. "The distortion is inevitable," he observes.

As a member of the working press for 17 years, Carter has the credentials to back up his commentary. He inherited the name and the newspaper of one of the country's most famous and colorful journalists. His father, Hodding Carter Jr.—known as "Big Hodding" or just "Big"—was an outspoken Southern liberal whose support for civil rights and fair coverage of the changing South earned his paper, the Delta Democrat-Times of Greenville, Miss., a national reputation. He won a Pulitzer Prize in 1946, but he also attracted some local notoriety and racist insults from the area's Snopes types. "For the first 12 years of my life I tried to get people to call me 'Bill' or 'Will,' " says Big Hodding's son, whose full name is William Hodding Carter III. "But it never worked." (Passing on the burden, he named his own son Hodding IV.)

"There was a long period of life in which the knowledge that I was the son of 'the nigger lover' was inescapable," he admits, "and what that carried with it was obvious." But his main legacy, he says, was his father's example. "He had a great reputation for courage, which he deserved, and yet I never knew a time when he wasn't afraid of the consequences of what he was writing and doing," recalls Little Hod. "I learned from my father what courage was really about—it was being afraid but doing what you had to do."

After graduating summa cum laude from Princeton in 1957, marrying New Orleans artist Peggy Wolfe and serving two years in the Marines, Little Hod did the inevitable: He returned to Greenville in 1959 to work for the family paper. His father turned over the editor's chair to him six years later. The younger Carter "was a lousy administrator, an excellent editor and a beautiful human being," recalls former colleague Pic Firmin, now the editor of the Biloxi (Miss.) Sun. "He was a superb, fast editorial writer. If the New York Times hired him for the editorial page, they could retire the other dozen guys who write for it." Carter estimates that he wrote 6,000 editorials in 17 years—"and in retrospect, about 40 percent of them were wrong," he says, "so I do not think that I have a lock on the truth." His commitment to liberalism has never waned, though. Friends recall all-night armed vigils waiting for rumored Klan attacks. During a 1968 challenge to the seating of the traditionally all-white Mississippi delegation at the Democratic Convention, Carter renewed his acquaintance with Patt Derian, who had worked with him two years earlier on a Head Start program. "Initially we were enemies because I always figured she was a cuckoo," recalls Carter. "It was a misreading all the way around." Derian was then married to a Jackson orthopedic surgeon.

Hodding and Patt became fast political allies. "We were 'friends'—in the old sense of the word—for 10 years," he says. But as their marriages crumbled, they drew closer, both moving to Atlanta in 1976 to work for Jimmy Carter (no relation). After the election Hodding was rewarded with the post of Assistant Secretary of State for Public Affairs, while Derian became an Assistant Secretary of State for Human Rights and Humanitarian Affairs. Peggy Carter then began a long two-year divorce action that ended bitterly in 1978. After the marriage dissolved, Peggy received $3,300-a-month alimony and custody of their four children and moved to Louisiana to study art. In December 1978 Carter and Derian were married.

Although his accent has lightened since he left Mississippi, Carter's courtly manners and eagerness to please soften his obvious ambition with a gracious Southern vulnerability. Despite his family's battles with the surrounding mores, he says, "The mystical bond with the region is real." Being a Southerner, he explains, "You don't get off with that easy progressive view of life. We believe in evil." Not all of the Dixie legacy, of course, is a tragic burden. "Hodding is in the great tradition of the Delta—party-going and hard-drinking," says Bill Minor, a veteran Mississippi newsman.

After moving into Patt's three-story townhouse in the Washington suburb of Alexandria, Va., Carter resolved to tone down his lifestyle. "I decided when I came up here that the hard-drinking newspaperman was going to have to become a moderate-drinking government employee," he says. "And I did. I dropped hard liquor for a year and now I usually stick to wine or beer."

Washington failed to destroy Carter's sense of fun, however. State Department correspondents still guffaw about the time he answered the contentious question of a hostile reporter by socking the man with a rubber chicken he had hidden beneath the podium. Hodding had always been respected by the press corps, but after the seizing of the Tehran embassy in November 1979, he found himself a media star. "All of a sudden, it got to the point of not being able to walk around on the street or travel," he recalls. "People would come up in restaurants to say we were doing a good job and to offer suggestions."

Carter turned the job into a bully pulpit. "It gave me a chance to be a fly on the wall with the policymakers," he says, "to see how the game is played close up and try to communicate to people what the game is all about. And I happened to be lucky. I worked for [Secretary of State] Cy Vance, a guy who didn't once ask me to go out and play Joe Idiot." He resigned after Vance quit in protest of the aborted hostage rescue attempt in April 1980. While Hodding concedes that the Iranian hostage crisis "certainly didn't help," he believes that President Carter "could have survived it." The economy, he claims, was the decisive issue: "I don't think a Democratic President can get reelected with eight million people unemployed and double-digit inflation," he says.

Whether or not PBS renews his series for the fall (the ratings are anemic), Carter will be under no financial pressure to work. He can command $5,000 a talk on the lecture circuit (typical subjects: America's foreign policy, government secrecy), and he has a contract to write a biography of his father. Before he left his Washington post, his family made the unexpected choice to sell the Delta Democrat-Times (circulation: 17,900) for an estimated $18 million to Freedom Newspapers, a right-wing chain. "It was the second toughest decision in my life—the first was the matter of ending a very long marriage," he says. But Big Hodding had died in 1972, after slipping into a deep depression because of his failing eyesight and the death by Russian roulette of his youngest son, Tommy, a Tulane student. Hodding's brother Philip had run the paper in the interim, but his wife refused to live in Greenville. Big Hodding's widow, Betty, couldn't manage the newspaper on her own, and Little Hod didn't want to come back. An era had passed, says Firmin, who was managing editor for eight years: "Mississippi lost its strongest independent voice."

Nowadays Carter commutes between his New York office and his Alexandria home, where Patt, 51, is considering her next career move and playing frequent host to her three children (aged 23 to 26) and his four (Catherine, 23, is a paralegal in Salt Lake City; Fearn, 21, studies drama at Tulane University; Hodding IV, 18, is at Kenyon College, and Margaret, 13, lives with her mother in New Orleans). It's no secret that Carter loves politics, but he scoffs at any notions of running for office. "There are plenty of people in Mississippi who still hate someone named Hodding Carter, whether they think it is my father or me," he explains. Yet Carter admits he would have a hard time turning down a good shot at public office. "If that opportunity came up, I would agonize like hell," he ob-" serves. "I only occasionally try to kid myself that I am not a political animal."


To any regular viewer of TV news the face is disconcertingly familiar: the tousled brown hair, the tired gaze, the slight sheen of perspiration, the boyish aw-shucks grin. For eight grueling months Hodding Carter III was a TV performer as omnipresent as Johnny Carson or Walter Cronkite, appearing before a buzzing crowd of reporters—and the nation—as the State Department's spokesman during the Iranian hostage crisis. But in his latest TV incarnation, Carter is biting the hands he used to feed. Ten months after he resigned from the State Department, Carter has returned to the tube as host of a tryout PBS series, Inside Story, which takes a critical look at how the media report the news. A hardened combatant in the Washington press wars, at 46 Carter is plainly up to the task of disproving Fitzgerald's dictum that there are no second acts in American lives.
Advertisement
Today's Photos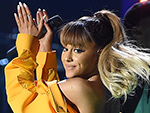 Treat Yourself! 4 Preview Issues
The most buzzed about stars this minute!