People Top 5
LAST UPDATE: Tuesday February 10, 2015 01:10PM EST
PEOPLE Top 5 are the most-viewed stories on the site over the past three days, updated every 60 minutes
For Kenny Rogers and Cher, a House Is Not a Home—unless Ron Wilson Decorates It


Warm? Homey? Wife Marianne, whom Rogers showers with expensive presents, needs so much space for her clothes (over 2,000 square feet) that Wilson is converting four former bedrooms into one closet. Still, with Wilson handling the renovations, the Knoll will be ready for occupancy by December. That's when the couple are expecting their first child, for whom Wilson promises an "all-white fantasy" of a nursery. Proclaims Rogers of his favorite decorator: "I own Ron this year. Someone else can have him next year—if they can afford him."

Rogers' caveat is not ill-considered. Last year, after spending more than $1 million decorating a smaller estate in Bel Air, he decided he liked the furnishings in Cher's old Holmby Hills house better. Wilson had done the decorating there, so Rogers asked him to stop by. Suggested Wilson: "Let's get rid of everything." Rogers' agreed, sinking several million more into his house on features like a cantilevered summer pavilion overlooking Bel Air, a French iron-and-glass outdoor elevator, custom-canopied beds and an Oriental rug for Rogers' bathroom. Then Wilson called him about the Knoll.

Clearly, Wilson and Rogers share the same sense of restraint that made Louis XIV so beloved. Besides the new house, Wilson is busy decorating Rogers' three jets, his 120-foot yacht and his new place near Athens, Ga., which has a 120-acre lake. Rogers also bought a Malibu beach house on three acres last Oct. 30. Wilson had that place decorated in time for Rogers to give it to Marianne as a surprise Christmas present. She walked in thinking it was Wilson's house, took one look at the "Casa Marianna" plaque placed in the entry and fainted.

Overwhelmed patrons are old hat to Wilson, who has decorated 11 homes for Cher alone. One of the first was in 1967, when she and husband Sonny Bono commissioned Wilson to redo the Bel Air manse they had bought from Tony Curtis. Wilson worked on seven more projects for the Bonos before they split in 1975, insisting on joint custody of their priceless designer. Bono now lives in a Wilson-decorated Italian country home in Benedict Canyon, while Cher recently moved into a new $10 million home up the street that Wilson has been working on since 1978. The house is a 20-room Egyptian temple with a moat, featuring slanted doors to create a pyramid effect.

Always anxious to share her good fortune, Cher persuaded Wilson in 1979 to accept a commission from her lover Gene Simmons to help design his New York pad, a glass-walled penthouse atop a stately Fifth Avenue apartment building. The retreat was finished to Cher's specifications (which included a bathtub in the middle of the guest bedroom and what Simmons called "Mesopotamian doors") even after the couple parted in 1980.

So it goes for the 43-year-old decorator, who has a waiting list of clients several pages long. For his 10 to 12 jobs a year, he earns more than $1 million. But money, he insists, is not paramount. "If I don't like you, I won't work with you," he declares. "I'll just say I'm too busy. And I don't care how rich you are." One way to get on Wilson's bad side is to crowd him when he exercises his genius. "I don't like people to tell me too much about themselves," he says, "because I don't want it to color my perception of how they should live. They should respect my talent and not give me a hard time."

Occasionally, of course, Wilson has to be curbed. "Sometimes," confides a friend of Cher's, "she has to remind Ron whose house it is he's doing," But the two are so close that Wilson, a lifelong bachelor, allows Cher—and Cher alone—to call him Ronnie. Prickly Don Rickles, another Wilson friend, presumably calls him other things. After decorating three homes for the comedian, Wilson spends Jewish holidays with the family. Deadpans Rickles: " 'Here's the chair. Where's the check?' Is that any way to treat a friend?"

Born in Detroit but raised in L.A., where his father was a real estate developer, Wilson got his first crack at designing when his older brother, a contractor, let him decorate some model homes he had built. "My brother said I couldn't do a worse job than the decorator he had hired," recalls Wilson. In 1967 Wilson decided to go out on his own, and the Bonos became his first celebrity clients. Eight years later Bill Bixby was so pleased with Wilson's work redecorating his Brentwood Hills home and his offices at Paramount Studios that he took him on The Mike Douglas Show. When Douglas moved to L.A. three years ago, he turned his 30-room Beverly Hills mansion and three guest houses over to Wilson, who promptly put the family's old furniture into storage. "I got to show them a new way of living," he boasts.

Not surprisingly, Wilson's own $10 million Spanish-style Beverly Hills mansion is furnished with valuable antiques, including some that Cher lent him when she moved out of her last house. Four assistants hover about, and a money-green Rolls gleams in the driveway. Wilson, who suffered a heart attack two years ago, works out daily in his home gym and admits that there are few projects left to excite him. A Rothschild chateau might do the trick, he concedes, or Princess Grace's palace in Monaco. Still, he concludes with a sigh, "I've done so many exciting places, it's difficult to top myself."


When interior designer Ron Wilson first saw the Knoll last January, the legendary Beverly Hills mansion of producer Dino (King Kong) de Laurentiis had already been on the market for six months. "A lot of rich and powerful people had looked at it but couldn't quite imagine how to live with all that space," says Wilson of the 40,000-square-foot, 17-garage pied-à-terre. He, however, was inspired by its grandeur and immediately telephoned Kenny Rogers. Within a week Rogers had flown in from Georgia to see the place. Soon afterward he agreed to ante up $14.5 million—reportedly the highest price ever paid for a private home in the U.S.—and hired Wilson to make it "warm and homey."
Advertisement
Today's Photos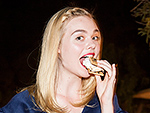 Treat Yourself! 4 Preview Issues
The most buzzed about stars this minute!