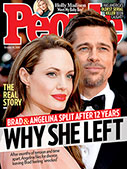 This Week's Issue!
People Top 5
LAST UPDATE: Tuesday February 10, 2015 01:10PM EST
PEOPLE Top 5 are the most-viewed stories on the site over the past three days, updated every 60 minutes
Burt Reynolds Gives Away His Buddy, Director Hal Needham, to David Janssen's Widow
In a town where the most enduring relationships are often with accountants, Burt Reynolds and stunt man-turned-director Hal Needham are rather special. For 22 years they've been the best of buddies and on-screen collaborators in smashes like Smokey and the Bandit [I and II) and Hooper. And for the past decade Needham has lived rent-free in a guesthouse at bachelor Burt's Holmby Hills estate. So it came as something of a shock to Burt when Hal announced two months ago that wedding bells would be breaking up the gang of two. "Does that mean I'm losing a roommate or gaining a wife?" asked Reynolds. "You're losin' a roommate," drawled his pal. [P] And Dani Janssen has gained one. The widow of actor David Janssen, who died last year of a heart attack, met Hal in late February at a private screening of his latest film, The Cannonball Run, starring Burt and Farrah Fawcett. "I was riveted to the spot," Dani recalls of their encounter at the Beverly Hills Hotel. "She really lit me up," adds Hal. Of course, they saved the real fireworks for a June 28 wedding. Dani, a celebrated party thrower and long a member of L.A.'s social elite, decided on a Western motif to honor her rougher-hewn groom (the great-grandson of a Blackfoot Indian). The hoedown was held on Universal's back lot on the same Western set where Gunsmoke was shot. Cowboy chic was de rigueur for such Hollywood hillbilly guests as Glen Campbell and Tanya Tucker (reunited at least for the day), Linda Evans, Rod and Alana Stewart, Valerie Perrine, Peter Fonda and 500 or so others who chowed down Texas-barbecued ribs and chicken, corn bread and baked beans off tin plates and swilled their booze in Mason jars. Country singer Mel Tillis didn't bring a gift, so he sang for his supper. [P] The groom and best man Reynolds rode up to the "All Faith Community Church" (another stage front) on horseback, while the bride, her maid of honor (Dani's daughter Debi) and attorney Sidney Korshak (who gave Dani away) pranced up in a horse-drawn brougham. "Hal's done a lot of dangerous things in his life," mused Burt about his friend, who has broken 46 bones, and his back twice, in 26 years as a stunt man, "but I've never seen him that scared." Hal was relieved after the simple five-minute ceremony performed by Jacquie Eastlund, a minister of the Universal Church of the Masters and a friend of Dani's. "Needham," cried Cannonball producer Al Ruddy, "I've never seen you look so serious!" "This is serious," said the 50-year-old groom. He had vetoed one stunt man's notion of skydiving into the service because he "didn't want this to be a carnival. I'm getting married, not putting on a show." [P] A previous marriage of 10 years (he adopted two of his first wife Arlene's three children) left Needham notoriously altar-shy. But no sooner had he locked his range finder on Dani, Needham confesses, than "I had my feelers out for her phone number." After a few dates, Needham invited Dani to Atlanta for a NASCAR race (he and Reynolds are co-owners of a racing team called the "Skoal Bandits"). It was a trying time for Dani, who hadn't been romantically involved since David's death (Sean Connery and Tom Selleck were merely escorts). "It was a very strange feeling stepping out on the diving board again," she reports. "I was afraid of the water." But she instantly wowed Needham's racers, especially wearing a sexy "Bandits Go All the Way" T-shirt. "Honey," Hal said later, "when you walked through the gates, the ants fell off the telephone poles and died." [P] For the first time, Needham considered abandoning the bachelor life he had been pursuing so avidly since he divorced and moved in with Reynolds. "He came for the weekend," cracks Burt, "and stayed for 11 years—the original man who came to dinner." Needham resided in a house near the pool. "I never went down there," says Reynolds. "I was always afraid I'd find three waitresses. Dani was the first girl Hal ever dated with an IQ over 70." Hal has no illusions about the life he was leading. "I got to know all the bartenders and bar stools up and down the Boulevard," he recalls. "I hated to go home except three sheets to the wind at 2 o'clock in the morning. When I met blondie here, I felt it was time for a change." [P] Indeed, Needham is a changed man. "I lost my little black book," he says proudly, "and I haven't even bothered to look for it." Buddy Burt was a little worried at first, protesting, "This lady has too much class for you." Quipped Hal: "I'll just drag her down with me." Instead, two months after their first date he made a long-distance proposal. "Have you been drinking?" was Dani's first reaction. Her second reaction—the next day—was to say "Yes." [P] It was to be the fourth marriage for Dani, who was born Darlyne Danielle Swanson in Minneapolis "over 40" years ago. Her childhood was spent traveling all over the country with her mother (who was divorced when Dani was a baby) and adoptive father, who was in the trucking business. Dani grew up fast—she married high school sweetheart Don Crayne and gave birth to Debi at 16. That union lasted only two years. Still a teenager, she moved to Hollywood and landed a contract with Universal. "I was just fooling around," she now admits. "I was a starlet, never an actress." [P] Mostly, Dani has been a wife, developing skills in bookkeeping, decorating and hostessing. She married pop singer Buddy Greco in 1960 and Janssen in 1975. The couple quickly became regulars on the Lotusland "A" party list. Janssen's death was devastating. "For the first 40 days," she recalls, "I was walking around in limbo. And then I realized David wasn't coming back from location." Their million-dollar penthouse apartment in Century City "became my womb." Dani scarcely ventured outside for six months. Finally producer Allan (Grease) Carr persuaded her to spend some time at his Hawaiian hideaway. "That's where I realized my past was past," she says now, "and my transition to the future was what I had to do." [P] Like Dani, the Memphis-born Needham moved frequently when he was a boy, as his family tried to eke out a living as sharecroppers. By his own calculations, Hal "didn't quite get through ninth grade," which is when he quit school to become a tree trimmer. An Army paratrooper from 1951 to 1954, he jumped out of airplanes and participated in aerial thrill shows, preparing for his future as a stunt man. His first job was doing stunts on TV's You Asked for It. He met Reynolds in 1959 as Burt's double on the Riverboat TV series. "Burt came up to me," Needham remembers, "and said, 'Mind if I do this fight?' 'No,' I said, 'go ahead.' So he went over the barrels, and I gave him a round of applause, pocketed my money and went home. It went on like that for some time." [P] So began a beautiful and—of late—profitable friendship. Needham became Hollywood's leading stunt man, commanding up to $25,000 for a single stunt. As a driver, Needham has traveled 620 mph on land in a rocket-powered car. But when he needed backing for his first directorial effort, in 1977, Reynolds went to bat for him with the studio heads. "Every single one of my advisers and friends begged me not to make that film," relates Burt. He ignored them and the result was Smokey and the Bandit, the 14th-biggest-grossing movie of all time. Their latest fender-bender, The Cannonball Run, is now in high gear at the box office. Needham is the first to admit his films aren't high art. "I'll never win an Academy Award," he has said. "But I'll be a rich son of a bitch." Nevertheless, he plans to keep his next picture, The Texans, out of the fast lane. "I've pretty well used up the car chases," he promises. "There won't be a single skid in The Texans." [P] Needham is mellowing off-screen as well. He has moved into Dani's airy penthouse, where pictures of David Janssen (whom Hal strongly resembles) still hang in a dressing room. Considering Needham's restless past, Dani admits she once worried about "penning up a stallion." But now he has made the commitment. No one knows it more than Hal's old roommate. Misty-eyed after the ceremony, Reynolds quietly admitted, "I'll miss him terribly." [P]
Advertisement
Treat Yourself! 4 Preview Issues
The most buzzed about stars this minute!