People Top 5
LAST UPDATE: Tuesday February 10, 2015 01:10PM EST
PEOPLE Top 5 are the most-viewed stories on the site over the past three days, updated every 60 minutes
The Sultan of Svelte
Television's New Phenom Richard Simmons Applies Both the Carrot and the Shtick


"Why do we have these barricades?" the slim young man cried out—and the crowd surged up, throwing its weight around with all the fervor of the born-again. Richard Simmons, the Revivalist of Reducing, had swept another town off its feet.

As Omaha went, so has the nation. In slightly more than a year since his deftly idiosyncratic and determinedly campy TV fitness show debuted in syndication, Simmons has become America's most successful professional ectomorph. He has impersonated everything from vegetables to priests in skits designed to convert viewers to his faith that all bodies can become beautiful. His skillful showboating has made him TV's newest monster of the morning. "I used to watch Phil Donahue," one Omaha matron explained. "I turned him off because he had so many programs about these gays and couples swapping wives. I do exercises with Richard now—and he makes me feel younger." That emotion is evident in 173 television markets (up from 30 last year) across the country.

While Phil remains the morning star, Simmons has built up a daily audience of 3.6 million and is the strongest challenger yet to Donahue's daytime dominance. "The difference between Richard and Donahue," says Simmons' executive producer, Woody Fraser, "is that Richard tells people what to do. Donahue plays the devil's advocate, but he won't come out and offer his opinion."

The opinions Simmons does offer are hardly the stuff of controversy: "Don't let anyone stop you from being the best you can be," he constantly repeats. "Get the right job and body for you." But Simmons' mix of balanced diet, daily exercise and positive outlook has struck a resonant chord. Part of his secret: comedy as broad as many of his followers. Richard's routines, like his best-selling Never-Say-Diet Book (600,000 copies sold), are largely ghostwritten—"Mine is not always the best English," he chirpily concedes.

Typical characters: the Weight Saint, the dieter's calorie-counting conscience; Reverend Pounds, who wails, "Though I waddle through the valley of linguine and clams, I shall fear no evil"; and a broccoli who visits the unemployment office "because people just don't eat vegetables anymore." "It's okay to be silly, to be crazy," maintains Simmons. "It makes no difference what I do as long as I get my point across."

What saves Simmons from sappiness is a palpable sincerity—in his case the desperate sympathy of the reformed sinner. And at 5'7" and 137 pounds—down from a self-destructive high of 268—Simmons is, literally, reformed. "Overweight people are laughed at and ignored," says Richard. "So they eat out of frustration."

The second son of two New Orleans entertainers—and accomplished amateur cooks—Simmons grew up miserable in the shadow of his "perfect" older brother, Lenny (now budget supervisor of their native city). To compensate, he began overeating almost as a toddler. "At 4, it didn't bother me," he recalls. "But at 5,1 knew what people were saying." Simmons had topped 182 pounds by age 15. "The worst part was not being accepted by my peers," he continues. That's why, he says, "I've never lived in the visual world. I live very much in an emotional-contact world."

As an art student in Florence during the 1960s, Richard won bits among the grotesques in Fellini's Satyricon and The Clowns, but they may be the only evidence of his fatness—he's burned all his old photos. Then in 1968, when he found an anonymous note from a friend on his windshield pleading "Fat people die young; please don't die," Simmons went diet-wild, losing 112 pounds in 2½ months. He passed through a series of jobs (and nip-and-tuck facial plastic surgeries) before opening the Anatomy Asylum and Ruffage, his chic L.A. exercise studio and restaurant, in 1975.

To Richard's delight, his establishment attracted idols like Paul Newman, Diana Ross and Barbra Streisand. The next step was his own celebrity. Richard soon was making appearances on Merv and Mike. Since 1979 he has also played himself in cameo spots on General Hospital.

The fitness crusade, he says, has become an all-consuming passion. "I don't go to discos, bars or parties," explains Simmons, who insists he has little time for a private life—and no plans to start one. He has few close friends. "What's more important," he reflects, "a one-to-one kid-and-family situation or helping 60 million people get their act together?"

Living off the fat of the land is rewarding (his income now is estimated at some $1 million annually) but exhausting. Weekdays Simmons is up at 6:30 and teaching at his Anatomy Asylum by 7:30. Wednesdays and Thursdays he tapes a week's worth of shows from 2 p.m. to 9:30 p.m. On Fridays—usually clad in gym shorts and a sweat shirt—he steps onto a night flight, stretches over two first-class seats for a nap, changes into a warm-up suit upon waking and bounces off the plane to a personal appearance anywhere from Sacramento to Cincinnati. "I receive 25,000 to 30,000 letters a day," says Simmons, "and the reason I travel a lot is to meet these people, who are part of my family. I don't think of myself as a celebrity. I basically relate to people like myself, who don't use more than three syllables."

Simmons is as loyal to his fans as they are to him. When Leo DeJordy Jr., 30, a Chicopee, Mass. cop, was suspended from the force for shedding his weapon and shirt to take part in the bare-chested "Mr. Sensuous" contest during a Simmons road show, the diet guru sent him a $500 personal check to cover his lost pay. Says Richard, "I'm not a phony playing a character on Happy Days. I'm a person with faults and insecurities evident every day. What you see is what you get."

And you'll be getting more. The Never-Say-Diet Cookbook, with recipes and before-and-after pictures of heavyweight losers, is in the works, as are a record and movie, Lbs. "But my biggest dream," says Richard, "is to have one million people doing what I do and have them making good money." Not that he's in it for the material reward. "I work real hard to make people laugh and to make them think," says Simmons. "The day I don't love any of this, I'll walk away."


Advertisement
Today's Photos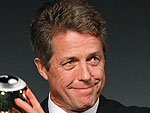 Treat Yourself! 4 Preview Issues
The most buzzed about stars this minute!