People Top 5
LAST UPDATE: Tuesday February 10, 2015 01:10PM EST
PEOPLE Top 5 are the most-viewed stories on the site over the past three days, updated every 60 minutes
It's Charles Osgood All the Time, for All the News That's Fit to Rhyme


Most people turn on the radio in the morning for the news and weather. But those who wake up to Charles Osgood on CBS radio are apt to begin the day with something like this:

Last week, right here, perhaps you heard,
We spoke of something quite absurd,
The fact that socks possess this trait:
They tend to deproliferate.
One sock, which makes up half a pair,
Will simply vanish in the air,
A universal mystery
Unparalleled in history.

Other mornings Osgood's news goes from bad to verse:

Chiang Ching
Is a mean old thing
And she had a Gang of Four.
And China is very lucky
That she's carrying on no more.

In less tolerant societies such shameless versifying by a respected newsman (Osgood also handles the prestigious CBS-TV Sunday Night News) might be reason for commitment. But in the U.S. he gets published. Holt, Rinehart and Winston, which first collected some of Osgood's nuttiest pieces two years ago, has just published a delightful sequel—There's Nothing That I Wouldn't Do If You Would Be My POSSLQ. (The title poem is inspired by the Census Bureau's acronym for "Persons of Opposite Sex Sharing Living Quarters.") Or, as Osgood put it:

You live with me, and I with you,
And you will be my POSSLQ.
I'll be your friend and so much more;
That's what a POSSLQ is for.

The 48-year-old Osgood composes most of his poems in the few moments he can steal between the 7 a.m. news and his other weekday-morning shows, Newsbreak and The Osgood File. He scans the newspapers and wire-service bulletins for "interesting threads" to weave into a story. Thus, when the federal government changed its stationery size, Osgood naturally rhymed:

It is wasteful and costly and also inflationary
When bureaucrats have to use funny-sized stationery.

Osgood's nonsense provokes a monthly stream of 200 affectionate letters from other enthusiastic rhymsters. Yet he worries about being thought of as the Ogden Nash of the airwaves instead of as a serious journalist. In fact, Osgood covers presidential elections for the radio network; he's appeared regularly on CBS-TV's Universe; and he was scheduled to anchor last weekend's documentary about real and imagined monsters. Still, he cautions, "I like to keep my humorous pieces on a high level. If I started wearing hats, acting goofy and doing 'Let's see if I can ride this pony' kind of stuff, I'd really make a fool of myself."

Osgood joined CBS in 1967, four years after being fired from a job as general manager of the nation's first pay-TV station, in Hartford, Conn. "I went from being the world's youngest station manager to being the world's oldest cub reporter," he says of his interim job with ABC. He was first assigned to Flair Reports, an offbeat radio show where he learned the ropes with other beginners like Ted Koppel of ABC's Nightline.

The son of a textile executive, Osgood (real name: Charles Osgood Wood III) grew up in Baltimore and graduated from Fordham with a major in economics. But he always loved words and music more. An accomplished pianist, he has written lyrics for about 25 published songs, including Nancy Wilson's Black Is Beautiful. Much to Osgood's surprise, the late Sen. Everett Dirksen recorded another of his songs, Gallant Men, which Osgood had written in the '50s when he was the announcer for the U.S. Army Band in Washington. The song was a hit, and Osgood used his first royalty check to buy an English sheep dog. These days Osgood lives in Engle-wood, N.J. with a favorite POSSLQ—his wife, Jean, a former New York Daily News reporter, and their four children. Osgood (who was divorced from his first wife in 1973) spends his spare time "trying to keep one step ahead of the kids' French and violin skills." For years he played weekly tennis with Walter Cronkite. "That shows how much of an athlete I am," jokes Osgood, "I play with old guys."

In a business known for cutthroat competition and strident personalities, Osgood "defines the meaning of laid-back," says his now rival, Koppel. Having a daily radio show where he can vent his frustrations helps. "You know, people are always complaining that they never get a chance to express themselves," says Osgood. "Well, I've got all the chance in the world. In fact, I have to express myself much more often than I have something to express."


What other newsman has written a hit song?
Advertisement
Today's Photos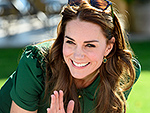 Treat Yourself! 4 Preview Issues
The most buzzed about stars this minute!