Archive Page - 12/1/12 39 years, 2,080 covers and 53,257 stories from PEOPLE magazine's history for you to enjoy
On Newsstands Now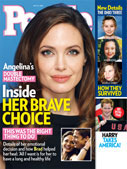 Angelina: Inside Her Brave Choice

New Details on the Ohio Three

Prince Harry Takes America!
Pick up your copy on newsstands
Click here for instant access to the Digital Magazine
People Top 5
LAST UPDATE: Wednesday May 22, 2013 04:10AM EDT
PEOPLE Top 5 are the most-viewed stories on the site over the past three days, updated every 60 minutes
Celebs at Christmas
What Kinds of Gifts Make One Christmas More Memorable Than Another? On These Pages Are the Answers of a Cross Section of American Celebrities, Proffered as a Guide For Giving to the Stars in Your Family


The street lamps dimmed in Manhattan's Rockefeller Center one evening last week, the throngs of shoppers hushed, and suddenly, in a multicolored flash, a 60-foot white spruce blazed with thousands of twinkling bulbs. Andrea McArdle, 18, the former star of Annie, was giving a repeat performance—she lit the traditional tree in 1977—and again drawing an SRO audience as her voice belted out, harking the herald angels to join her. But starring in the big show isn't McArdle's favorite Christmas memory. Instead, she says, "It was being given skis and a 1980 trip to Colorado. Who gave them to me? Why, Santa, of course."

When her grandchildren were small and lived in Chicago, Eppie (Ann Landers) Lederer, 63, used to celebrate Hanukkah with the traditional candle lighting and exchange of gifts—one for each of the eight days of the holiday. "With three grandchildren," she notes carefully, "that's 24 gifts, not counting Mama and Papa." Her favorite Hanukkah memory is a charm from the aforementioned Mama, daughter Margo. At 16, "She had a jeweler make it," says Eppie. "A little semiprecious stone is in the corner, and it is engraved—'I have no problems but a gem of a mother.' "

What do you give a man who is paid $2 million a year to play a villain who has everything? "A septic tank," says Larry (J.R.) Hagman, clowning with wife Maj in an Indian headdress (part of his collection). "I've got it all except for the plumbing. I mean, things are backing up here" (at their Malibu home). Hag-man's request last year was even more selfless—no presents at all. "Christmas is supposed to be spiritual," he explains, "so I thought we'd abolish gift giving. On Christmas morning we didn't know what to do with ourselves. The kids hated me. So this year we're back to presents."

What Christmas gift most pleased the slinky hussy of Flamingo Road, Morgan Fairchild? It wasn't a new mink or a diamond as big as the Ritz, but "a brown satin pillow with a fat little birdface saying 'chirp,' " replies Morgan, whose family nickname is Little Bird. Her sister, actress Cathryn Hartt, made the pillow, which unfortunately fell apart after a spin in the washing machine. A longer-lasting success was the antique ring Fairchild gave her mother six years ago. "She was so touched she wept," Morgan says. "You know it's gone well when they cry."

"We had a good time even though we didn't have anything," recalls Loretta Lynn of Christmas in her Coal Miner's Daughter days. "We made all our own tree ornaments, saving tinfoil and the cellophane from Prince Albert tobacco cans. Mommy raised popcorn to string on the tree. When I was 6, I got my best gift ever: a secondhand doll Mommy bought for 25¢. It was as big as me, and I had it till I got married." The most memorable Christmas since? It was 1974 and Loretta and husband Mooney celebrated at their house in a tiny Mexican village. "We bought six or seven tubs and filled them with oranges, apples, peanuts and candy and called the town together. It was a thrill to see those little children's faces."

During the Depression his family had little more than apples and oranges to stuff in Hanukkah stockings. Yet those holidays loom brightest in New York Mayor Ed Koch's memory. His father's fur business failed in 1931, and 7-year-old Ed and his parents were taken in by Newark, N.J. relatives. Nine people lived in two bedrooms—but happily. This year, for old times' sake, Hizzoner is giving apples—all right, Big Apples—as Hanukkah presents to friends and family.

Who could have a bad word for Christmas? Count oh punk princess Wendy O. Williams, the Plasmatics' lead singer. "Christmas is obscene," says the rocker who simulates sex onstage with musical instruments. She trashes Yuletide as a barbaric ritual "in which millions of innocent trees are chopped down to stand on an altar where they die a slow death, in which people spend resources they don't have on things they don't need. Christmas," she sums up, "is the ultimate microcosm for rape and plunder in the name of lost green, peace and joy." Oh, shut up, Wendy.

The way to the heart of a power broker and self-confessed "news hog," says Sen. Robert Dole, is through his color television. Dole's favorite gift is the remote-control set his wife, Elizabeth, Assistant to the President for Public Liaison, gave him two years ago. "I just lie down in bed and go back and forth between stations," he gloats. Liddy Dole herself cherishes the Gucci briefcase the Senator gave her when they were dating in 1974. Otherwise, Dole thinks the best thing to give is money. "People can get what they want," says the Finance Committee chairman. "And everything's half-price after Christmas."

Shirley Jones is no longer a Partridge and there are no pear trees in Hollywood. But this Christmas season has already brought her a gift that tops all those swimming swans and leaping lords put together—and even the 288 individually wrapped presents that husband Marty Ingels gave her one year. It's a granddaughter, Caitlin, born Nov. 25 to son Shaun and his wife, Ann Pennington Cassidy. For her part, Shirley is giving Caitlin an antique doll (left) that belonged to Shirley's mom. "There were all boys in the Cassidy family," she beams. "Now I have a little girl to give it to."

Stephen Birmingham, the author of Our Crowd and California Rich, wasn't always so fond of the written word. "I used to dread going over to see my grandfather at Christmas because he would always give us an old book," he recalls. "Once my present was a beautifully bound collection of old Century Magazines. It was ages before I realized they were a valuable research resource." Some years ago Birmingham, a father of three, suggested relatives send money instead of toys so he could take his family on a Christmas holiday. It worked. "One year we went to Mexico," he says, "another time to Florida and yet another on a ski trip to the Laurentians."

Comedian Peter Cook, star of CBS' The Two of Us, spends "a traditional Christmas in England that centers around the Queen's message to the nation. Every year she radically comes out in favor of peace and prosperity through hard work." In appreciation of his labors in the colonies, the L.A. producers of Cook's show sent him some pre-Christmas tokens: a kipper, a cup of tea and a British flag. "No other gifts could match them," says Cook, especially not a subscription to Punch, which his aunt sent him when he was 12. "Worst present I ever received. It's puerile and senile."

Operating on the theory that if it's better to give than receive, it's better yet to combine the two, Sugar Ray Leonard says his best present ever is the one he and his wife, Juanita, gave each other on Nov. 22, 1973. "Santa made an early visit that year," Ray says of his son's arrival. This Christmas Ray Jr. will be 8, and to Dad he's still a knockout gift. Why? "Because he showed my wife and me how much we love each other."

Chief Kiss-er Gene Simmons says this year he doesn't want mistletoe—or anything else. Simmons will spend the holidays with endless love Diana Ross. He's Jewish and she's not. "We won't have a Christmas tree or a menorah," he notes. "I prefer to celebrate in the mind." He and Diana will personally write 400 cards ("I don't like the little poems you buy," says Gene), and he will choose 200 presents for friends. He remembers most fondly a long-ago girlfriend's gift of "a pair of leather slippers that tickled my toes." He won't disclose what he'll tickle Diana with this year but insists that's not the point. "If you know you're loved, that's plenty," he says. "What else could I want?"

One of the founding mothers of women's liberation, Betty Friedan first indulged her maternal feelings, as most girls do, by playing with dolls. But even then she was going her own way. "My favorite gift was a little boy doll I got from my mother and father," says the author of the recently published The Second Stage. "I really wanted a bicycle, but they thought it was too dangerous." In later years Friedan gave dolls to all her children—sons and daughter alike. As for her grownup self, she says her favorite toys are books: "They are my greatest joy. I love getting them and giving them."

To former Vice-President Walter Mondale, the best gift came the first Christmas he and Joan spent together after they were married. That was in 1956, and she knitted him a Norwegian-style sweater. He's been wearing it ever since, back home in Minneapolis and on ski vacations in Colorado. Now lawyering in Washington, he still uses it when wet snows whip across the Potomac. Years went by before Mondale decided on a present he got as much pleasure giving. Last Christmas it was a handcrafted stoneware table service for 12. It may not be a match for Nancy Reagan's bone china service for 200, but Joan loves it.

Bob Hope and wife Dolores send out 6,500 cards and get hundreds of gifts from kith and kin in return. Which stand out? First of all, Snow Job, the affectionate Alsatian sent by daughter Linda last year. Then there was the cigar box filled with white mice from Bing Crosby in the early '60s. "I closed the lid before they got out," recalls Hope, who in return sent Crosby "the oldest golf club I could find." However, for Hope, 78, who spent 29 Christmases with U.S. servicemen abroad and who now visits them in hospitals, the best gift was a poem written by a paralyzed GI named Tom Johnston. Its last verse reads: "Our country gets down, but just for a while, for there's Hope for tomorrow, to help us all smile."


Advertisement
Treat Yourself! 4 Preview Issues
The most buzzed about stars this minute!