People Top 5
LAST UPDATE: Tuesday February 10, 2015 01:10PM EST
PEOPLE Top 5 are the most-viewed stories on the site over the past three days, updated every 60 minutes
Picks and Pans Main: Song
Sharky's Machine


Music by Philippe Sarde

Horror, like comedy, depends on an underlying reality from which to spring the shock or punch line. The cuts on this LP from the current box office creeper have titles like Accidents, Dimentia and Fright, and usually start out with the orchestra playing a sweet theme. Some foreshadowing comes with a simple device like the tinkling of bells, increasingly frantic flute trills or maybe rumbling minor chords on a Phantom-of-the-Opera-style organ. Then the music crescendos with the action. Boo! There is nothing pleasantly terrifying or musically interesting in this work. The late Bernard Herrmann (the master of scare scores) did it all much better with shockers like Psycho.

The point of the movie is that during the Depression fear drove people to write and sing many hopelessly silly songs, full of bravado and false optimism. The sound track includes the most pathetic renditions of the era's most pathetic songs—such as Life Is Just a Bowl of Cherries and Love Is Good for Anything That Ails You. Even the track by Bing Crosby (Did You Ever See a Dream Walking?) is embarrassing. Irving Berlin's Let's Face the Music and Dance, from the film Follow the Fleet, includes not only Fred Astaire's peerless vocal but about five minutes of florid orchestral sawing. That's not worth much when you can't see the dancing that went with it. So why would anyone want to listen to all this more than once? The film's star, Steve Martin, appears only in a cynical reprise of the title song. His co-star, Bernadette Peters, a first-class vocalist, unaccountably doesn't sing at all. If you've seen the movie, you already know what this double LP has to say; if you haven't seen it, you won't care.

The sound of the Internationale revs up Warren Beatty and Diane Keaton sexually as well as politically in Reds, and it's here for those tired of getting it on to Ravel's Bolero. There are other compensations: a haunting love theme, Goodbye for Now, by Broadway's Stephen Sondheim; the old ditty I Don't Want to Play in Your Yard, nicely croaked by Heaton Vorse; and two Russian anthems, The Engine and The Red Army Is the Most Powerful of All, performed by the Moscow Radio Chorus. Rousing and romantic, like the movie, Reds is the perfect LP for revolutionary lovers.

Music by Randy Newman

The easy thing here would have been to dust off a bunch of Scott Joplin or Tom Turpin rags, but Newman took on the whole lively American musical era that flourished before World War I. Whatever you think of the satirist who gave us Short People, prepare to be charmed. His score is every bit as clever and magical as E.L. Doctorow's original novel and the film Czech director Milos For-man made from it. If the zesty Delmonico Polka. the elegant Waltz for Evelyn or the dance hall chestnut I Could Love a Million Girls by Donald O'Connor don't send you, Jennifer Warnes singing a wistful ballad called One More Hour surely will. The only other tune with Newman lyrics is the playfully remonstrative Change Your Ways, which he sings himself with his best mock-Southern drawl. Newman's success here is not surprising. Three of his uncles (Lionel, Emil and Alfred) are old-timers in the scoring business, and he has two credits of his own: Nicolas Roeg's Performance and Norman Lear's Cold Turkey (both 1970).

Much of the considerable energy of this cops-vs.-mobsters film comes from its jazz-oriented sound track, which uses tunes performed by such names as Chet Baker, Peggy Lee, Flora Purim, Doc Severinsen and Sarah Vaughan. Baker's rendition of My Funny Valentine, Lee's Let's Keep Dancing and a duet by Vaughan and Joe Williams on Before You, a love ballad written for the film, are highlights. This album would be listenable even for someone who never heard of Burt Reynolds.


Movie scores can be as exciting as those from Singin' in the Rain and Doctor Zhivago or as stupefying as the ones from Beach Blanket Bingo and Jaws. But these days it's a rare film whose sound track isn't turned into a record, if only because the gamble is modest; the music is ready to reproduce, awaiting only a cover. A successful movie also gives an LP instant "name recognition"—though, as this recent sampling makes clear, the merits of what you see in some movies do not necessarily rub off on what you hear. Other sound tracks, however, not only decorate but enhance the films that first gave them life.
Advertisement
Today's Photos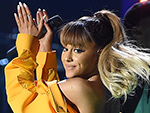 Treat Yourself! 4 Preview Issues
The most buzzed about stars this minute!